Episode 5 bonus track
The National Gallery Podcast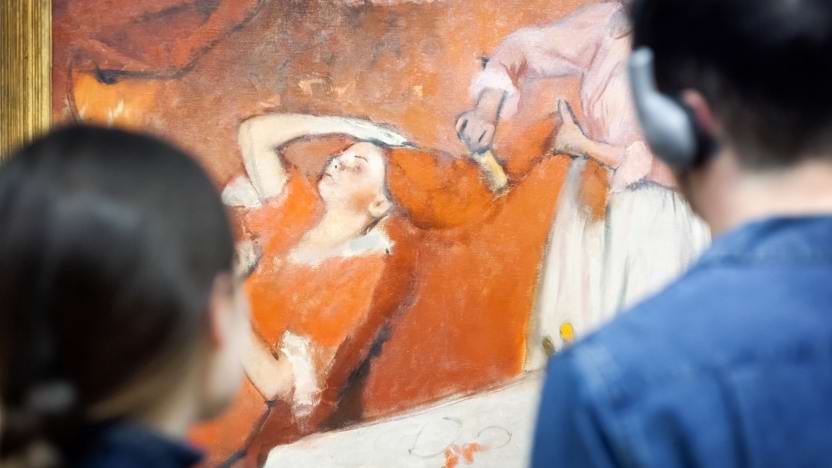 1 min 54 sec | March 2007
Read transcript
Miranda Hinkley (in the studio): This is a bonus track from the National Gallery podcast. You're listening to an extract from the 'Renoir Landscapes' audio guide. Leah Kharibian and curator Chris Riopelle discuss Renoir's 1881 painting, 'Field of Banana Trees near Algiers'. If you'd like to take the full tour, it's available from audio desks throughout the Gallery.
Leah Kharibian: The French had occupied Algeria since the 1830s and over the years many of Renoir's compatriots had come to paint the city of Algiers and its surrounding countryside. None however had created a work like this.
Chris Riopelle: Who would ever have thought of painting a landscape almost entirely composed of banana leaves waving back and forth in these curving patterns across the entire front of the canvas? And again one imagines these banana plants or trees continuing to right and left as far as the eye can see, but he's just focused on these one group of them, masking white Algiers in the distance across the bay.
Leah Kharibian: In an art manual Renoir planned to publish, he repeatedly called on decorative artists to observe nature and learn to imitate natural forms as a source of inspiration. This is what he seems to be doing himself in this work. But the success of this picture belies what was, for Renoir, a not entirely straightforward visit. His fellow impressionists were hounding him for his recent decision to submit works to the salon; he couldn't get local models to sit for him and so, apart from 'Arab Festival', which hangs nearby, he was forced to paint only landscapes and as Chris Riopelle sees it, Renoir's first experience of African light also came as something of a shock.
Chris Riopelle: I think his visit to Algiers in 1881 really, in a sense, discombobulated him. He'd never seen light of this intensity – it was quite a new experience and he responded to it by painting some of his most challenging and innovative landscape compositions that he'd ever done, of which the banana plantation is certainly among the most daring.