Episode 47
The National Gallery Podcast
In the September 2010 podcast, the spirit of Velázquez: an Old Master 350 years on. Plus, the music of the gods, and optical instruments in art.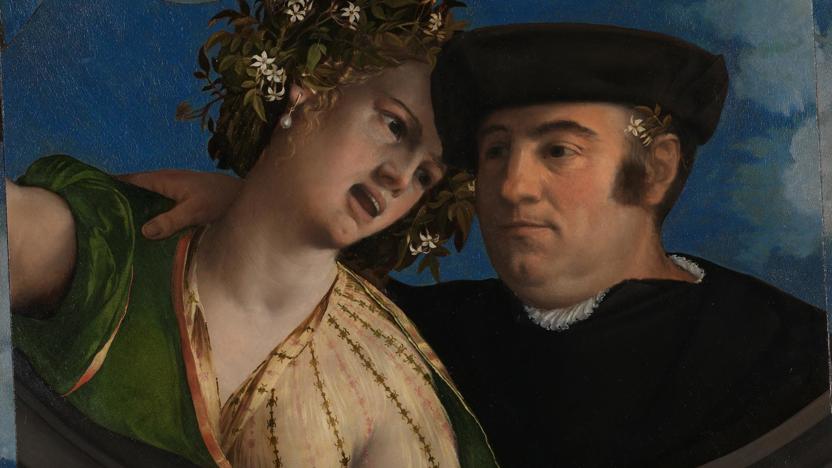 Read transcript
Miranda Hinkley (in the studio): Hello. This is the National Gallery Podcast and I'm Miranda Hinkley. In this month's show: Re-discovering a forgotten twentieth century master... and when is a rectangle not a rectangle? ... When it's a painting by Dosso Dossi...
[Pause]
Miranda Hinkley (in the studio): We start this episode with a sneak preview – news of our exhibition programme for the year to come. Stunning Italian altarpieces... rare Leonardos... Renaissance gems... I met up with Colin Wiggins to hear more.
Colin Wiggins: Well the big show in the Sainsbury Wing in February is devoted to the art of – hold on for this name – Jan Gossaert. Now Gossaert is hardly a household name – it's not his fault – and what we hope that this exhibition will do is give him back his rightful place amongst the great old masters. He comes from a very specific tradition that originated with artists such as Jan van Eyck and Rogier van der Wieden and Gossaert is really the last of those great northern Renaissance painters, who trained in this extraordinary meticulous oil technique where the works are utterly convincing.
He's the master of painting fabric, of jewellery, of human faces and hair and skin and texture, and the paintings in his own lifetime were rightly acclaimed – they were seen to be some of the greatest images that have ever been made. Now of course what happens with artists like Gossaert is that time draws a veil over them and we're very fortunate in London because we really do have one of the finest collections of his works in existence.
Miranda Hinkley: So if you're into the Flemish masters or even the Renaissance more broadly, this is a real treat.
Colin Wiggins: It's a real treat in more ways than one. If you're into the Flemish masters and you don't respond to Jan Gossaert, there's something wrong with you. But Gossaert was also a court painter and he worked for the court of Burgundy and the kind of work that he's supplying for them is not just beautiful religious paintings but he also painted to our eyes really extraordinary weird, strange, erotic pictures. He's one of the great northern artists who dealt with the subject of the nude, which in itself is quite unusual. It's difficult to describe – all I would say is, go and see it and tell me what you think.
Miranda Hinkley: Well, keeping with the Renaissance but moving back even earlier into Italy, in July we've got Italian altarpieces.
Colin Wiggins: Yeah, the altarpieces show is now what is a set National Gallery exhibition of a free exhibition that basically is drawn from our own collection.
None of the paintings in this exhibition were made to hang in art galleries, they were made to hang in a sacred space. And that's what this exhibition is going to be investigating. It's going to be looking at the original purpose of these pictures and how that the artist conceived their pictures to go into a sacred space with a sacred function.
So that's very different to the way we look at altarpieces now. And of course they were taken out of their churches, chopped up, they were often destroyed and the Sainsbury Wing collection that we have of Italian Renaissance altarpieces is basically to do with the accident of survival. And we show wing panels and sawn up pieces of picture as if they are complete works and of course what this exhibition will do is give you a sense of context and really help you to understand the lost culture that produced these pictures.
Miranda Hinkley: And then later next year in November, we've got another Italian themed show – this is Leonardo da Vinci – this time focusing on his paintings, rather than the drawings or sketches...
Colin Wiggins: Yes, that's absolutely right – now it's a kind of contrast with Gossaert really, because who hasn't heard of Leonardo da Vinci? And as you rightly point out this is an exhibition devoted to his paintings, to Leonardo as an artist. Over the last couple of decades there have been quite a few shows devoted to other aspects of his production and of course people know Leonardo as the scientist and the inventor,but for Leonardo and his contemporaries, science and art were not seen as two different things, but Leonardo's scientific studies were part of his studies as an artist, and that is something of course that this exhibition will be attempting to demonstrate because Leonardo had this obsession with getting things scientifically accurate. Even when he's making a picture like for example, The Virgin of the Rocks, he wants to get the landscape right, he wants to get the geological formations right, he wants to get the way that the light filters through the atmosphere right, he wants to get the fall of light on the figures' faces absolutely right, and he does that. He has a scientific approach to it, but the upshot is that he makes these pictures of such enigmatic mystery that Leonardo is an artist whose reputation is utterly secure and always will be utterly secure.
Miranda Hinkley: It's one of the most complete exhibitions of his paintings that there's been in along time.
Colin Wiggins: Well, it is the most complete exhibition of his paintings really. And even then we have to remember that a lot of these things are very fragile and can't travel. Images like the Mona Lisa for example will never leave the Louvre again, at least not legitimately. And the generosity of the lending institutions – the National Gallery is very grateful to, and I think our public will be similarly grateful when it sees these pictures.
Miranda Hinkley (in the studio): Colin Wiggins. If you're tempted by any of the shows we discussed, you can find more information on our website at www.nationalgallery.org.uk. And we'll obviously keep you posted in the podcast as well...
Frederick Cayley Robinson
Miranda Hinkley (in the studio): And now to our current exhibition which places National Gallery masterpieces alongside a group of works by an artist who, surprisingly, is all but forgotten today.  Frederick Cayley Robinson trained in Paris in the early 1890s, where he rubbed shoulders with future luminaries of modern art such as Henri Matisse.
But as this exhibition reveals, Cayley Robinson turned his back on the fireworks of the avant-garde to find inspiration in the quieter beauties of painters from a different age. Leah Kharibian met with curator Sarah Herring who began by assessing the importance of the four pictures that form the core of the display.
Sarah Herring: Even though Cayley Robinson as an artist is not very well remembered now, it is true to say that these four works stand at the pinnacle of achievement for decorative schemes painted at this time. The pictures were commissioned by Edwin Davis, who was a governor and benefactor of the Middlesex Hospital. He commissioned the pictures in 1912 and Cayley Robinson painted them over a period from 1915 to 1920 and they represent the acts of mercy and these corporal acts or works of mercy were enumerated by Christ in his prophecy of the last judgement which is related in the gospel of St Matthew. Among these works were feeding the hungry, giving drink to the thirsty or helping the sick.
Leah Kharibian: Now these works were commissioned for the Middlesex Hospital which was just off the Tottenham Court Road – it now no longer exists and they were hung in the entrance hall. Two of the pictures – the pictures depicting orphans – were hung side by side so they make a sort of continuous frieze. The girls sort of come in from the left hand side down a spiral staircase and come and sit around the back of this table and continue on around another pillar. They're really very beautiful and somehow extremely still and poised. They really remind me of Dutch still life painting in a way. Is it that sort of thing that he's tapping into do you think?
Sarah Herring: He's tapping into a number of sources. One of the most obvious ones is that the table – the long refectory table – is taken from Leonardo's The Last Supper.
He's also influenced by the linear grace of Botticelli, the flat style and muted colours of Puvis de Chavannes, which in turn come from the flat colours of fresco paintings of the Italian Renaissance.
Leah Kharibian: And it's because these old masters permeate his own work that he's exhibited here... is that right – is that the reason that these works are on show?
Sarah Herring: Yes, that is the reason because the National Gallery holds the kind of work that we're able to show alongside Cayley Robinson's own works, so we have brought up from the collection a painting by Botticelli, Piero's Baptism of Christ, which I was told this morning has never left the Sainsbury Wing since it was first installed there in the 1990s... also we've been able to bring in a small picture by Puvis de Chauvannes – all to show the influences that were working on Cayley Robinson's own work.
Leah Kharibian: And there really is this most exquisite use of light, which I think is brought out very well here when they're on display. On the left hand picture and on the left hand side there is an oil lamp which throws this beautiful sort of soft pinky yellow light over the orphans who are sitting around the table, throwing these blue shadows on the wall, and that's contrasted with these very high up windows – these awful institutional windows – so the poor children don't get any proper daylight, but through which you can see little bluebirds flying...
Sarah Herring: This juxtaposition of different light sources was a theme that Cayley Robinson returned to again and again throughout his work usually contrasting a warm light, perhaps an interior light, with a rather cool light coming from the windows. And also if you look through the windows you can see in the houses opposite, there's always one or two windows which are illuminated and that was a favourite device of his.
Leah Kharibian: So it suggests somewhere that there's a warm glow of home, even if for these girls it's slightly cold comfort, but also just finally it seems with the women serving – I think it is bowls of milk that they're pouring out – there's a sort of stillness and a simplicity that seems to suggest this early Renaissance idea of a blessing or some sort of sanctity. There does seem to be a religious undercurrent to the work – is that right?
Sarah Herring: I'm sure there is... there's definitely a religious undercurrent to the work and in fact in the Piero della Francesca, The Baptism of Christ, you could compare the water flowing from the bowl from the Baptist's hand with the milk that's been poured from the jug in this painting.
Leah Kharibian: It's a fascinating contrast and fascinating comparison to – thank you very, very much.
Miranda Hinkley (in the studio): Thanks to Sarah Herring. If you'd like to see Frederick Cayley Robinson's Acts of Mercy for yourself, the exhibition runs until the 17th of October. Admission is free. And in conjunction with the show, we're holding a series of talks throughout the month exploring the relationship between medicine and painting. They're supported by the Wellcome Trust and you can find all the details on our website. 
Dosso Dossi
Miranda Hinkley (in the studio): We last visited the Close Examination exhibition when it opened back in July. Two months on, it's proved a popular show and thousands have visited to find out more about the National Gallery's fakes, mistakes and discoveries. I went to take a last look with Caroline Smith before it closes in a few weeks time. She pointed out a work by the 16th century Italian artist, Dosso Dossi. It depicts – and is called - A Man Embracing a Woman – and like so many of the pictures in this exhibition, it's not all it seems...
Miranda Hinkley: Looking at this image there's something really quite strange going on because there are these additional panels which are sort of in the same colours and look as though they might be part of the same work tacked on at the sides, and there are sort of wedge shapes all around and then there's this wavy shape in the top left hand corner...
Caroline Smith: Yes it is odd, isn't it, and it's very apparent to us now when we look at it that the main scene – our man embracing a woman – is on a large irregularly shaped piece of poplar and then around it pieces have been added to turn it into a regular rectangular shape. And so if we look in the top left hand corner, where the piece has been added that you mentioned and there's a piece been added to the bottom where we see a very strange bit of hand and then there are triangular wedges added into the four corners to turn it into a regular shape.
Miranda Hinkley: So when this piece first arrived in the National Gallery's collection it didn't look like that did it?
Caroline Smith: No, these inserts that are so apparent to us now were only really apparent by x-ray and it was only really after the painting was cleaned and restored in 1980 that these became much more apparent.
Miranda Hinkley: And we have a copy of that x-ray on display here as well and we can see that there are nails stuck in all the way around the outside, holding these pieces together.
Caroline Smith: Yes, the inserts were nailed to the main panel, filled with putty and then over-painted.  The x-ray also showed the woodgrain on the main poplar panel which had a very distinctive grain, a distinctive diagonal grain.
Miranda Hinkley: You can see that there can't you, sweeping down from top left to bottom right.
Caroline Smith: Yes, you can and the interesting thing was that when the inserts were similarly examined that woodgrain appears to be the same – it shares that diagonal marking.
Miranda Hinkley: But they're not all quite going in the same direction, are they, and that's the clue...
Caroline Smith: No, they're not all going in the same direction, so the clue seems to be that they came originally from the same panel, but that maybe the panel wasn't quite the shape that we see it today and that maybe instead of being a rectangular shape it was actually a circular tondo.
Miranda Hinkley: Looking over to the reconstruction of the image we can see that circular format and we can see how conservators have been able to reconstruct where these pieces might have come from in that panel.
Caroline Smith: Yes, again by looking at the wood grain it's been possible to piece it together. And we can see where those inserts originally would have been sitting in the tondo... The hand that we now see at the bottom of the panel we can now identify as probably the ladies hand, that when we see her she's got her arm flung out and in the reconstruction you can see where her hand would have been.
Miranda Hinkley: The interesting thing about this painting is that it was never designed to be looked at from close quarters in the way that it's displayed today. It would have been very far off and it would have looked quite different, the figures sort of staring down at you from this circular parapet, almost looking as if they're sort of going to tumble out.
Caroline Smith: Yes it was probably commissioned by Alfonso D'este, the Duke of Ferrara for one of his castles and it would have been one of those very elaborate ceiling decorations, very illusionistic, with people appearing as if they were looking down on you in the room below, watching what you were doing, and in some cases look as if they were tumbling out on top of you.
Miranda Hinkley: Looking again at that reconstruction, there's another piece that isn't in this exhibition...
Caroline Smith: Yes, there is another fragment thought to be of the same tondo which is now in Florence and it shows a boy with a straw basket and flowers which you can see in the reconstruction.
Miranda Hinkley: And he also looks as though his flowers are kind of tumbling out onto us from above.
Caroline Smith: Yes, I think if we were standing in that Ferrara Castle and we were looking up at this decoration then it really would have been quite spectacular and we may have worried that people were going to fall out on top of us.
Miranda Hinkley: So why was the painting broken up in that way?
Caroline Smith: Sometime between 1700 and the early 1820s it was broken up, probably to make it more saleable. This would have been quite a large piece and designed for a particular place and so in order to sell the fragments it was cut down and the shape was changed and what's interesting is that the piece in Florence that still exists is also made into a rectangle.
Miranda Hinkley: Looking at the reconstruction it seems as though there may have even been a third element to the tondo which has been lost...
Caroline Smith: Yes, unfortunately it's impossible really to construct any more of this image and that's really why the decision has been made to leave it as it is. But being able to see those inserts does give us a different perspective on it and at least allows us to imagine some of its earlier history.
Miranda Hinkley (in the studio): Caroline Smith talking about Dosso Dossi's A Man Embracing a Woman. If you'd like to see it – and all the other fakes, mistakes & discoveries – you'll need to be quick. The Close Examination exhibition finishes on the 12th of September. Admission is free, and you can find all the details and lots more information on the website at www.nationalgallery.org.uk.
That's it for this episode – until next month, goodbye.