Episode 22
The National Gallery Podcast
In the December 2008 podcast, priceless paintings fly into town for 'Renaissance Faces'. Plus sixties folk star Shirley Collins, and a wandering Van Dyck masterpiece.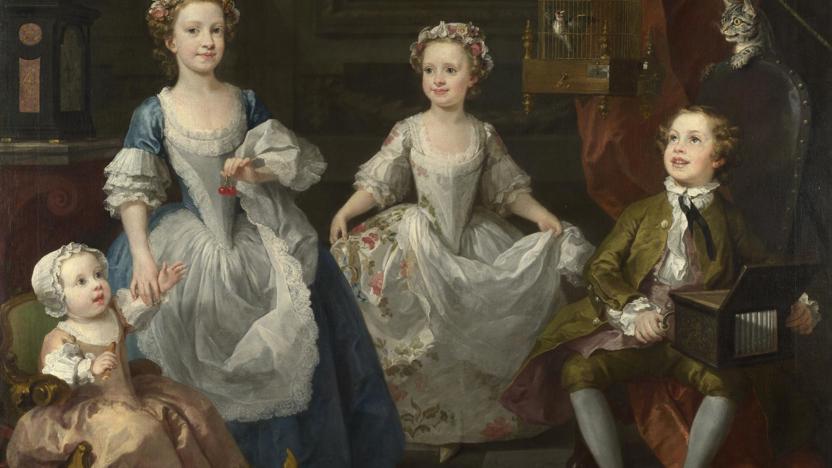 18 min 8 sec | December 2008
Read transcript
Miranda Hinkley (in the studio): Hello. I'm Miranda Hinkley and this is the National Gallery Podcast. Coming up in this month's episode: a behind-the-scenes peek at preparations for Renaissance Faces, the Gallery's next major exhibition. And… [extract of Sam Lee singing] …with the Green Man currently one of the country's coolest festivals and a new crop of bands finding increasing acclaim, folk music is having a revival – again. Sixties legend Shirley Collins brings its distinctive sound to the Gallery.
Van Dyck's 'Equestrian Portrait of Charles I'
Miranda Hinkley (in the studio): But we start this month with the secret history of one of our best loved paintings. Perched astride a horse, long hair flying, Charles I – or, at least, his portrait – leads a quiet life these days on the Gallery wall. As one of the largest works in the collection, Van Dyck's painting of the king attracts many admirers, but few know much about its colourful past. Lecturer Jacqui Ansell told me more.
Jacqui Ansell: Well, standing in front of Van Dyck's portrait of Charles I, one thing that immediately strikes you is its sheer size; it's one of the biggest paintings in the Gallery, but it's also, despite its sheer size, one of the paintings that's got one of the most exciting histories. There are some paintings that have only had three careful owners since they were painted, but this one has had such an exciting life as an object that a whole book has been written about it. It's been christened 'the wandering portrait'.
I suppose the story of this painting begins with the arrival of Van Dyck in England, and not for the first time, but for the first time under the employ of Charles I. Van Dyck was tempted to come to Britain from Antwerp and what he did immediately was paint something entirely different from what had gone before. Those paintings were very sort of formal, full frontal, stiff portraits, the sort of portraits you can see at the National Portrait Gallery, and what he did was give his sitters an air of elegance. And we're standing in front of the painting and you can see the king on a horse and he's looking very tall and magisterial and he's leading the horse through a landscape.
What's so very striking about this painting is the image of power that it presents; you'd never believe that Charles I was only about five-feet tall. He's made to look extremely important and extremely commanding, as befits a man who believes in the divine right of kings. So he thought he'd got his right to rule directly from God. Now this, of course, was one of the things that really upset the Puritans and led to the events of the Civil War in Britain, and it was for this reason that Charles I was executed in 1649.
At the death of Charles I, the great painting collection that he'd spent years amassing was dispersed. Most of it was sold off, but what wasn't sold was thrown in the Thames, specially the religious imagery like the crucifixes and the Madonnas. This painting was bought by Balthazar Gerbier and it passed through the hands of successive princes in Europe; it became in itself the spoils of war. And the reason it ended up back in Britain was again due to war and conquest, because it was given to the Duke of Marlborough. Well, it's through the hands of a descendant of the Duke of Marlborough that it's bought by the Gallery in 1885 and if you look very closely you can see it says on the frame that it was bought then and people were very proud of that fact.
During the Second World War there was of course a great threat, not only to the people of London, but also to the holdings in the National Gallery, so many of the paintings were evacuated to a slate quarry in North Wales. This painting was one of the most difficult ones to transport. It had to have its own case made for it called 'the elephant case', and the story goes that just as they were approaching the last few miles of the journey, the elephant case got stuck underneath a bridge as they were approaching the quarry. And people scratched their heads and wondered what to do and then somebody had a very bright idea and decided to let down the tyres of the lorry and excavate a little bit of the road and happily the elephant case sailed on through. And even more happily for the history of the nation and the history of the collection, the paintings survived very well their confinement in the quarry. 
Since this painting was bought for the collection, many other Van Dycks have come to join it in this room where it takes pride of place, and whereas those paintings might be lent to other exhibitions, I think it's fair to say about this painting that because of its size and sheer physical presence, its wandering days are over.
Miranda Hinkley (in the studio): Jacqui Ansell. If you'd like to see Van Dyck's portrait of Charles I for yourself, it's on display at the Gallery – entry is free.
Coming soon: 'Renaissance Faces: Van Eyck to Titian'
Miranda Hinkley (in the studio): Some of the busiest people behind the scenes at the National Gallery are our team of curators, who dream up and organise the shows that take place here throughout the year. Exhibitions can be years and years in the planning, and with our big autumn show, Renaissance Faces, on the horizon we sent Leah Kharibian along to find out just what's involved.
Leah Kharibian: I'm here, very much behind the scenes, in the office of one of the National Gallery's curators, Minna Moore Ede. It's a room full of books and like all the curators' offices here, it's where a lot of the research that goes into an exhibition takes place. To talk about these preparations for exhibitions, I'm joined not only by Minna, but also by Elena Greer. And I wanted to start off by asking – I think all visitors are absolutely fascinated when they come to an exhibition, and a temporary exhibition like the 'Renaissance Faces' which is about to open, as to how an exhibition happens, how the whole thing comes together, and I wanted to start off by asking you Minna, how is it that an idea for an exhibition is formed?
Minna Moore Ede: Well, this exhibition has been talked about for probably four or five years now. It's an exhibition that the National Gallery has long wanted to do, not least because we have a very strong 15th-century collection of portraits, so we have been keen to put on an exhibition of this type. At the same time, the Prado Museum in Madrid were also thinking that they would like to do an exhibition on Renaissance portraits and they have a very strong 16th-century collection, and so the idea was to combine forces and to lend each other key paintings from our respective collections. They, for example, have lent us a magnificent portrait by Titian of Philip II and we, for example, have lent them a Van Eyck, a 15th-century portrait, so the idea is that you combine forces to put on a truly spectacular display of portraits.
Leah Kharibian: Once an exhibition, Elena I'm going to ask you now, once an exhibition is in the calendar, could you take us through the various stages of preparation?
Elena Greer: Yes, I mean, I think the first thing that we would do really is draw up an exhibits list. Obviously it depends on the type of exhibition, but it's important that there's a strong thread running through the exhibition, so each loan has to be thought about very carefully.
Leah Kharibian: And are there some loans that you get really easily and other ones that are harder to secure?
Elena Greer: Absolutely. It's quite an exciting process waiting for the loan agreements to come in, so there are certain loans that are very exciting and we're very pleased are coming to the show. One reunion that we're making for the show is the portrait by Van Eyck of his wife Margaret, and we're very excited to be able to display it with the National Gallery's own portrait, which might be a self portrait, of Van Eyck himself.
Leah Kharibian: And the fact that you've got sculpture for this exhibition and works on paper and a whole variety of different media, does that affect the way an exhibition is designed? How do you work with designers?
Minna Moore Ede: The design is key actually, particularly for this exhibition because we do have a number of different media. We have got portrait medals, we have drawings, paintings, and it's complicated to install all these kind of works in the same room. What we do is – right from the beginning – we have a 3D model on which we have tiny to scale-size images which we can stick on pieces of Blu-Tack on the wall. So as we get in loans we stick them up on the wall next to each other and we can arrange the room on a model scale.
Leah Kharibian: So it's a little bit like playing Wendy houses is it?
Minna Moore Ede: Exactly, it's like having a child's doll house and so eventually when the painting actually comes into the Gallery we know exactly where it will hang on the wall.
Leah Kharibian: These works are coming from all over the world. How do they get to the National Gallery? What happens?
Elena Greer: The paintings are always accompanied by a courier. The courier accompanies the picture from the lending institution and remains with it until the moment it's installed on the wall.
Leah Kharibian: Sorry, can I just ask… does that mean that the courier sits on the plane, hugging the crate? How does it work?
Minna Moore Ede: Almost.
Elena Greer: Well, sometimes objects are hand-carried if they are small enough, but mostly of course they will go in cargo. But the courier actually has to make sure that the painting is safely installed.
Leah Kharibian: When you finally get to see all these works up on the walls or in their display cases, how are you feeling?
Minna Moore Ede: I think it is tremendously exciting and it can also be quite moving. After, you know, so many years of work, you can't quite believe that everything has come together. But I think that the most gratifying moment is when you hear people saying that, you know, they appreciate all these works coming together, because it always is a once-in-a-lifetime opportunity.
Miranda Hinkley (in the studio): That was Leah Kharibian talking to Minna Moore Ede and Elena Greer. Over the next few months, the paintings they discussed, and many more, will arrive at the Gallery from all around the world. And you'll be able to see them in October when 'Renaissance Faces' opens. We'll have more in future episodes.
Shirley Collins on Hogarth's 'The Graham Children'
Miranda Hinkley (in the studio): The news that folk music is cool is no news to those who were around for its first revival in the 50s and 60s. A doyenne of the movement, then as now, Shirley Collins travelled to the American South collecting songs with the famous folklorist, Alan Lomax. A successful recording career of her own followed, with the release of several collections of English folk songs, including the seminal 'Anthems in Eden'. These days, she's the President of the English Folk Song and Dance Society, and recently visited the National Gallery along with folk singer, Sam Lee, to give a talk. Its unlikely starting point was 'The Graham Children', a portrait by William Hogarth of four playful youngsters, that's one of the highlights of the Gallery's collection. Cathy Fitzgerald spoke to Shirley Collins after the talk, and began by asking what drew her to the painting.
Shirley Collins: It's one of those pictures when you look at it you fall instantly in love with it, I think. And I loved it partly because so many portraits of children, they appear as straight-laced, gazing straight in front of them at you and frozen in time, but these children have so much life and laughter in there, and I think it's just an exquisite portrait.
Cathy Fitzgerald: And that started you searching for children in folk music, didn't it?
Shirley Collins: Well, yes, I started wondering whether there is something about children and folk music, and then the realisation came through that in the English tradition children scarcely appear in the folk song as such – I mean, obviously there are one or two, but not many – on the whole, when they do figure, they come in as ghosts. They're often victims of murder, often by their parents, their mothers.
Cathy Fitzgerald: But obviously that sense of haunting… you were saying that you actually found a way that links back to the painting in a very personal way.
Shirley Collins: Well, yes, because the fourth child, the littlest child in the painting, is a little boy although he's dressed in the skirts of the 18th century, he died in infancy, but he was still painted into the picture so that he could be part of the family still. And he's like a little ghost in this painting and that led me to thinking about other children in folk songs and they come back as ghosts as well.
See, 'The Cruel Mother' is a great example of this. It's an old ballad, the story of a young woman, a minister's daughter, who falls in love with her father's clerk and gives birth to two boys, but murders them and lays them beneath the Marlborough Stone, thinking, as she says, to go a maiden home, but as she returns to her father's garden, there are those two boys, a little bit bigger, playing ball, and she recognises them and says: 'oh bonnie boys, if you were mine, I'd dress you up in silk so fine' and they reply, 'but cruel mother, when we were thine, we didn't see aught of your silk so fine', and then the ballad continues with her asking her dead sons what's her punishment, what sort of death she's going to die.
Sam Lee (sings): Oh bonnie boy, come tell to me, hey the rose and the lindsay oh, what sort of death I shall have to die, down by the greenwood side-eoh. Seven years as a fish in the flood, hey the rose and the lindsay oh, and seven years as a bird in the wood, down by the greenwood side-eoh. Seven years a tongue in the warning bell, hey the rose and the lindsay oh, and seven years as the flames in hell, down by the greenwood side-eoh. Welcome, welcome, fish in the flood, hey the rose and the lindsay oh, and welcome, welcome… [fades out]
Shirley Collins: Seven years as a fish in the flood, it's a lovely image actually, but you've got to endure that; seven years as a bird in the wood, you've got to endure that; so she's going to be the clapper in the warning bell as well for seven years, but the worst thing of all is that she has got to endure seven long years in the flames of hell. And all these images would have been absolutely understandable to the medieval mind; you know, they would have appreciated what was going on. And what these ballads do give us as well is a sense of what is right and what is wrong in society; you know, the story let's you know what you should and shouldn't be doing.
Sam Lee (sings): God save me from the flames of hell, down by the greenwood side-eoh.
Cathy Fitzgerald: That's obviously the very gruesome, sad side of the tradition, but you did find some hope, you did find some naughty children, didn't you?
Shirley Collins: Oh yes, this is what's great about the English tradition, it encompasses everything, absolutely everything. There's one lovely one – it's as old as 'The Cruel Mother', possibly older actually – that is a religious ballad called 'The Bitter Withy' and the withy is a willow tree. And it just starts off with the story of a poor young boy who wants to go and play with some rich men's children and they won't let him because he's beneath them and he's angry, he takes his revenge on them. But in a sort of rather miraculous way, it does turn out in this song that this naughty boy is Jesus and it's his mother Mary who chastises him by beating him with a willow stick. I think what I really like about this is the way the ordinary people over the centuries understood Jesus as them, you know themselves, they could really relate to this naughty infant, just being a normal boy. They could sing about that and understand it.
Sam Lee (sings): And our saviour asked his mother mild 'can I go and play to ball'. 'A ball, a ball, kind sir' she said, 'I'm sure it is too late, and don't let me hear of any mischief at night when we come home'. So it's up the hill and down the… [fades out]
Shirley Collins: I think what's important about the songs especially, I mean we've only touched on two ballads today which are not sort of absolutely typical of what is sung… people singing about their lives in the countryside or related subjects, you know, people talking about work or romance or love or hardship, these songs came down from the lowest of the people and yet they managed to retain this huge art form by word of mouth through centuries, generations and generations that turned into centuries, and I think it's a huge achievement.
Sam Lee (sings): Now the willow shall be the very first tree that'll perish at the heart…
Miranda Hinkley (in the studio): Thanks to Shirley Collins and Sam Lee. That's almost it for this month. And don't forget, time's running out if you want to visit 'Radical Light'. The exhibition of extraordinary, luminous paintings by the Italian Divisionists ends early next month. Tickets are available at the Gallery or online with a booking fee, and an audio guide featuring curator Chris Riopelle – a podcast regular – accompanies the show.
That's it for this episode. Until next month – goodbye!