Episode 2
The National Gallery Podcast
In the December 2006 podcast, listen to exhibition news, including 'Velázquez', 'Cézanne in Britain' and 'Dutch Winter Scenes.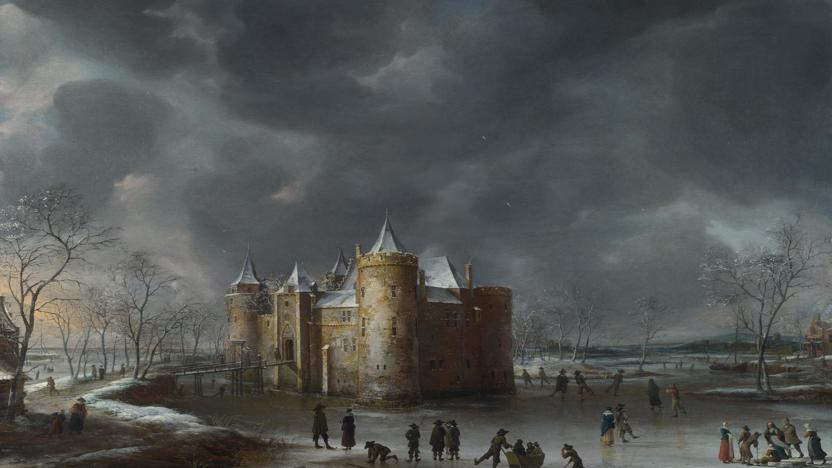 18 min 27 sec | December 2006
Read transcript
Miranda Hinkley (in the studio): Welcome to the National Gallery's second monthly podcast. I'm Miranda Hinkley, and over the next 15 minutes we'll be bringing you a round up of events and shows taking place at the Gallery during December.
We'll pay a visit to the 'Cézanne in Britain' exhibition to see a side of the French master that may be unfamiliar: his brooding and violent early works. We'll then be squeezing ourselves into a farthingale skirt and feathered wig to find out more about the opulent costumes on display in Velázquez's portraits of the Spanish royal court.
Plus: it's Christmas at the National Gallery. As ice rinks spring up in cities across the country, we skate along to 'Dutch Winter Scenes', a display of works celebrating the frozen landscapes and seasonal festivities of the Dutch 17th century.

'Cézanne in Britain' exhibition
Miranda Hinkley (in the studio): But first: hailed by Picasso and Matisse as the 'Father of Modern Art', Cézanne is best known for his beautifully crafted landscapes and still lifes, yet his less familiar early pieces reveal a very different inspiration. Crudely painted scenes of murder and sexual violence are some of the works featured in a retrospective at the National Gallery that's based exclusively on works from British collections. To find out more, I talked to curator Anne Robbins and Michael Diamond, author of 'Victorian Sensation' and an expert on the 19th-century fascination with crime and scandal.
[music]
Anne Robbins: We managed to bring together in our show three of his very important early pictures – 'The Abduction of 1867', 'The Murder' and 'The Autopsy' – and the three of them form a sort of gruesome trio, as it were. If we look at 'The Murder', for instance, the violence of the subject matter is mirrored by the very impetuous technique. It's a picture that is mostly painted in palette knife and Cézanne's technique manages to enhance the violence of the subject. Now why would Cézanne have painted a murder? Now we know that he probably drew inspiration from popular broadsheets; he may even have based this picture on a contemporary incident which might have been related in the popular press.
Michael Diamond: It's a strange fact that the popular press in the mid-19th century was more sensational in visual terms than it is now, precisely because it was impossible to reproduce photographs in newspapers. You might think that bringing in photographs might make things more sensational, but the fact is that when you had a sensational event, a fire, a murder or whatever it is, the artists were free to depict these events as they thought fit. They therefore depicted them in the most dramatic, melodramatic and sensational way.
So, if somebody stabbed someone to death, the gesture would be huge, you'd have a huge gesture with the arm raised aloft. You wouldn't get a little jab with a knife which may well have been what happened, but no one was there to photograph it; you couldn't actually argue with the artist's depiction, though you probably suspected it was rather wide off the mark. And it's interesting that in this picture of the murder, by Cézanne, the gesture of the man stabbing the woman on the ground is a very large gesture. He's got his arm raised right up in the air, and he's about to stab right down on her. Similarly, the woman who's holding her down, is not just holding her down, she's making a huge show of holding her down.
Anne Robbins: This way of distorting the figures was very much a deliberate one though, and it very much became part of his style and this was the way he managed to express his temperament through his pictures. He used the words 'peinture croyard' which would translate as 'ballsy art'. Now, by 'peinture cruyard', I assume Cézanne meant full of that kind of virile impetuosity, you know, full of strength and temperament.
Michael Diamond: One of the links between Cézanne and the popular culture of his time, I think, is in the painting 'The Autopsy'. People have compared it to the laying out of the dead Christ in various religious paintings, but it's interesting that Cézanne didn't choose to actually depict the dead man and the figures around him in that way – this is a preparation for a funeral, a dead body being laid out in the contemporary world. And it's interesting that one of the sights of Paris, particularly for the foreign visitor, was the morgue – it's the same sort of mentality presumably that drew people in the 19th century to public hangings.
Miranda Hinkley (in the studio): Anne Robbins and Michael Diamond. If you'd like to see these works and many others from across Cézanne's career you'll find them on display until 7 January 2007. The 'Cézanne in Britain' exhibition is free and sponsored by Gaz de France.
[music]

Costume in the work of Velázquez
Miranda Hinkley (in the studio): And now, we return to the show that's proving to be one of the National Gallery's most successful ever: 'Velázquez'. Those of you who joined us last month will remember that this exhibition of works by the great Spanish master is the first major display of his paintings to be held in Britain. Our reporter Leah Kharibian has investigated an aspect of the show that has fascinated all those who've seen it – the bizarre world of 17th-century wigs and farthingales.
Leah Kharibian: Among the most striking paintings in the 'Velázquez' exhibition are his portraits of the women of the Spanish royal court, not least because he shows them wearing what must rate as some of the most extreme fashions in history. I'm joined by Eileen Sheikh, who trained as a costume maker and who's also one of the National's retail managers. And I thought we'd start off by looking at one of the most spectacular pictures in the show, Velázquez's monumental portrait of 'Queen Doña Mariana of Austria', the second wife of King Philip IV of Spain. Eileen could you describe the extraordinary get-up this woman is wearing?
Eileen Sheikh: Well, it's a very extreme size of costume, this huge skirt. It's created by wearing a farthingale which is a wide-hooped framework that sits underneath any fabric of the skirt that you're going to be wearing, so creates literally a huge panier shape, so probably about five or six feet in width across from side to side, and about three feet in depth.
Decorating this amazing shape is also metres and metres of silver threadwork, embroidery and ribbons. And these would have all been extremely expensive and these are probably using real silver thread. Very heavy work in which case, and actually creating even more weight on top of the fabric that's already there.
Leah Kharibian: And what about this extraordinary wig that she's wearing on top of her head?
Eileen Sheikh: Well, yes, it's an extraordinary shape and actually quite unusual. It's really only seen in these kinds of royal Spanish portraits. And it's exactly the same shape as the farthingale. It's created by layers and layers of hair which would probably have been made as a wig out of your own hair, ringletted and styled by a hairdresser within the court and finished off with beautiful scarlet rosettes, ribbons and jewels, and on this particular portrait, a wonderful ostrich plume that's tinted with red-touches at the ends of the feathers.
Leah Kharibian: I was going to ask you about the comfort of these clothes, because I can't imagine that's even vaguely comfortable to wear.
Eileen Sheikh: Well, no, I'm sure it wasn't that comfortable to wear, however I'm sure that these people were very used to wearing them from a very early age. One thing they would have got used to is wearing stays and farthingales and wigs right from the age of three upwards. However, wearing stays all day, wearing a farthingale all day, wearing so many layers of fabric with so many accessories and so much time involved in putting all of this on, must have been extremely tiresome, extremely hot and heavy.
Leah Kharibian: How did women of the court negotiate space? I couldn't get through a door at home in a dress like that!
Eileen Sheikh: I think that the main thing to remember is obviously that they're not living in the kinds of spaces that we're used to living in, so around them everybody else would have been wearing these kinds of things. All of the rooms and the decorations in those rooms, would have been made to accommodate this kind of shape of skirt, so a lady's chair would never have had arms on it so you don't have to negotiate squeezing yourself into a chair, and all of the doorways would have been extremely wide; it wouldn't have been a problem for them actually going from room to room. However, I'm sure if you're in a room with masses of other people with these kinds of skirts, there must have been some negotiation problems between skirts.
Miranda Hinkley (in the studio): That was Eileen Sheikh talking to Leah Kharibian. And the music you're listening to comes courtesy of the National Gallery's Manolis Chrysanthou.
'Velázquez' is sponsored by Abbey and if you haven't seen the exhibition yet, there's still time – it's open until 21 January 2007.Tickets for timed entry can be purchased online at www.nationalgallery.org.uk or by telephone on 0870 906 3891. You might also like to know that an audio guide accompanies the exhibition. It charts Velázquez's career from his early paintings of humble street scenes in Seville to the pomp and circumstance of his late portraits of the Spanish royal court, and features interviews with curators Dawson Carr and Gabriele Finaldi.
Finally, another Velázquez painting has been temporarily loaned to the permanent collection. Called 'A Lady in a Mantilla', it was painted in the 1640s and can be seen in Room 30 until 21 January.

'Dutch Winter Scenes' exhibition
Miranda Hinkley: That's all from Velázquez today, but we're staying in the 17th century, and swapping the glamour of the Spanish royal court for the frosty outdoor fun of an intimate display of paintings called 'Dutch Winter Scenes'. When rivers and lakes froze over during a run of unusually severe winters, they became a venue for skating, drinking and misbehaving in general. I went down to the Gallery to have a closer look.
Miranda Hinkley: So I'm in Room 1 at the National Gallery, surrounded by images of winter landscapes; there are frozen lakes and rivers, and what's striking about these paintings is that they're filled with life and activity and people rushing home from market, pushing carts across the ice, or just standing round in groups talking, or playing games. And I'm joined by Elena Greer, who's curator of the 'Dutch Winter Scenes' exhibition.
Elena, in this particular painting, 'The Castle of Muiden in Winter', a game is being played that looks quite familiar to us, a kind of 17th-century precursor to golf.
Elena Greer: Yes, that's right. It was a Dutch game that was called 'kolf' and it's thought to be the predecessor of modern-day golf and it was played in a very similar way on dry land and on ice. The Dutch were absolutely fanatical about it and in fact they played it so much that it had to be banned from city centres to the outskirts of towns, because as you can imagine it was rather dangerous and basically involved hitting a wooden or sheepskin ball filled with animal hair, very densely packed, with a large wooden or iron-headed club at a target within a minimum number of strokes. So, as you can see, it resembled modern day golf very much.
Miranda Hinkley: I think a similar game was popular here and famous in London, and in fact there's a famous London street which is named after it.
Elena Greer: That's right. In fact, the street known as Pall Mall was used for a version of this game – the French version known as 'jeu de maille' – because the length of the street really lent itself to hitting a ball at great speed and chasing after it. That's why the street gained its name, Pall Mall.
Miranda Hinkley: And actually the weather dates these paintings to a very specific time that we can recognise.
Elena Greer: That's right. In fact, the 17th century was a period of incredibly harsh winters for the Dutch; in fact, two out of three winters brought freezing weather and lots of snow. So really the Dutch artists found this a great challenge and were experimenting with the possibilities of depicting the Dutch people at play and at work on the ice, but also the beautiful effects and the natural world as it was covered with snow and ice.
Miranda Hinkley: Let's go over here to these two scenes which are absolutely filled with life and activity.
We're standing in front of a picture by Hendrick Avercamp, called 'A Scene on the Ice near a Town' painted in 1615, and we can see that there's somebody sitting in a little boat, there's people lacing their skates on and carrying fishing rods. What other details can we see here, Elena?
Elena Greer: Well, this is a real snap-shot of the Dutch people, both making the most of the winter weather and enjoying themselves, but also carrying on with their daily lives and it really celebrates their resilience in this particularly cold period. For example, we can see people skating, and one woman in the middle distance has actually fallen over and her skirts have all ruffled up. There are a few people running to her aid, but this is actually a motif that is found in many Dutch prints and is really repeated in many pictures of the same theme. Other wonderful details are a little dog scurrying along in the foreground. There are people carrying wheels of cheese, and pails of milk. So really all strata of society are on the ice getting on with business.
Miranda Hinkley: A common facet of art is that when people depicted everyday people going about their business, there was often a sense of social commentary there or of moralising. Do you think that's the case here?
Elena Greer: Yes, very much so, especially in these two paintings in the exhibition by Hendrick Avercamp. In the 17th century, Dutch literature and poetry really began to moralise on the theme of skating on thin ice, as it were, and they almost saw skating as representative of the slogan or the saying 'pride comes before a fall' – as in, skating on ice that could break at any moment seemed to be rather a foolish thing to do. But then at the same time, as you say, skating and being on the ice was really a great leveler of society, so it was all levels of society that were indulging in this foolish pastime. But they were absolutely fanatical about it in the 17th century as we can see from these pictures.
Miranda Hinkley (in the studio): If we've put you in the mood for winter sports, do come and take a look for yourself. The 'Dutch Winter Scenes' exhibition runs until 2 January 2007, and admission is free.
In addition, curator Elena Greer is offering a special tour of 'Dutch Winter Scenes' to the first six people to email us. It will take place in the Gallery in the week before Christmas, and if you'd like to win a place, please send your name, address and contact details to podcast@ng-london.org.uk
And finally: our monthly round up of shows and events. Take a fresh look at modern masters with a visit to the 'Manet to Picasso' exhibition, which continues in the Sainsbury Wing throughout December. Admission is free and the display includes iconic works by Van Gogh, Monet and a host of other 19th-century greats. Familiar to us, but shocking to viewers of the time; if you'd like to know why, an audio guide is available featuring interviews with the curators.
And if you've got time to spare during the party season, don't forget the National Gallery is often open late. There's live music and a bar in the Sainsbury Wing foyer until 9pm on Wednesdays with free guided tours from the information desk at 6 and 6.30pm. And the 'Velázquez' exhibition is open until 9pm on Wednesdays and Saturdays.
When the Gallery closes, you can head over to the new National Café, open daily from 8am to 11pm, and 6pm on Sundays. Take your MP3 player along and show them this podcast on the display, and you can order two glasses of wine for the price of one after 4pm. If you're coming into the café after 6pm please use the entrance in St Martin's Lane.
And don't forget – there's no entrance charge to view the permanent collection at the National Gallery. And there are a number of audio guides to help you make the most of it, including a tour of director Charles Saumarez Smith's favourite works.
Information on all these events and more can be found on the National Gallery website: www.nationalgallery.org.uk. That's it for this month, but make sure you join us again in January 2007 when comedian Frank Skinner will be taking us on a tour of the Gallery to see his favourite paintings.
Until then, goodbye!
Go behind the scenes with more National Gallery podcasts