Episode 16
The National Gallery Podcast
In the February 2008 podcast, stylish gentlemen seek art, antiquity and the ultimate Roman holiday as 'Pompeo Batoni' opens at the Gallery.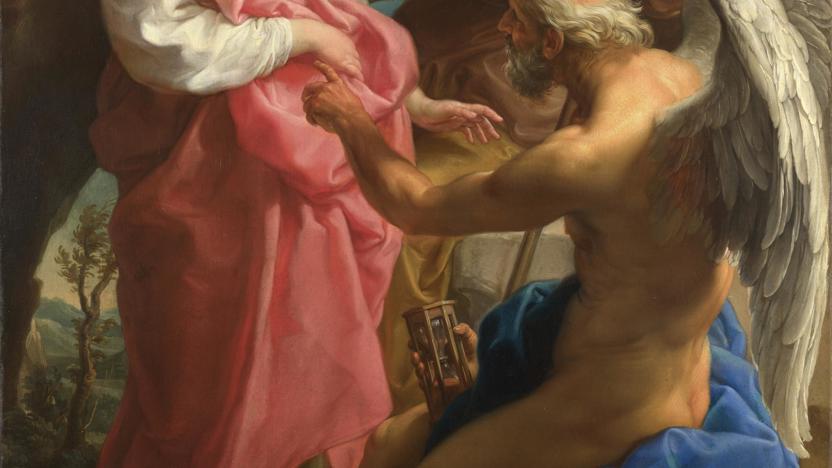 17 min 31 sec | February 2008
Read transcript
Miranda Hinkley (in the studio): Hello, I'm Miranda Hinkley and this is the National Gallery Podcast. Coming up…
Simon Talbot: There are circus performers, a grotesque old woman, so you've got to be kind to her, a mad, pet-hating scientist, very difficult to say, but very enjoyable to watch. And you can take part in a beard-growing contest. More than that I cannot say. 
Miranda Hinkley (in the studio): …the National Gallery through children's eyes. We hear about the launch of a new audio guide for families that invites kids to take charge.
Pompeo Batoni's Grand Tour portraits
Miranda Hinkley (in the studio): First though: the Gallery's next major exhibition. Pompeo Batoni is an artist you may not have heard of, but in the 18th century he was an international star. Hailed as the saviour of Italian painting, he was also a brilliant portraitist adored by British aristocrats travelling on the Grand Tour. Being painted by Batoni in Rome was a highlight of this fashionable expedition around Europe's cultural capitals, and the paintings that were brought back hang on the walls of many of the nation's stately homes. One house, however, has a collection that's particularly fine. Uppark, in West Sussex, is now a National Trust property and contributing several works to the new show. To find out more, we sent Leah Kharibian along to talk to Alastair Laing, the National Trust's Curator of Pictures and Sculptures.
Leah Kharibian: Well, we're here at Uppark, a beautiful William and Mary house, which in the mid-18th century was the home of Sir Matthew and Lady Sarah Fetherstonhaugh, and like many National Trust properties it's closed for the winter, but it's being opened especially for us today by the keepers here. And we're coming inside… and we're going to make our way first to Alastair, I think, to where the portraits of the Fetherstonhaughs which are going to be in the National Gallery exhibition are hung. So we've come into the Red Drawing Room and I see that all the furniture here, as you do at all National Trust properties in winter, is under close covers – these fabric covers that protect the furniture. But this is very much as it would have been when the Fetherstonhaughs were away.
Alastair Laing: Very much so. They would have shut up the house when they went away and dust covers would have been put over everything to protect the furniture, in fact less from the dust, or not only from the dust, but also from the light because wood can fade very badly when exposed to the light.
Leah Kharibian: Now this is also the room where the two portraits of the Fetherstonhaughs, Sir Matthew and Lady Sarah, would have been hung. We can actually see at the moment the empty spaces where their portraits were – they're currently in Houston and are going to be arriving at the National Gallery on 20 February. But they were unusual, weren't they, for Grand Tourists, because I suppose our typical view of the Grand Tourist was the son of the aristocracy who goes off to complete his education, but the Fetherstonhaughs were different.
Alastair Laing: They certainly were. They were almost unique, certainly amongst Batoni's sitters, in being a family group and that consisted of Sir Matthew and his wife Sarah, and his brother Utrick, and a companion for his wife called Katherine Durnford, who was daughter of the local parson and between whom and his brother Utrick, an affection developed so that they married when they came back.
Leah Kharibian: And so a bit of romance as well as the Grand Tour. But the Fetherstonhaughs were also unusual, weren't they, in the fact that they were among the very first British travellers to sit for Pompeo Batoni in Rome in 1751 – aren't they?
Alastair Laing: 1751 and 1752
Leah Kharibian: They also seemed to have a slightly different look to them from the sort of… the typical Batoni Grand Tourist portrait that we've become used to.
Alastair Laing: They do indeed, because the classic Batoni portrait which is actually represented in this room by the portrait of Sir Matthew and Lady Fetherstonhaugh's son Harry, who was painted in 1776, is to have some classical detail, a vase or a sculpture or a plan of the Pantheon or something – in this case it's a vase. The Fetherstonhaugh party are represented as hunters and Sir Matthew and Lady Sarah Fetherstonhaugh… or even, possibly classical hunters, because Lady Sarah Fetherstonhaugh has a crescent moon in her hair to denote her as Diana, the goddess of hunting.
Leah Kharibian: Those two portraits, they stand out as well because they've got these dogs in them. Is it a case that the dogs were portraits do you think?
Alastair Laing: It's certainly very possible because one of the things that travellers did like taking with them in addition to quantities of luggage which sometimes required a carriage of its own was to take their pets and particularly their dogs with them. And Batoni seems to have had a particular sensitivity towards dogs because he includes them in a number of his portraits.
Leah Kharibian: And I'm fascinated, I mean, looking at the portrait of Sir Harry here, I'm fascinated by this idea of the Grand Tour passing down through generations – that, you know, Sir Matthew and Lady Sarah go and then their son goes in time. Sir Harry himself, I understand, was a bit of a character?
Alastair Laing: Well, he certainly was. On the Grand Tour he was probably kept in order because, interestingly, Utrick his uncle, who had been on the first tour, acted as his guide and tutor and probably kept him, or tried to keep him, on the straight and narrow. But after he came back to England his father had died, he had a vast fortune, he fell in with the Prince of Wales and led a ….
Leah Kharibian: That's always bad…
Alastair Laing: Always bad… well, the past Prince of Wales we're talking about! And led a rather wild life which included taking up the young Emma Hart, much better known later as Lady Hamilton, as his mistress, although I regret to say that he packed her off to the country when she became pregnant.
Leah Kharibian: Now have I heard a story that she danced naked on the dining table here at Uppark, or is that totally mythology do you think?
Alastair Laing: Well it was certainly passed down in the annals of the family as having happened. We can't know whether it did or not.
Leah Kharibian: Now, we're going to go to a different room – not the dining room I hasten to add – but the saloon. It's just a beautiful room with the most splendid plaster ceiling and with paintings hung all round – a sort of classical theme to the fireplaces. And it seems that – looking at a room like this, which seems to me the sort of quintessential, you know, stately home room – I mean, it seems that British taste, what we have come to accept as our British heritage, really seems to me to have been profoundly affected by the Grand Tour and encounters with artists like Batoni. 
Alastair Laing: Very much so. Because even those who didn't go to Italy, as Dr Johnson famously said, felt an inferiority for not having done so, and some of those who weren't able to go and acquire art at firsthand themselves would use agents in Rome, people like James Byers, in order to buy the art for them so that at least they had the art of Rome even if they hadn't had the experience of it themselves.
Leah Kharibian: Wonderful – thank you very much indeed.
Coming soon: 'Pompeo Batoni (1708 – 1787)'
Miranda Hinkley (in the studio): Alastair Laing talking to Leah Kharibian. Most of the paintings by Batoni to be found in Britain are portraits, as at Uppark. But as the new exhibition will reveal, there's lots more to the artist than that. Leah spoke to curator Dawson Carr at the Gallery to ask him what else we can expect from the show.
Dawson Carr: I think most people in Britain will be surprised because they're going to see that he was not just a portrait painter. In point of fact, Batoni didn't even begin painting portraits of Grand Tourists until he was virtually two decades into his career. Those first two decades are marked by a number of very beautiful religious, mythological and allegorical compositions that Batoni created principally for Italian patrons, but also as his reputation developed he became famous across Europe, and things were commissioned from as far away as Berlin and Saint Petersburg.
Leah Kharibian: And what sort of paintings are these – are they colourful, dramatic – how will they look?
Dawson Carr: Batoni has a beautiful sense of colour. He's an artist who combines the grandeur of Roman design with a very particular sense of saturated rich colours that enhance and convey the message of these pictures. And these include a very elegant and lovely 'Allegory of the Arts', in which the art of painting is depicted at the centre – naturally enough for a painter – surrounded by personifications of poetry, sculpture, architecture, and music. As well Batoni was a marvellous creator of altarpieces. This was of course the mainstay of most painters of the era – religious paintings that is – and in Batoni's case, he creates a particularly grand one for the Church of Saint Catherine of Siena in his native Luca, in which she's overwhelmed and swoons in the arms of angels.
Leah Kharibian: And what of the portraits? Is there more to them than elegant flattery? Have we been doing Batoni a bit of a disservice really by seeing him in that light?
Dawson Carr: Visitors are going to be able to appreciate that this is an artist who not only creates brilliant swagger portraits – full-length images of Britons posed before objects, statues, buildings and the like that indicate their presence in Rome – things that were created as kind of souvenirs of the Grand Tour, to commemorate their experience in Rome, but also portraits that show a very different side to Batoni, portraits that are more intimate, portraits that clearly indicate that Batoni was very engaged by at least some of the people that he portrayed and came up with novel means to indicate individual personalities.
Leah Kharibian: So there really is going to be a new side to this artist that perhaps we just hadn't really comprehended, certainly not in this country.
Dawson Carr: Well, it's really more than that, because when the exhibition opened in Houston before it came to London, scholars, curators, art dealers were all of the same mind and that was that, for all of us, getting these pictures all together added up to more than the sum of the parts. It shows an artist who is immensely varied and very, very sensitive to the depiction of the subject, whether it be a person or an episode from classical mythology.
Miranda Hinkley (in the studio): Dawson Carr. So – colourful, intimate, swaggering – come along to the Gallery and get to know the work of this versatile artist better. The show opens on 20 February and tickets are available from the Gallery or online with a booking fee. And you can hear more from curator Dawson Carr on the exhibition audio guide.
'Teach your Grown-Ups about Art' audio tour
Miranda Hinkley (in the studio): Next up…
Anna: My name is Anna and I am seven.
Arno Walker: My name's Arno Walker… nearly 11.
Abel: My name is Abel and I'm seven years old.
Theo Kandel: I'm Theo Kandel and I'm 11 years old.
Sam: I'm Sam and I'm 13 years old.
Anna: I saw pictures of sunflowers in vases.
Theo Kandel: I saw the Vincent Van Gogh.
Sam: I like Claude Monet.
Anna: The petals are yellow.
Arno Walker: I came here to see animals and mythical creatures.
Abel: I saw a horse.
Sam: Oranges and fruit and stuff.
Abel: I like painting dogs.
Anna: I saw pictures of children.
Arno Walker: Battles.
Sam: Seen a lot of good art.
Abel: The picture of when God made grapes into wine.
Anna: It had flowers and they were three different kinds and they were in a vase
and it was nice.
Theo Kandel: I liked the horse one 'cos it was very detailed and it was cool.
Miranda Hinkley (in the studio): An art gallery isn't always the first place parents think of taking their kids for a day trip. Too much standing and staring, and not enough hands-on is often the fear. But, as you've just heard, there's as much here to amuse our smallest visitors as the grown-ups that accompany them. Well over 100,000 children visit every year and find paintings as full of magic and adventure as any storybook. And with half term just around the corner, there are lots of events lined up to keep them entertained, including the launch of a brand new audio guide for families. Its writer, Simon Talbot, told me more.
Miranda Hinkley: So Simon, you've been very busy for the last couple of months writing the audio tour. Can you tell us a bit what it's about?
Simon Talbot: The premise of the tour is it's the kids teaching the grown-ups – taking them on the tour. If you spend any time in galleries you'll be aware of the sight of families and kids standing looking slightly glazed while their father or mother pontificates about the brush strokes and composition and basic historical facts behind these paintings – which is all brilliant, but we just thought what it would be like if the kids themselves were empowered and had the information to teach their grown-ups – stuff which their grown-ups might not have seen because they're too busy thinking about brush strokes and composition. And there's a lot more going on in paintings than just that boring stuff – there's a lot of stories to be told, and a lot of excitement and a lot of fun to be had in the Gallery and that's what we're trying to bring out.
Miranda Hinkley: So instead of the adults pontificating we're giving the kids the tools to pontificate at their adults?
Simon Talbot: Well we're saying to the kids it's ok to have fun in the Gallery. Look at the pictures – what do they say to you? How do they make you feel? What stories do they create in your own heads? They don't necessarily have to be the given facts – it's just, what narrative does it say to you? Freeing them up to have a bit of fun with it. And then at the end of each particular painting a bell rings and this is the cue for the grown-ups to take their headphones off and the kids get a fact, a secret fact that will blow their grown-up's mind. The kids get the fact and then they have to relate that fact to their grown-up, so they're actually physically teaching their grown-up something that the grown-up probably didn't know.
And we're kind of going for the… the idea behind it is to get the 'oh yeah' factor and kids really, really enjoy having something over on the grown-ups – 'I know something you don't' – and then teaching them. And when the grown-up looks at the painting and notices a detail they hadn't seen before, there is that 'oh yeah' and the kids really enjoy that, and learn as well. It's learning through teaching, which is brilliant.
Miranda Hinkley: Right, well don't tell me what any of those facts are because you might have to kill me, but what can adults do – even if they just pop in for five minutes with their children – just to make the Gallery a bit more interesting so that you don't kind of get that glazed effect?
Simon Talbot: I suppose there are several things. Make it fun is, I suppose, the most important thing. It sounds obvious but it's almost easier said than done. The journey to the Gallery is the beginning of the experience; don't just sit on the bus – 'we're going somewhere, you're going to learn, it's very important' – make the journey part of the fun, build it up – 'we're going somewhere, there's loads of amazing things, it's an amazing building, you'll see things, possibly you'll see things from school, things like the "Sunflowers" – you've seen them in textbooks and you're really going to physically see this painting'.
It's kind of like the equivalent of seeing somebody famous, and seeing a painting like that is fantastic for kids because they're huge and vibrant and they're surrounded by other huge and vibrant things. Bear that in mind when you're travelling to the Gallery. Always ask open-ended questions. Rather than say 'this painter did this, on this date' say 'What's that there? What do you think he's doing? What do you think that smells like? What do you think is happening there? How does that make you feel?' and generate a kind of discussion. I think that's probably the main thing. It's not a case of grown-ups imparting knowledge onto youngsters – it's a case of giving youngsters the freedom to discover things about paintings themselves and I think that way it leads to all sorts of fun things that you may not have thought of.
Preparation is the key. It's true in DIY and it's true in this. Have an idea, if you can, about what paintings you'd like to see. The Gallery is a huge place with lots and lots of paintings, so you don't walk in and you're just bamboozled with so much choice – have a thought before you leave the house about what would be good, what sort of things are your kids interested in, what sort of things do you think they would like. You can go on the website – the National Gallery website – have a trawl through the collection and have a look and see – 'they'd like this, they'd be interested in that'. Plan in advance. If you haven't got time for that, have a chat with somebody at the reception desk and explain to them the kind of things that you're looking for and they'd be more than happy to help you out.
Miranda Hinkley: I know we said we wouldn't talk at all about what was actually in the tour, but just give us a very vague, loose sense of what we might hear.
Simon Talbot: I shall be as cryptic as I can without sounding too 'roll-up, roll-up-y'. Attend the 'Teach your Grown-Ups' tour and you'll see a petulant angel, you'll encounter the world's worst lute player, and believe me he's very, very bad indeed. There's circus performers, a grotesque old woman, so you've got to be kind to her… a mad, pet-hating scientist – very difficult to say, but very enjoyable to watch – and you can take part in a beard-growing contest. More than that I cannot say.
Miranda Hinkley (in the studio): Simon Talbot. If your family's planning a trip to the Gallery, you might like to be among the first to take the Teach your Grown-Ups audio tour. It's free and is available from the middle of February. And don't forget every Sunday is 'Family Sunday' – a day of stories and hands on fun. See the web for details at www.nationalgallery.org.uk.
That's all for now – join us again next month for all the latest news of the National Gallery's exhibitions and events. Until then, goodbye!