Episode 15
The National Gallery Podcast
In the January 2008 podcast, hear a concert inside a painting and make your New Year's resolutions with Louis XV's courtesan, Madame de Pompadour. Bonus track: music from the Renaissance.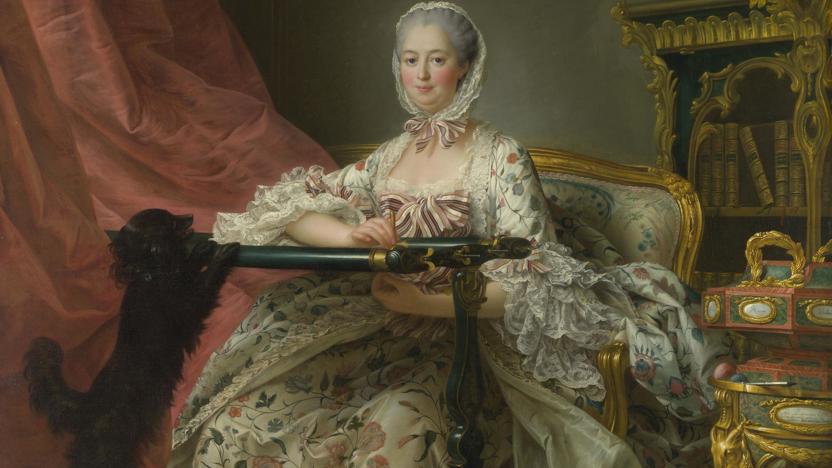 15 min 24 sec | January 2008
Read transcript
Leah Kharibian (in the studio): Hello, I'm Leah Kharibian and this is the National Gallery Podcast. Coming up: a painting you can hear as well as see, courtesy of the Royal College of Music, and…
Grayson Perry: I think, you know, a big part of what is contemporary art is surprise, challenge. The word 'shock' sometimes I think is a little bit overused, but I think it's definitely about making people go 'ooh… yes, I hadn't thought about that before' and I think that is the important thing that contemporary art can do.
Leah Kharibian (in the studio): Turner-prize winner Grayson Perry on what's next for Trafalgar Square's famous empty plinth.

Drouais, 'Madame de Pompadour'
Leah Kharibian (in the studio): But first: it's January – time to make – and probably, break – those New Year resolutions. Whether it's learning a language, consuming less caffeine, or going for early morning runs, becoming the person we'd like to be can involve more will power than most of us can muster. But Louise Govier of the Education team thinks the famous, and rather fabulous subject of one of the Gallery's portraits might provide some inspiration. Miranda Hinkley went along to find out more.
Louise Govier: Well, we're shown this very nice, matronly looking lady, quite strong, looking out directly towards the viewer, but she looks absolutely as if she is someone who is very cultured, but very happy to stay at home and engage herself in womanly work. She's surrounded by things that tell us that she is learned – she's got a bookcase with a whole set of beautifully bound books, she's got her beautiful piece of furniture that holds all of her different embroidery threads, we've got a portfolio of prints – she's an art-collector – and a mandolin – she enjoys music too – and also, of course, this lovely little dog, one of her pet dogs – an ideal way for her to show that she is still faithful to the king.
She looks though, as if she hasn't got a thought in the world and that's not the whole story with Madame de Pompadour. Rather than have everyone thinking she's still involved in foreign politics, she shows herself as a nice matronly lady who likes to stay home and do the sewing. It isn't the reality though, because actually she used her embroidery sessions as a way to then meet with important people who wanted to get to the king – she actually brokered those kinds of arrangements at her tambour frame. So when we look at this woman, looking as if butter wouldn't melt in her mouth, and she's just happily embroidering, we have to imagine perhaps that we're actually a French courtier who's desperate for the king's ear – we have to get through this lady first.
Miranda Hinkley: So she was obviously a very adept political manoeuvrer and someone who was used to using her image to convey different ideas about herself. How has she used her image in other ways?
Louise Govier: This woman is used to using portraiture as a way to reinvent her image. She literally makes herself over every couple of years according to the needs of the day. To start off with when she's having a sexual relationship with the king she's portrayed as Diana, the virgin huntress, although everyone knows she's not a virgin and the only thing she's hunting is the king. Then at different points she shows herself as an intellectual, actually looking as if she's written part of the 'Encyclopaedie', the big encyclopaedia project. She shows herself as a nice lady, who's involved in gardening – that's at one of the times when she needs to take herself back a little bit from the public stage.
One of the points where she's arranging for the king to have other lovers, other than herself, she actually has a portrait made of herself as a Turkish sultana, in charge of the harem. She has this put over the bedroom door so the king must have had to look at her every time he went in with the latest young thing she'd chosen for him. There's a particularly wonderful example where she actually makes her self image over into a virgin. She has herself portrayed as a vestal virgin at the age of 40, which is quite something – I mean everyone knew she wasn't a virgin - but it was a way of showing her ongoing devotion and fidelity to her king.
And one of the things I love about this painting is that Madame de Pompadour is in charge of the whole process. She is a woman who is incredibly proactive, not just about her own self-image, but about her life overall. She always takes charge. She always looks where she's going and moves onto the next step, and I just think that's a great inspiration for us all.
Leah Kharibian (in the studio): Thanks to Louise Govier. It being the season for fresh starts, Miranda also went to meet a woman who's an expert on helping people make them - Heather Harris, a professional certified life coach from Red Resource. Miranda began by asking her what Madame de Pompadour's masterful control of her very complicated life could teach us today.
Miranda Hinkley: Heather, Madame de Pompadour's personal and private lives are both very complicated and yet somehow she always stayed in control. Obviously most of us don't have her notoriety, but is there something that we can identify with here?
Heather Harris: I think she actually demonstrates something very interesting. It's an approach and an outlook that shows she's very willing to take responsibility for her own life. We all actually have the choice to lead our own lives – it's sometimes hard for us to see it that way, but we do have to ask ourselves, if our life doesn't look like the way we want it to be, what changes are we willing to make? I think she absolutely got very clear about that.
Miranda Hinkley: So it's very much about responsibility.
Heather Harris: Definitely. Many of us will make our circumstances in life the reasons why our life looks like the way it does and why it isn't exactly the way we want, but the questions we really need to ask is how much of that is really an excuse? We always can do something. I think that's quite empowering.
Miranda Hinkley: So January, a time of year to make a new start – a great time of year for making changes. What are simple things that people can do to start to take control of their own lives?
Heather Harris: One of the simplest things that we can do is look at what we're saying yes to and what we're saying no to in life, because essentially when it boils down to it that is what is going to dictate the shape of our life. Many of us say yes when we really ought to be saying no. Many of us regret saying yes to things – we find ourselves overwhelmed, and we find ourselves without the things in life that we really wish we were doing. So a simple monitoring exercise of what am I saying yes to that really ought to be a no, and what am I saying no to that actually ought to be a yes, is a good place to start.
Related to that is a question about what would you like more of in your life, what would you like less of in your life? In many ways that can give you the signposts to what your yeses should be and what your nos should be. We all have limited time and energy and we deserve to have the things in our life that we want.
Miranda Hinkley: That's lovely – thank you very much Heather.
Leah Kharibian (in the studio): Heather Harris ending that report by Miranda Hinkley. Inspired? Well, if New Year means it's time for a new you, come along to the Gallery. We're holding lunchtime talks on the theme of reinvention throughout the month. They're free to attend and Louise Govier will be talking about Drouais's portrait of 'Madame de Pompadour' at 1 o' clock on Tuesday 29. See our website – www.nationalgallery.org.uk – for details.
'Renaissance Siena: Art for a City'
Leah Kharibian (in the studio): Now: looking at pictures of people singing and playing music can be an uncanny experience. We know they're making a noise, but all we can hear is the quiet of the Gallery. Unless, perhaps, we're looking at Matteo di Giovanni's extraordinary Assumption of the Virgin, an altarpiece that's positively awash with angels making music. It's one of the highlights of the Renaissance Siena exhibition and, with just a few weeks to go before the show closes, James Heard of the Education team wants us to hear as well as to see it.
James Heard: I'm with Bridget Cunningham and we're here in the Royal College of Music. We're actually in the museum which is a stunning collection of musical instruments. But the reason we're here is we're preparing for a concert on January 2 and in the National Gallery there is a wonderful painting that happens to be in the 'Renaissance Siena' exhibition. It's an altarpiece by Matteo di Giovanni. It's very large and it shows the Virgin Mary ascending into heaven and what is special for us about it is she's surrounded by, I think, about 20 angels and they're all playing musical instruments, and the idea is to assemble these instruments and let our audience know what they sound like. So I'm going to hand over to Bridget because she's the expert on all this.
Bridget Cunningham: It should be very exciting and we'll have a collection… a lovely selection of different instruments from the altarpiece including a portative organ, rebecs, a lute, recorders and many percussion instruments including nakers, a cymbal, so it's a real collection of instruments… both the soft type and the kind of louder instruments such as a shawm and the organs which are depicted.
James Heard: We're going to have this concert in the theatre at the National Gallery and we're going to project the painting onto the screen behind and Bridget is actually going to talk about the instruments, and we're going to show close ups so everyone is clear what the instruments are, and then we're going to have the concert.
Bridget Cunningham: Absolutely, yes, and we'll talk as we go along and explain how the instruments work and how they're different to modern instruments that we know today and then play some of the music from the time from Siena. There will be four musicians, four of us playing, so we're going to alternate instruments, all playing completely different ones. So I think I'm playing the organ, psaltery harp and percussion…and we'll just switch as we go along. So it's just a matter of remembering where we should be at the right time.
James Heard: With Bridget is Laura, who is going to be playing some of the instruments. Laura, tell us which instruments you're going to play now.
Laura Justice: Well, I'm going to be playing a selection of recorders on the day, but at the moment I've got a tenor recorder with me. It's a little bit different to the sort of recorder that you might be familiar seeing children play in schools, which is actually a much later, 18th–century-style recorder. This one has a much wider bore and a much fatter, fuller sound at the bottom but a narrower range as well, so it's much more of a consort instrument.
Bridget Cunningham: And the organ I'll be playing on the day is very very different to the organ we know today. With my left hand I actually pump the bellows myself and in the right hand I actually play the keyboard, the melody, so it's a very very different instrument. It's very small with one row of pipes, just one rank of pipes. It's a very very lovely vocal sound.
James Heard: Do we still have the music from that period?
Bridget Cunningham: We're very fortunate to have found, and to still have, many manuscripts from music from the time, which we will be playing from on the day.
James Heard: Well, thank you Laura and Bridget and looking forward to 2 January. Can't wait. Thank you.  
Leah Kharibian: Thanks to the museum of the Royal College of Music. The concert takes place at 6.30 on Wednesday 2 January. Tickets cost £5 (or £3 for concessions) and are still available. If you can't make it along, do check back with the Gallery website – evening concerts and lectures are regular features on our events calendar. Finally, you can download a full version of the piece played by Bridget and Laura as a bonus track with this episode.
Grayson Perry on 'Fourth Plinth'
Leah Kharibian (in the studio): Next up: monuments are usually the preserve of dead military heroes and government grandees. But in recent years Trafalgar Square's empty fourth plinth has offered artists a chance to reinvent this most traditional of forms. Thomas Schütte's 'Model for a Hotel 2007' currently takes pride of place in the Square, but the process of choosing the next featured work is already underway, and a new exhibition at the Gallery offers visitors a sneak preview. From 8 January, we'll be able to see the ideas proposed by the six shortlisted artists, who include Anthony Gormley, Tracy Emin, and Anish Kapoor. Colin Wiggins talked to Turner-Prize winner Grayson Perry, a member of the judging panel, about what makes the fourth plinth such a unique site.
Colin Wiggins: Grayson, thank you very much for talking to us and also thank you very much for your work on the panel of the fourth plinth. Now, that's what we're interested in knowing – being part of a panel, one imagines there can be all kinds of heated discussions and conversations through the night and everything. How did you find it being a panel member?
Grayson Perry: I think the media would like it to be a dramatic fist fight but it wasn't really. There was general consensus pretty quickly really to choose the shortlist. I mean we put the tender out to quite a lot of artists and several international artists, and I was a bit disappointed that one of the foreign artists didn't end up on the shortlist, but what we looked for in the end were pieces that we thought would work well in the context of Trafalgar Square.
Colin Wiggins: Within that context, what do you think are the unique challenges of designing a piece to be shown on that plinth in that location?
Grayson Perry: Well, it's going to get an awful lot of attention for starters and then you've got the sort of practical things – um… the most important thing though is knowing what Trafalgar Square means to British people. I mean it might not be the prettiest square, but it is the square of public discourse, if you like. It's also full of slightly dated military heroes. And I think that knowing those things informs the ideas of the six shortlisted artists.
Colin Wiggins: And of course your work at first glance maybe from 20, 30 paces away, your work looks quite safe and conventional, with traditional forms of pottery, but you get nearer and start to look closer, then smack in your face, you find these very subversive, dangerous images. Do you see the square as a kind of parallel almost to your work, with it being on one level very conventional and safe, but then within it an artist has a chance to be dangerous and subversive.
Grayson Perry: Yeah, I think it can work very well like that. I think the Marc Quinn piece worked like that because probably out of the corner of people's eyes it did look like a conventional marble statue, but then when people looked at it they realised it was far from that. And I think that is definitely an opportunity for an artist in subverting what it is to make public sculpture. I think a big part of what is contemporary art is surprise, challenge. The word 'shock' sometimes I think is a little bit overused, but I think it's definitely about making people go 'ooh, yes I hadn't thought about that before' and I think that is the important thing that contemporary art can do.
Leah Kharibian (in the studio): Grayson Perry. The Fourth Plinth exhibition runs until the end of March so if you're in Trafalgar Square pop in and see the contenders before the pigeons get their say. Admission is free.
That's all for now – join us again next month when Miranda Hinkley will be back in the chair to give you all the latest news of the National Gallery's exhibitions and events. 
Until then, goodbye!