George Granville Sutherland-Leveson-Gower, 2nd Duke of Sutherland
1786 - 1861
Paintings previously owned by George Granville Sutherland-Leveson-Gower, 2nd Duke of Sutherland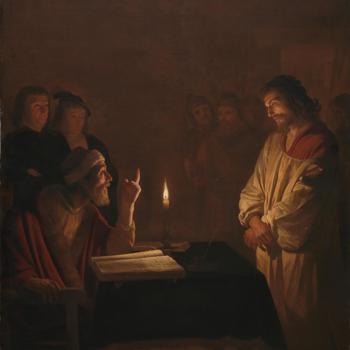 This large, atmospheric painting most likely depicts a moment from Christ's trial before the Sanhedrin (a Jewish judicial body). The composition is symmetrically balanced around the lit candle on the central table: the shimmering flame illuminates the faces of Christ and the man sat facing him, p...
While out hunting, Actaeon accidentally stumbles upon the secret bathing place of Diana, chaste goddess of the hunt, and sees her naked. His fate is foretold by the stag's skull on the plinth and the skins of Diana's former prey hanging above her head. The conclusion of the story is shown in anot...
On display elsewhere
The nymph Callisto was the favourite of Diana, virgin goddess of the hunt. Jupiter, king of the gods, noticed her beauty and disguised himself to seduce her. Titian has painted the moment Diana forces Callisto to strip and bathe after hunting and discovers her pregnancy. The drama is heightened b...
On display elsewhere