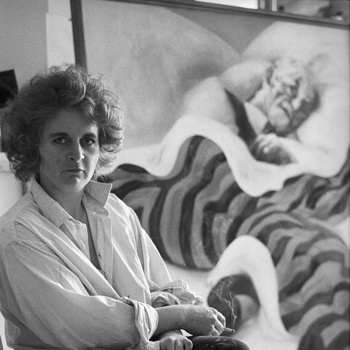 Artist-in-Residence at the National Gallery between 1980 and 1981
Maggi Hambling CBE (b.1945, Sudbury, UK) was the very first Artist-in-Residence at the National Gallery between October 1981 and March 1982. Hambling is a painter and sculptor known for her lively portraits and animated seascapes. Hambling studied privately with painters Cedric Morris and Arthur Lett Haines in Suffolk before attending the Ipswich School of Art (1962-64), Camberwell College of Arts (1964-67) and the Slade School of Art (1967-69). She started painting portraits in 1973.
During her residency at the Gallery, Hambling made studies of works from the collection in graphite, pencil, or charcoal. "It is amazing how much more you see in a painting when you are trying to draw it," she explained. Through spending time with the collection, Hambling said that she "learnt an enormous amount about space in paintings, particularly from a study of Rubens Samson and Delilah, which I worked on for about five weeks."
During her residency, Hambling did not only make studies of National Gallery paintings:
              "I drew the paintings that moved me… in the same way that I would paint anything that moved me."
She also painted people that she had seen in the street and created compositions from imagination. A portrait of Archie MacDonald, a gallery warder, which Hambling had made during the residency, is now part of the Gallery's History Collection.
Towards the end of her residency at the National Gallery, Hambling saw the comedian and actor Max Wall perform a one-man-show at the nearby Garrick Theatre. Hambling later said that Wall's "incredible face that without any make-up was the face of a clown" had left her "smitten." She wrote to Wall and asked him to sit for her. Hambling subsequently produced a series of paintings and drawings of Wall between 1981 and 1983. These portraits were displayed in a dedicated exhibition, which opened at the National Portrait Gallery in 1983, the year after her residency ended at the National Gallery.  
In 1995, Hambling was awarded the Jerwood Prize for Painting. She has since also become known for her public sculptures. Her sculpture Scallop (2003) is permanently sited on the beach at Aldeburgh, Suffolk, as a monument to composer Benjamin Britten. A Conversation with Oscar Wilde (1998) can also be found in Adelaide Street, near Trafalgar Square. Hambling returned to the National Gallery in 2014 with an exhibition entitled Walls of Water, which included a series of large paintings depicting the North Sea.  Her etching A Laugh with the Rokeby Venus was also included in The National Gallery Print Portfolio issued in 1991.