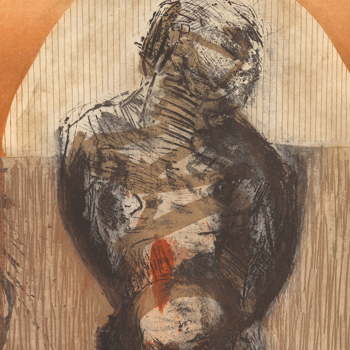 Artist-in-Residence at the National Gallery between 1983 and 1984
Kevin O'Brien (b.1956 St Helens, Lancashire, UK) was Artist-in-Residence at the National Gallery for six months, between September 1983 and March 1984. In the early 1980s, O'Brien was known for his figurative allegories, painted with bold and spontaneous brushwork. 'The images are personal and introvert in nature, but painted in an extrovert and I hope, generous manner,' the artist said of his work during this period. O'Brien studied at North Staffordshire Polytechnic (1974–7) and Royal College of Art (1978–81). He held his first solo exhibition at the New Art Centre in 1983.
Many of the paintings that O'Brien created during his residency were in mixed media, constructed out of card, paper board and gauze, but he also worked in oil on canvas. O'Brien often included symbols in the paintings he made as Artist-in-Residence, creating suggestive imagery using objects like the moon, circus animals and masks. He felt that his residency led to considerable changes to his work. The most noticeable development was 'the move to more sombre, atmospheric colours' O'Brien said. Pictorial space in his paintings had become 'more rational', the artist felt, and the figures he included 'more haunting and poetical.'    
An exhibition of paintings that O'Brien produced during his residency was held in the Artist-in-Resident's studio between 2 July and 4 August 1984.
During his residency at the National Gallery, O'Brien was selected to represent Great Britain at the prestigious Basel International Arts Festival, which took place in June 1984. He was later included in group exhibitions at Castlefield Gallery, Manchester, (1987) and Albertina Museum, Vienna, (1993.) O'Brien held a solo exhibition at Art Space Gallery in 1994. He later became a senior lecturer in painting at Leeds Metropolitan University.
Image: Kevin O'Brien, 'Sebastian', 1991 (detail) © The National Gallery, London