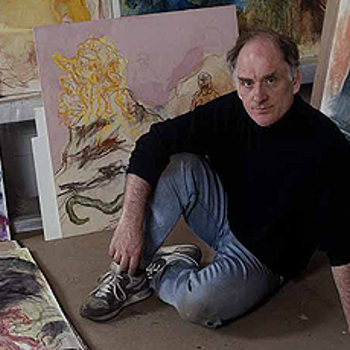 Associate Artist at the National Gallery between 1991 and 1993
Ken Kiff RA (b.1935, London, UK – d.2001, London, UK) was an Associate Artist for 18 months, between November 1991 and April 1993. Kiff was known for vibrant paintings and prints that sprung directly from his imagination. His pictures evoke contradictory emotions in the viewer. They can be colourful and joyous, but are also sometimes comic, grotesque, and macabre. Above all, they are driven by the artist's fascination with colour and a highly personal iconography.
During his associateship, Kiff made numerous drawings, notebook sketches and monoprints, as well as starting roughly fifty paintings. Reflecting on his decision to begin work on so many pictures, leaving a large number incomplete, Kiff wrote: 'It was necessary to start new works periodically, as part of the continual feeling and thinking about the relationship between imagery, materials, and the way the parts of a painting come together.'
Artists have always made copies of historical works of art, seeking to understand how pictures they admired were created. However, as Associate Artist at the Gallery, Kiff approached the age-old practice of transcription in an original way. He saw no need to re-present a picture in its entirety, or to re-tell its story. Instead, he focused on a particular characteristic or section of the work that fascinated him and produced a personal response to it. Justifying the approach that he had taken during his residency, Kiff said in an interview that he was 'burning to get the colour moving and couldn't do it by copying a picture upstairs.'
'Ken Kiff at the National Gallery', an exhibition of paintings and drawings by the artist took place in the Sunley Room between 20 October 1993 and 9 January 1994. For this exhibition, Kiff exhibited several paintings he had finished prior to starting the residency, alongside numerous works in progress. A second iteration of Kiff's exhibition was held at The Ruskin Gallery in Sheffield, alongside some graphic works.
Kiff studied at Hornsey School of Art in Haringey (1955–61). He rose to prominence in the 1980s thanks to the support of Norbert Lynton, chief art critic at the Guardian newspaper. Kiff was included in the artist and curator Timothy Hyman's seminal touring exhibition 'Narrative Paintings' (1979) and 'New Spirit in Painting' at the Royal Academy (1981), a pathbreaking exhibition that reassessed figurative painting. He was elected a member of the Royal Academy in 1991. Kiff was also an influential teacher having taught part-time for over thirty years, first at the Royal College of Art and later at Chelsea School of Art.