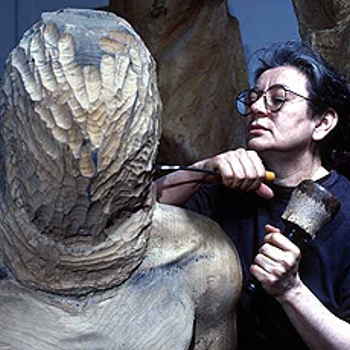 Associate Artist between 1997 and 1999
Ana Maria Pacheco (b.1943, Goiânia, Brazil) was an Associate Artist between 1997 and 1999. The first non-European Associate Artist, Pacheco is a sculptor, painter, and printmaker. She creates powerful and sometimes disturbing work in which death, magic and sexuality are important elements. Throughout her career, Pacheco has explored tensions in her own identity, drawing on history, myth, and folklore. 
Born in the West Central region of Brazil, she first trained as a concert pianist before studying art and music at the University of Goiás (1960–4.) After completing her studies, Pacheco reacted strongly against European modernism, which most Brazilian artists were engaged with at the time, embracing a wider range of influences including polychrome baroque sculpture and African ritual masks. In 1973, a British Council Scholarship enabled her to move to London, studying at the Slade School of Art. She has lived in the UK ever since, developing a rich body of work that maintains links to multiple artistic and literary traditions.  
During her time at the National Gallery, Pacheco did not search the collection for compositions or other formal devices that she could use in her work. Instead, she concentrated on the subjects and themes that artists had dealt with, filtering them through her own cultural background and experience. Pacheco was particularly interested in the story of Saint Sebastian, a Roman soldier martyred by Emperor Diocletian in the 3rd century AD, who is often depicted in National Gallery paintings.  
Towards the end of her residency, Pacheco created a multi-figured polychrome sculpture entitled 'Dark Night of the Soul', which consisted of over twenty carved figures. This work was inspired by Antonio and Piero del Pollaiuolo's painting The Martyrdom of Saint Sebastian (about 1475), which she chose because of its resemblance to a photograph of an executed Brazilian bandit. Establishing a connection between the martyrdom of a revered saint and the unknown victim of a death squad, Pacheco intended to draw attention to the universal issue of the abuse of power.   
'Ana Maria Pacheco: New Painting and Sculpture', an exhibition of artworks that the artist produced during her time at the Gallery was held in the Sunley Room at the National Gallery between 29 September 1999 and 9 January 2000. For Pacheco's exhibition, the gallery space was divided in two. The first half of the space was hung with several large paintings, including 'Luz Eterna' (1999), an atmospheric triptych based on the story of the Temptation of Saint Anthony, and a depiction of King Solomon and the Queen of Sheba in the Garden of Earthly delights. The second half of the exhibition was darkly lit, featuring Pacheco's multi-figure installation 'Dark Night of the Soul' (1999). The exhibition subsequently toured regional museums across England between late January 2000 and January 2001.   
In 1999, Pacheco was awarded the prestigious Ordem do Rio Branco by the Brazilian government. She was made a Fellow of University College London in 2003 and has twice participated in the Galway International Festival in 2017 and 2022.