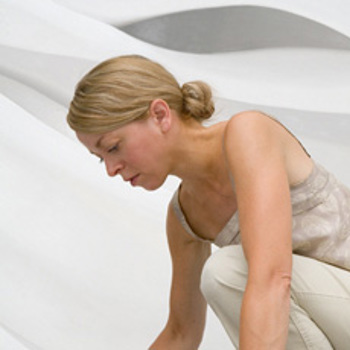 Associate Artist at the National Gallery between March 2006 and 2008
Alison Watt OBE (b. 1965, Greenock, Scotland) was Associate Artist at the National Gallery between March 2006 and 2008. Watt's work demonstrates a deep fascination with the suggestive power of fabric. Her paintings negotiate a position close to abstraction whilst remaining firmly rooted in the study of drapery, light and the human form.
Watt studied at the Glasgow School of Art between 1983 and 1988. Whilst she was still a student, Watt won the National Portrait Gallery's annual award, which brought her to public attention. In the 1990s, she began creating paintings solely of fabric, evoking the human body through its absence. Watt became the youngest artist to have a solo exhibition at the Scottish National Gallery of Modern Art in Edinburgh in 2000. As part of the 2004 Edinburgh Festival, she created a monumental painting for the memorial chapel of Old St Paul's Church, Edinburgh. This work received the A.C.E award for art in a religious space in 2005.
Watt said that she 'found it very moving to be amongst great pictures' during her residency at the Gallery, enjoying 'time in which to look.' Watt began her residency by surrounding herself with reproductions of works in the Gallery's collection, pinning them to her studio wall. She became particularly fascinated by the white cravat, commonly worn by men in 19th-century portraiture, and the creative potential of negative space.
During her associateship, Watt renewed her longstanding fascination with Ingres's portrait of Madame Moitessier (1856), which she had first seen at 8 years of age on a trip to the National Gallery with her father. Watt said that she became overwhelmed by the fabric of Madame Moitessier's dress, which seemed to her to have "become imbued with a life of its own." She was also enthralled by Francisco de Zurbarán's Saint Francis in Meditation (1635–8) stating that: 'Zurbarán's fabric is fabric you want to touch, fabric you want to listen to, you want to smell. It is almost like a living mass'. Other paintings that attracted her attention during her time as Associate Artist include works Jacques-Louis David and Jacopo de' Barbari.
Alison Watt: Phantom, an exhibition of paintings that the artist created during her residency took place in the Sunley Room between 12 March and 22 June 2008. Watt's exhibition consisted of six large-scale works inspired by paintings in the National Gallery collection. Watt received an OBE in 2008 and became a fellow of the Royal Society of Edinburgh in 2017. In 2022, she held a solo exhibition at the Scottish National Portrait Gallery in Edinburgh, creating a series of paintings responding to the work of 18th-century portrait artist Allan Ramsay (1713–84.)