This is a YouTube video player. Below the video are the title, view time and description. Below that is a carousel of video thumbnails. Clicking a thumbnail will load and play that video.
Cabinets of curiosities 
Growing up in 17th-century Holland, Rachel Ruysch was part of a distinguished and artistic family. From a young age she helped her father to prepare specimens for his private museum of anatomy – a collection of embalmed and preserved "curiosities" including human body parts, animals, and plants.
These early experiences and easy access to a library of natural specimens were likely one reason why Ruysch turned to painting still life. As a woman, she was restricted from studying the male nude – which, unlike her male counterparts, would have prevented her from gaining the skills needed to tackle historical or biblical subjects.
Her paintings often sold for more in her lifetime than Rembrandt's did in his
From the age of 15, Ruysch trained with the still life painter Willem van Aelst. She helped to develop the genre, and her paintings stand out (almost literally) because of their three dimensionality. Unlike other still life painters of the time, she was not restricted to studying plants and flowers seasonally or from dried and pressed examples; Ruysch could work from her father's specimens all year round.
Her works were extremely popular, and she earned so much that she only needed to paint a few paintings a year. Married to a fellow artist, he is shown, in a family portrait, pointing towards his wife, paintbrush and easel in hand, indicating that she is the greater talent.
In 1701, she became the first female member of an artist's society in The Hague, and from 1708 to 1716, she was court painter in Düsseldorf. We know that money later became no object for the family as, in 1722, Ruysch and her husband won the lottery. She continued painting for passion, however, and was still creating works in her 80s.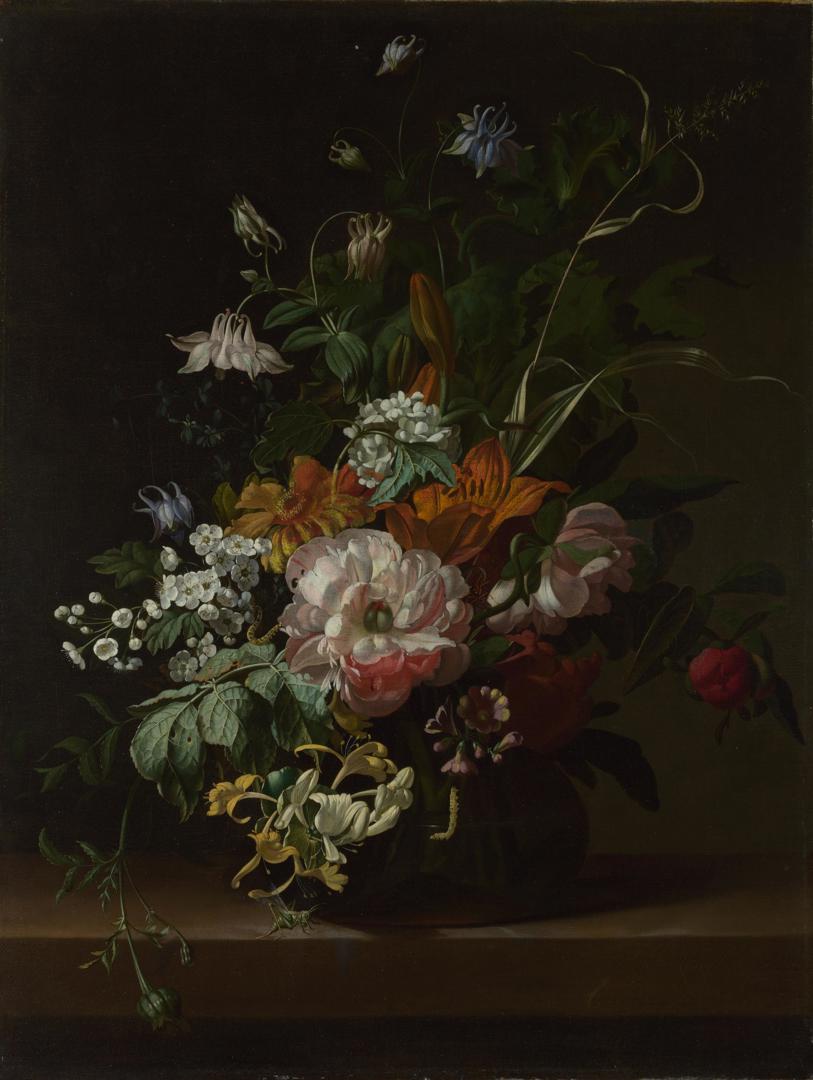 Flowers in a Vase
Ruysch's compositions are characterised by strong curves, diagonal axes, and dramatic lighting: here, light falls on the flowers from bottom left to top right, leaving the closed peonies at the edge in shadow. Against the dark background, her sophisticated palette creates a flawless sense of depth and three-dimensionality. She developed the style of her teacher, van Aelst, towards a more decorative manner and a lighter palette.
Her precise knowledge of flowers and insects, gained from working with her father, is shown here by the caterpillars, the ant and the grasshopper in the foreground.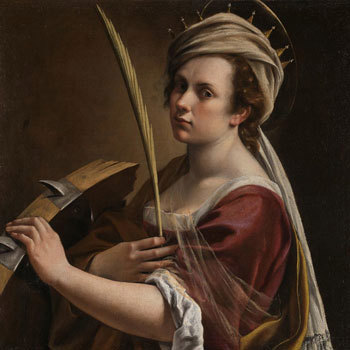 Artemisia Gentileschi's turbulent life story often overshadows her art, but she was the most celebrated female artist of the 17th century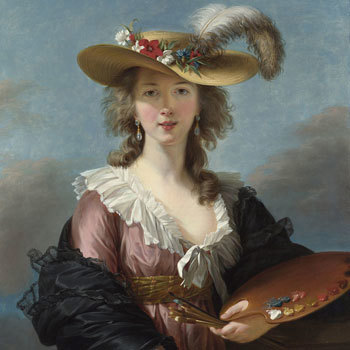 At 15 she was painting the aristocracy, in her 20s she was the favoured painter of Marie-Antoinette, and by her 30s she was fleeing the French Revolution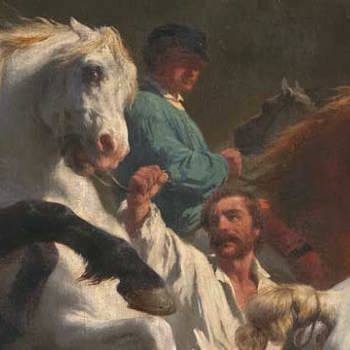 She dressed and, critics claimed, painted like a man, but Rosa Bonheur is one of the most important female artists of all time, who reached international levels of fame