Jan Gossaert, The Adoration of the Kings, 1510–15
In this vibrant and richly detailed altarpiece, the Three Kings and their attendants have arrived for the birth of Christ to present gifts to the newborn.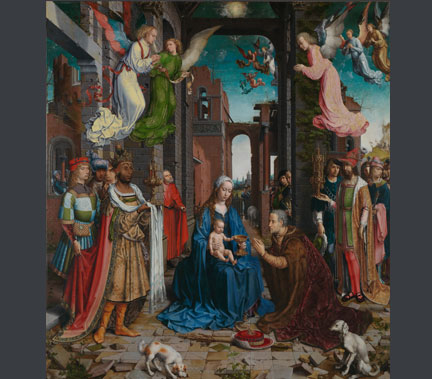 The brilliant star that guided the kings to Bethlehem blazes at the top of the painting. A dove, symbol of the Holy Spirit, descends to the infant Christ from the star, and hosts of angels approach from the distance through a series of arches, giving the scene a spectacular sense of space and depth. Behind the Virgin and Child stands Joseph, in red, leaning on his stick and looking up to the spectacle in the sky.

The kneeling king in flowing robes is Caspar – identified by the inscription on the lid of the golden chalice that lies beside his crown. He offers gold to the Child who picks up a coin.

Standing behind Caspar is the second king, Melchior, who bears his gift of frankincense in an elaborate vessel and wears an embroidered green tunic and bright vermilion tights. The third king, Balthazar, approaches from the left, proffering myrrh. His name is emblazoned on his ornate crown, and Gossaert's own is embroidered on Balthazar's headdress and on the collar of his attendant.

The luxurious attire of the kings and the drama of the momentous occasion are accentuated by the humble ruin in which this scene takes place. Ruins were a common setting in paintings of the Adoration of the Kings because they symbolised the collapse of the old pagan order, to be replaced by Christianity. Weeds push up through the cracked marble pavement, painted as meticulously as Christ himself. 

As well as the two instances of his name, it's possible that Gossaert has included himself in the scene. Behind the Virgin and above the ox, a man peers out behind the wall, barely discernible, who many believe to be the artist.
Painting
Jan Gossaert (Jean Gossart)
1510-15