Joining the dots
The underdrawings reveal information about Leonardo's working methods. Did he draw freehand on to the panel, or did he transfer a preparatory drawing or 'cartoon' on to the surface?  If so, how? The answer seems to be that he did a bit of both.
The head in Composition A has been drawn on in short, overlapping strokes of paint (or ink), so that at first glance, they look like continuous lines. What this suggests is that Leonardo was painting over existing marks - perhaps joining the dots having copied a design onto the panel using pouncing.
The right arm, the draperies and the landscape are dashed in with a fatter brush, and are clearly freehand. Alterations are visible as Leonardo tried out slightly different positions for the arm.
What this suggests is that Leonardo did not use a single cartoon which outlined the entire composition. Rather he used one or more cartoons for certain sections of the composition, and combined this with improvised drawing.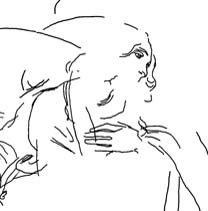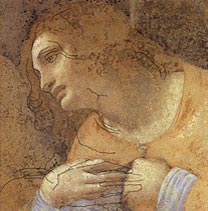 Experts at the gallery compared the drawing of the hidden head with another of Leonardo's paintings. The figure of St Philip in Leonardo's famous 'Last Supper' in Milan also has a hand across his breast.
The figure faces the other way, and is about twice the size of the National Gallery underdrawing. However, if reduced in size and reversed, the head in Composition A fits over it with extraordinary precision.
This suggests that Leonardo must have used the same drawing as a basis for Composition A and Saint Philip, and that he must have had a method of scaling his drawings up and down.