Retirement
In reality, the Temeraire looked very different. Her fighting days had been over for some time. For the last 13 years she had been moored off Sheerness, serving as a supply ship. By the time she was auctioned off for the value of her timber, everything that the Navy could recycle had already been removed, including her three tall masts.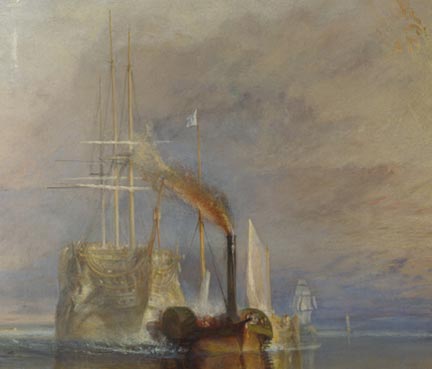 However, Turner decided to depict the ship with the masts and rigging still in place. He also used white and gold paint, rather than the darker yellow and black that she was in real life. He created a deliberately idealised memory of the ship, showing her as a shimmering, noble vessel.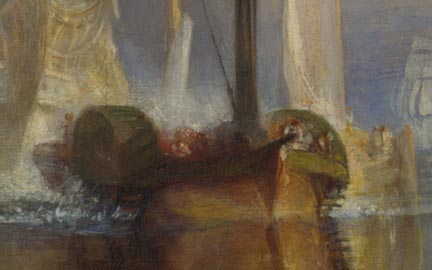 In contrast the artist made the tug into a dark, dumpy vessel, whose funnel spews out fiery smoke. The reality was different, as Turner knew.
Two steamboats "tugged" the Temeraire (the first time this verb was used) along the winding 55 mile stretch of the Thames between Sheerness and Rotherhithe. One tug pulled, whilst the other was behind the Temeraire, acting as a brake.
Next: The Temeraire in battle