Associate Artist 2000-2
Ron Mueck, the fifth National Gallery Associate Artist, is a sculptor who was born in Melbourne, Australia in 1958. Before becoming a fine artist he worked for twenty years in children's television, motion picture special effects, and advertising. He now lives and works in London.
Mueck first came to critical attention with his sculpture 'Dead Dad', which was shown at the exhibition 'Sensation:Works of Art from the Saatchi Collection', at the Royal Academy in 1997.
Cast in silicone and acrylic, the work is eerily realistic in every detail with each hair individually applied. However, the scale is that of a child with the figure literally diminished by death.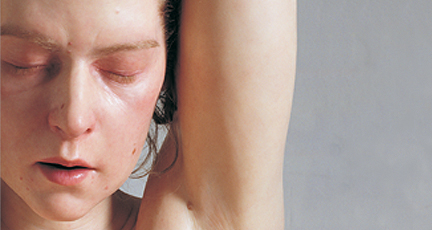 'Ghost', acquired by the Tate Gallery, represents a young adolescent girl. The scale here is that of an adult, a distortion of reality that adds an unexpected mood of unease. Mueck's manipulation of scale adds a deep psychological dimension to his work.
His work was displayed in the exhibition Ron Mueck: Making Sculpture at the National Gallery 19 March - 22 June 2003.