This exhibition illuminates the life and work of the Gallery's first director, Sir Charles Lock Eastlake (1793–1865), a man described by one contemporary as 'the Alpha and Omega' of the Victorian art world.
About Charles Eastlake
Eastlake was trained as an historical painter and initially had ambitions to revivify the English school of painting. Having spent his formative years in Rome, where he developed ideas about the practice and theory of painting, he returned to London in 1830.
Exhibition film
Transcript
Narrated by Susanna Avery-Quash
The National Gallery is world-famous for its collection of western European art, but when we wander round the galleries, do we stop to consider why the pictures we see were acquired; how they got to Trafalgar Square; why they are displayed in the way they are; or how they came to receive their attributions to particular artists?
Such questions are certainly worth a moment's thought for their answers open up central aspects of the life and function of the National Gallery, and reveal just how much we owe to one individual, who transformed the fortunes of this institution.
The person in question is Sir Charles Eastlake, who was the National Gallery's first Director for a decade from 1855.
Born in 1793 in Plymouth, he had ambitions to become a great painter. Having trained in London at the Royal Academy Schools, at that time in the wing adjacent to the National Gallery, he went to Rome in 1816 where he ended up staying for the next 14 years. Eastlake travelled widely in Europe, especially in Italy, acquiring a detailed knowledge of western European art and mixing with some of the leading European painters and thinkers about art.
He also began to acquire a reputation as a significant painter. His early bandit scenes helped to make his name, while his later religious works were esteemed at the end of his career. But Eastlake's art could not compare, for instance, with the work of his friends the portrait painter Sir Thomas Lawrence and the landscape artist Turner. Ultimately, Eastlake's reputation as a painter, though good, was never stellar.
Scholarly and meticulous, with a good organisational sense, Eastlake, on his return to London in 1830, soon came to the notice of those interested in promoting the arts in the public sphere, including the politician Sir Robert Peel and also Prince Albert. Consequently, in 1841 Eastlake became Secretary of the Fine Arts Commission, with responsibility for finding artists to paint murals to decorate the new Houses of Parliament.
With his reputation ever rising, Eastlake was appointed President of the Royal Academy in 1850 and five years later, in 1855, he became the National Gallery's first Director, at which point he abandoned his career as a painter. At the National Gallery, Eastlake concentrated his efforts on filling the gaps in the collection, because he wished to see it become fully representative of the story of western European art.
Initially he focused his efforts on acquiring early Italian pictures. To this end, and with an annual picture-purchasing grant of £10,000, he spent each summer abroad. 
He often travelled with his feisty wife, the writer and art-critic, Lady Elizabeth, his manservant Nicholas Tucker, and the Gallery's Travelling Agent, Otto Mundler. His journeys involved much discomfort: after all damp, flea-ridden beds, unpalatable food, and long, jolting carriage journeys were par for the course in the mid-19th century.
Eastlake kept a series of Travel Notebooks in which he recorded the places visited and the pictures seen. He constantly put his mind to matters of authentication, using novel methods of research into artists' techniques to assist him. His negotiations involved him in persuading hesitant owners or wily dealers to part with pictures at reasonable prices. The record speaks for itself: in a single decade Eastlake acquired over 150 pictures for the nation. 
Once the pictures had reached London, Eastlake ensured they were well displayed.  Bearing in mind new trends in European museums, he no longer showed the pictures as they had been at the National Gallery's first home, 100 Pall Mall, in random order, densely arranged, and without any information.
Instead, from 1856 for the very first time, core information was supplied via an early form of labelling, and detailed, scholarly catalogues were also published. To allow individual schools of art to be enjoyed on their own merits, Eastlake started to hang pictures by their country of origin and in chronological order, and he thought too about how pictures should be framed and lit and against what colour background they should be displayed.  
Perhaps surprisingly, this slight, frail and grave man was the formative influence in the creation of the modern National Gallery.  Yet as a painter, scholar, and ultimately connoisseur, Eastlake's many-sidedness contributed to the greatness of his achievement. His legacy is most visible in the pictures on display, but his thinking about art and how it should be displayed should not be forgotten for it foreshadowed in important ways the work the Gallery undertakes today to care for and promote interest in its pictures.
He first made his mark as a painter of genre scenes, idealising portraits and religious subjects. He was elected President of the Royal Academy in 1850, and helped modernise the institution.
Yet Eastlake's most important contributions came as a writer, translating and editing seminal art-historical texts, and as an arts administrator, in which capacity he rose to become Director of the National Gallery from 1855 to 1865.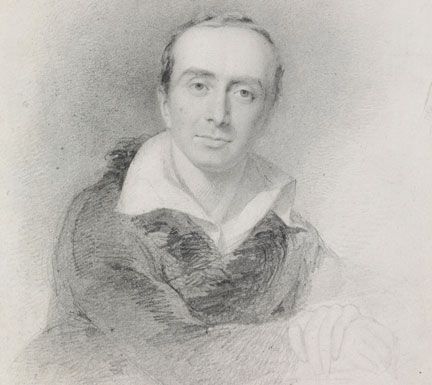 At the National Gallery
During his time at the National Gallery, Eastlake transformed the way the Gallery was run. He also established policies for the acquisition and display of paintings, many of which are still in place today.
His purchase of an astonishing 139 masterpieces, mostly acquired during his annual continental tours, include some of the Gallery's best-loved Italian Renaissance pictures, such as Uccello's Battle of San Romano and Giovanni Bellini's Madonna of the Meadow. The exhibition features material from the National Gallery's archive shown alongside some of Eastlake's key acquisitions for the collection.
New Eastlake publications
'Art for the Nation' coincides with the publication of Eastlake's travel notebooks, along with a biography of Eastlake and his wife by Dr Susanna Avery-Quash, Research Curator in the History of Collecting at the National Gallery, and Dr Julie Sheldon, Reader in Art History at Liverpool John Moores University.