The National Gallery acquires three significant 18th-century pictures
Issued May 2020
The National Gallery today announced the acquisition of three significant works: Jean-Etienne Liotard's The Lavergne Family Breakfast (1754); Thomas Gainsborough's Portrait of Margaret Gainsborough holding a Theorbo (about 1777) and Sir Thomas Lawrence's Portrait of the Hon. Peniston Lamb (about 1790). They will each have a dedicated artwork page on the National Gallery's website which will go live from today
All have been received by the nation from the estate of George Pinto under the Acceptance in Lieu scheme. An art lover and collector, George Pinto (1929–2018) was a patron of the National Gallery and a trustee of the Wallace Collection. He kept a select collection of paintings he had inherited at his homes in Kent and Knightsbridge and particularly admired the work of Liotard. His colleagues at the merchant bank Kleinwort Benson, where he was a director for many years, described him as bright and wonderfully eccentric. He sadly died in a car accident at the age of 89. The National Gallery is grateful to Christie's for their support in ensuring these works join the collection.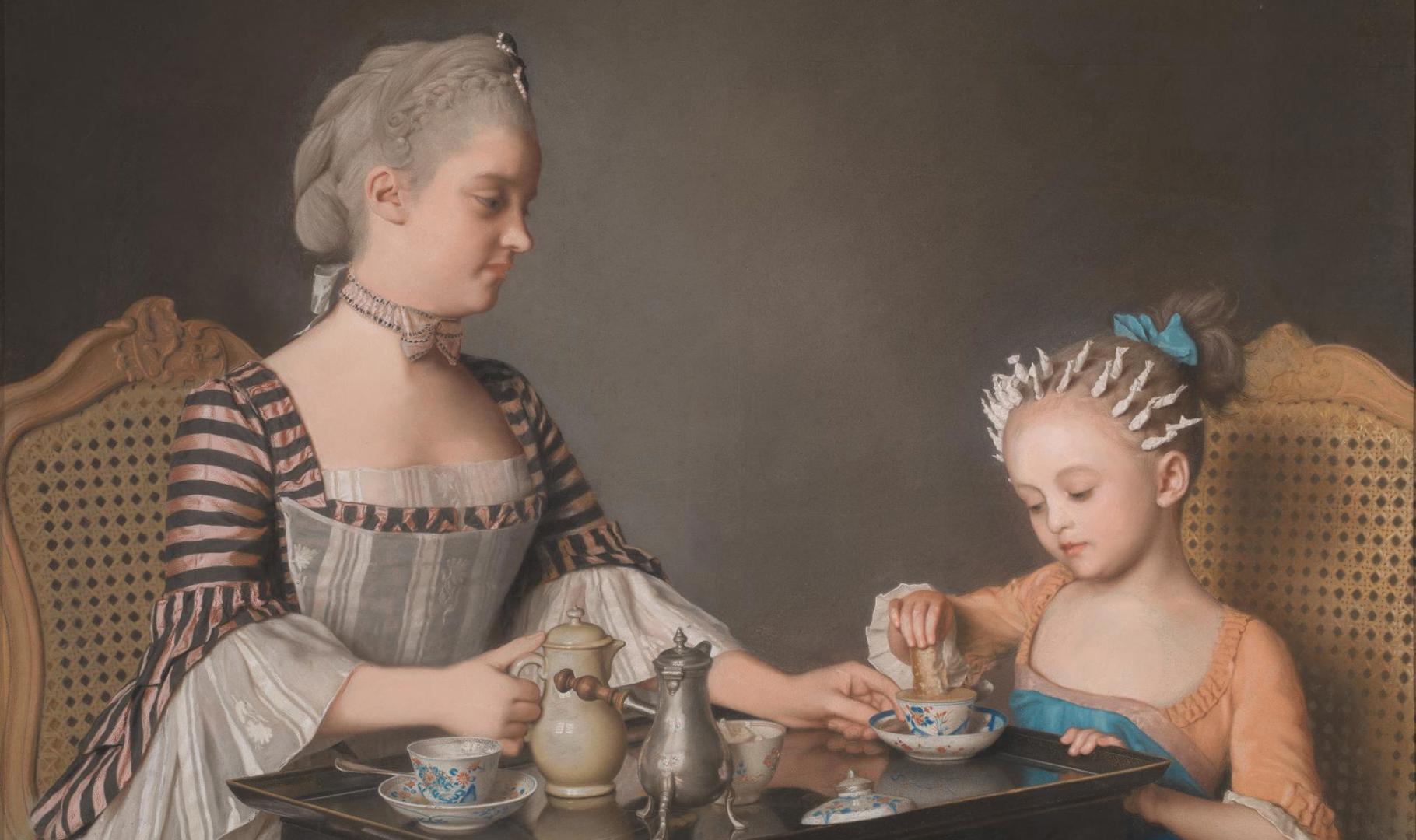 'The Lavergne Family Breakfast', which has been on loan to the Gallery since October 2018, is the second work by Jean-Etienne Liotard (1727–1788) to enter the National Gallery's collection and is his largest and most ambitious pastel. The work has long been regarded as his masterpiece. Liotard was one of the most important pastellists of the 18th century, his works were both highly sought after and highly priced. In mid-18th-century London, a pastel head by Liotard commanded a higher fee than a full-length portrait in oil by the young Joshua Reynolds, later first President of the Royal Academy.

'The Lavergne Family Breakfast' depicts a luminous early morning scene with an elegantly dressed woman and her daughter, paper curlers still in her hair, enjoying coffee and chocolate which were exclusive, luxurious beverages at the time. Liotard, in a highly unusual move, deftly builds up layers of thick wet pastel to create the illusion of reflections on the silver coffee pot and Chinese porcelain. Although 'The Lavergne Family Breakfast' is not strictly a portrait, its sitters have long been associated with the Lavergne family, relatives of Liotard's who lived in Lyon and it is likely that the sitters were Liotard's niece and one of her own nieces. The pastel was bought in 1755 by Viscount Duncannon, Liotard's most important patron, and has remained in Britain ever since.
The second acquisition is Thomas Gainsborough's (1727–1788) 'Portrait of Margaret Gainsborough holding a Theorbo' (about 1777), a remarkable example of Gainsborough's late portraiture. This new acquisition builds on the Gallery's exceptional group of family portraits by one of the greatest of British painters. It joins the artist's earliest known self portrait in oil, 'Portrait of the Artist with his Wife and Daughter' (about 1748), and two extremely engaging portraits of Gainsborough's daughters Margaret and Mary as children, in the Gallery's collection. Both unfinished, they are acknowledged to be among Gainsborough's masterpieces, for their sensitive and spontaneous characterisation and experimental freedom of brushwork. They were made for his own satisfaction. He made two other portraits of Margaret as an adult, both in the manner of society portraits, but this is a much more intimate work. The new acquisition has only recently been known to the public following its first showing at the 2019 exhibition 'Gainsborough's Family Album' at the National Portrait Gallery. In its vigour and bravura manner, as well as its intimacy, it demonstrates a forward looking, almost modern, aspect to Gainsborough's late portraiture. The artist and his family were keen amateur musicians and the sisters also studied drawing and painting.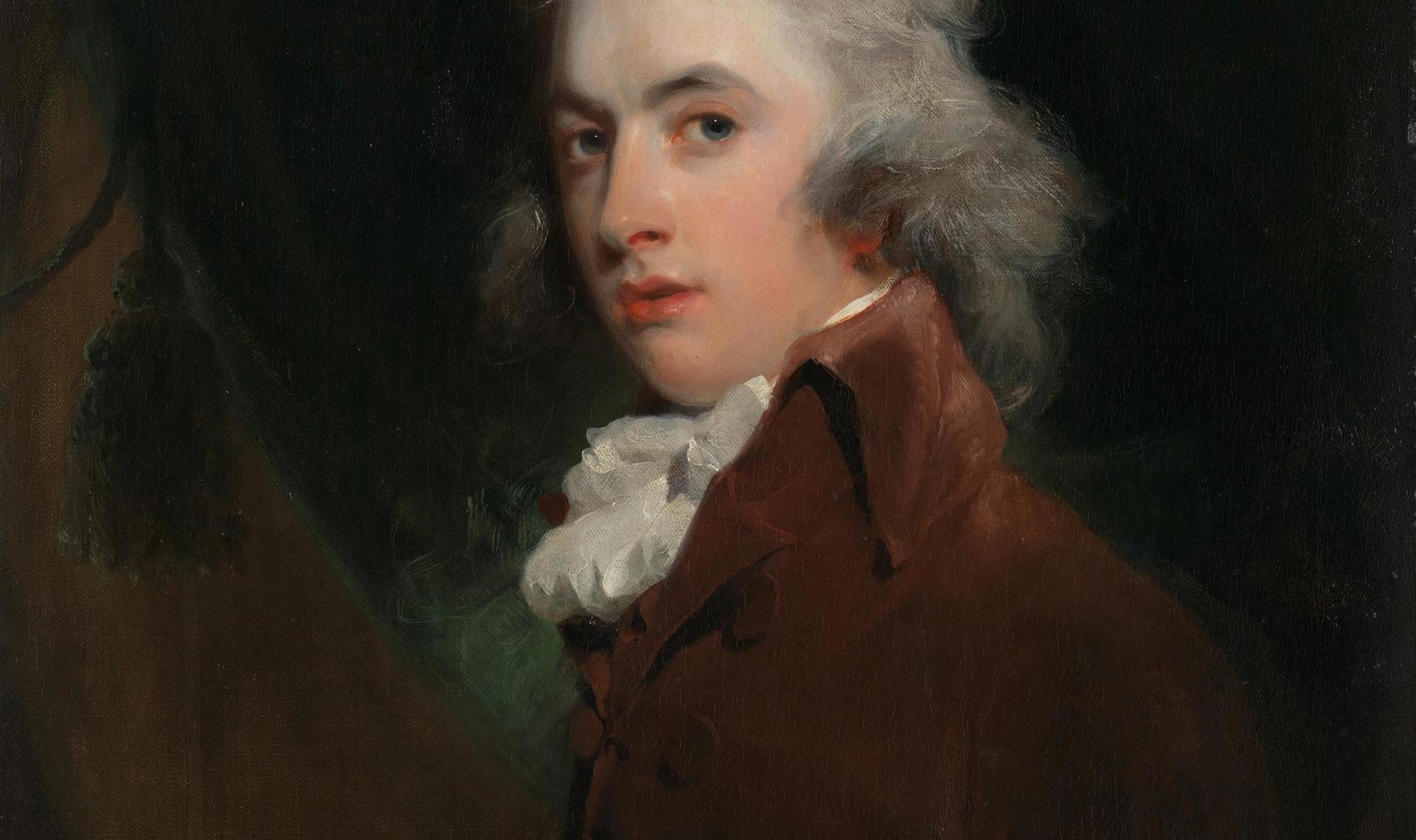 Sir Thomas Lawrence (1769–1830) is generally regarded as one of the finest European portraitists of the late 18th and early 19th centuries and the informal and arresting 'Portrait of the Hon. Peniston Lamb' shows off his skill at the start of his career. Peniston Lamb was the Member of Parliament for Newport from 1793 to 1796 and the Member for Hertfordshire from 1802 until his death from tuberculosis in January 1805.  The acquisition of this painting is an important addition to the number of early works by Lawrence already in the collection, above all his full-length portrait of Queen Charlotte. Significantly a work already in the National Gallery's permanent collection, George Stubbs's 'The Milbanke and Melbourne Families' (about 1769), was made to commemorate the marriage of Peniston's parents and it is likely his mother was pregnant with him when she sat for it.  
Lawrence's paintings in the collection demonstrate his confident and expressive handling of paint and why he was sought after as a society portraitist. In its directness of glance and characterisation, as well as the elevated level of its painting technique, the portrait of Peniston Lamb has much in common with the modernity of European portraiture of the period, particularly in France and in Spain, by artists such as Jacques-Louis David and Francisco de Goya.
These three intimate portraits all engage viewers in different ways. In Liotard's 'The Lavergne Family Breakfast', although mother and daughter are absorbed in the scene they face outwards, drawing us into their luminous space. Gainsborough's intimate 'Portrait of Margaret Gainsborough holding a Theorbo' provides access to a private performance behind closed doors. In Lawrence's 'Portrait of the Hon. Peniston Lamb', the figure has his head angled as though he is turning to look at us, his left eye placed at the exact mid-point of the canvas. These remarkable works are valuable additions to the National Gallery collection and provide a window into the lives of three renowned 18th-century artists.
National Gallery Director, Dr Gabriele Finaldi, said:
"George Pinto had a passion for 18th-century painting and was a good friend of the National Gallery. It is a great pleasure to welcome these works and particularly the rare and beautiful Liotard pastel into the national collection. We are grateful to George's family, the executors of the Pinto Estate, as well as to the UK Government, The Arts Council and the Acceptance in Lieu panel, thanks to which so many superb pictures have come to the National Gallery over the years."
Chair of the Acceptance in Lieu Panel, The Arts Council, Edward Harley OBE, said:
"I am delighted to announce that three pictures from the collection of the late George Pinto have been acquired through the Acceptance in Lieu scheme and allocated to the National Gallery. The superlative quality of each of these pictures by Liotard, Gainsborough, and Lawrence is a testament to the true connoisseurship of their previous owner and also show that Acceptance in Lieu is a means for museums and galleries to acquire the very best art."
Culture Minister, Caroline Dinenage, said:
"The Acceptance in Lieu Scheme shares the generous gifts of art lovers with the British public. Thanks to the scheme, these three outstanding works will join the National Gallery's collection for future generations to enjoy. I am pleased that the works will be online from today, giving people the opportunity to enjoy them from their own homes."
NOTES TO EDITORS
About Thomas Gainsborough

Gainsborough was, with Reynolds (his main rival), the leading portrait painter in England in the later 18th century. The feathery brushwork of his mature work and rich sense of colour contribute to the enduring popularity of his portraits. Unlike Reynolds, he avoids references to Italian Renaissance art or the Antique, and shows his sitters in fashionable contemporary dress. He was a founding member of the Royal Academy, though he later quarrelled with it over the hanging of his pictures. He became a favourite painter of George III and his family.
He was born in Sudbury, Suffolk, the son of a wool manufacturer. He trained in London, and set up in practice in Ipswich about 1752. In 1759 he moved to Bath, a fashionable spa town, attracting many clients for his portraits. He settled in London in 1774. His private inclination was for landscape and rustic scenes, and his amusing letters record his impatience with his clients' demands for portraits.
About Sir Thomas Lawrence
Lawrence was the leading British portrait painter of the early 19th century, portraying most of the important personalities of the day in his polished and flattering style. He was a child prodigy and largely self-taught; at the age of 10 he was making accomplished portraits in crayon. He was influenced by Sir Joshua Reynolds during his youth; his style developed very little throughout his life.

Lawrence was born in Bristol, moved with his family to Devizes and then to Bath. He took to painting in 1786 and became a pupil at the Royal Academy school in 1787; in the following year, at the age of 19, he exhibited his first portrait. In 1794 he became a member of the Academy and Painter-in-Ordinary to the King (George III) on the death of Reynolds in 1792. He was knighted in 1815 and became President of the Academy five years later. He was very successful in commercial terms, and made (and spent) a great deal of money. He was also a collector and formed one of the finest collections of Old Master drawings ever known. In 1818-20 he was in Aachen, Vienna and Rome on behalf of the Prince Regent, making full-length portraits of the allied sovereigns who had contributed to the defeat of Napoleon; these were for the prince's Waterloo Gallery at Windsor.
About Jean-Etienne Liotard
Liotard was born in Geneva, and trained partly in Paris. He travelled widely and visited Rome, Constantinople, Vienna, Paris, London and Holland. From 1758 he was mainly resident in Geneva. He specialised in pastel, executing genre subjects and portraits.
The Acceptance in Lieu scheme is administered by the Arts Council. The Acceptance in Lieu (AIL) Panel, chaired by Edward Harley OBE, advises on whether property offered in lieu is of suitable importance and offered at a value which is fair to both nation and taxpayer. AIL allows those who have a bill to Inheritance Tax to pay the tax by transferring important cultural, scientific or historic objects to the nation. Material accepted under the scheme is allocated to public collections and is available for all. In the last decade this important government initiative has brought over £330m worth of treasures into public ownership for the enjoyment of all – see more at: http://www.artscouncil.org.uk/what-we-do/supporting-museums/cultural-property/tax-incentives/acceptance-lieu/
The Arts Council is the national development agency for creativity and culture. By 2030 we want England to be a country in which the creativity of each of us is valued and given the chance to flourish, and where every one of us has access to a remarkable range of high-quality cultural experiences. Between 2018 and 2022, we will invest £1.45 billion of public money from government and an estimated £860 million from the National Lottery to help deliver this vision. www.artscouncil.org.uk
Accepted in lieu of Inheritance Tax by HM Government from the estate of George Pinto and allocated to the National Gallery, 2020. The acceptance of these three works settled £10,030,880 of tax. 
Jean-Etienne Liotard (1702-1789), 'The Lavergne Family Breakfast', signed and dated 'Liotard a Lion 1754', pastel 31⅞ x 42⅛in. (81 x 107cm.), in a contemporary English pierced frame. This painting settled £8,760,000 of tax.
Sir Thomas Lawrence, P.R.A. (1769-1803), 'Portrait of the Hon. Peniston Lamb', half-length, oil on canvas 30 x 25in. (76.2 x 63.5cm.). This painting settled £146,000 of tax.
Thomas Gainsborough, R.A. (1727-1788), 'Portrait of Margaret Gainsborough holding a Theorbo', oil on canvas, 35½ x 27½in. (90.2 x 69.9cm.). This painting settled £1,124,880 of tax.
Paintings information
Thomas Gainsborough, 1727–1788
'Portrait of Margaret Gainsborough holding a Theorbo' 
about 1777
Oil on canvas
90.2 × 69.9 cm
Image courtesy of the National Portrait Gallery, London
Thomas Lawrence, 1769–1830
'Portrait of the Hon. Peniston Lamb'
about 1790
Oil on canvas
76.2 × 63.5 cm
Image © Christie's, London, 2019
Jean-Etienne Liotard 1702–1789
'The Lavergne Family Breakfast'
1754
Pastel on paper stuck down on canvas
80 × 106 cm
© The National Gallery, London
PRESS ENQUIRIES 
National Gallery Press Office email press@ng-london.org.uk 
Publicity images can be obtained from https://press.nationalgallery.org.uk/ 
For further information about the Acceptance in Lieu scheme please contact Nisha Emich, The Arts Council, National Communications Officer
Nisha.Emich@artscouncil.org.uk