28 June 2013
The National Gallery is pleased to announce the acquisition of the oil sketch 'Allegory of the Continent of Asia' by Franz Anton Maulbertsch (1724-1796), which is the first work from this Austrian artist to enter the Collection.
It will hang in room 39 alongside paintings by the 18th century Venetian artists Pietro Longhi and Francesco Guardi, reflecting the Venetian influences present in Maulbertsch's work.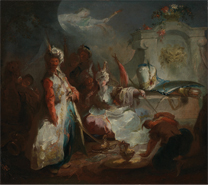 Trained in Vienna, Maulbertsch enjoyed a highly-successful career in the
Austro-Hungarian Empire where he made works for castles and churches in present-day Austria, the Czech Republic, Slovakia and Hungary. He was highly regarded for his swift, virtuoso working methods in creating frescoes and altarpieces, but he also created small independent works such as this. He is credited with developing the Northern tradition of the oil sketch – whilst Italian and French rococo influences prevailed in southern Germany and Austria at the time. In the context of the National Gallery, Maulbertsch can be viewed as an important link between the oil sketches of Rubens and 19th century oil sketches in the Collection such as 'Le Ferté' by Richard Parkes Bonington .
About the painting
'Allegory of the Continent of Asia' depicts the Orient; signified by the banner with a golden crescent held by the woman in a white turban, which points towards a golden star in the sky (the crescent and star being symbols of the Ottoman empire). It is a carefully composed and lit scene which shows off Maulbertsch's skills to impressive effect; the technique employed appears dazzlingly spontaneous, displaying the wit and expressive command of colour and brushwork which has seen him justly described as the inheritor of Giovanni Battista Tiepolo's legacy in the German-speaking world. Maulbertsch is often closely associated with Tiepolo, who also famously depicted Asia as part of his ceiling fresco at Würzburg which was completed in 1753.

The composition of this oil sketch suggests that it was not an initial idea but a finished work. 

'Allegory of the Continent of Asia' is on display in Room 39