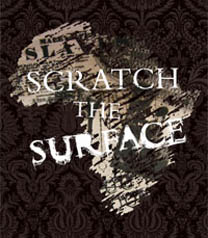 Issued May 2007
National Gallery, London
Rooms 1 and 36
20 July - 4 November 2007
Admission Free
Marking the bicentenary of the Act of Parliament abolishing the transatlantic slave trade, Scratch the Surface explores both the role that the slave trade played in the creation of two works that have subsequently entered the National Gallery's collection, and how the history of these works continues to inspire artists today.
This two-part exhibition will feature two paintings from the Gallery's collection and a stunning installation by 2004 Turner Prize-shortlisted artist Yinka Shonibare MBE, created especially for this event. The exhibition has been curated by Jonah Albert who is working with the National Gallery as part of the Arts Council England Inspire Fellowship scheme.
The first part of the exhibition, in Room 1, will focus on two paintings that usually hang in the Gallery's Barry Rooms. Johann Zoffany's 'Mrs Oswald' (about 1763-4) and Sir Joshua Reynolds's 'Colonel Tarleton' (1782) are both dramatic portraits depicting sitters with well-established links to the slave trade. This display will shed new light on these two works from the Gallery's collection. The accompanying wall text, illustrated with maps, contracts, letters and correspondences, will serve to contextualise the role of slavery in the lives of the two sitters.
The second half of 'Scratch the Surface' will feature the work of Yinka Shonibare MBE. Born in the UK and raised in Nigeria, Shonibare defines himself as a 'cultural hybrid' and questions around identity, race and globalisation inform much of his artistic output.
Shonibare has been invited to create a piece in response to the themes and imagery featured in the Room 1 display and has done so with stunning results. Life-size mannequins, dressed in elegant Georgian outfits made from African-influenced textiles, will occupy the spaces where the portraits of Mrs Oswald and Banastre Tarleton normally hang.
Both mannequins will bear muskets, taking aim at a pheasant suspended from the ceiling. These mannequins, engaged in a pastime characteristic of the social and cultural positions of both Mrs Oswald and Tarleton, wearing period costume fashioned from material featuring traditional African print, are a classic example of Shonibare's subversion of conventional readings of cultural identity.
It is not the first time Shonibare has drawn on works within the National Gallery's collection for inspiration - in 1998 he exhibited 'Mr and Mrs Andrews Without Their Heads', a response to Mr and Mrs Andrews (about 1750) by Gainsborough.
Shonibare's involvement with this display forms part of the National Gallery's ongoing commitment to the support and display of contemporary works, and the Gallery gratefully acknowledges the support given by Arts Council England, the Outset Contemporary Art Fund, and the Esmée Fairbairn Foundation in enabling this important display to take place.
For further press information please contact:
Ken Hunt on 020 7747 2532 or e-mail ken.hunt@ng-london.org.uk