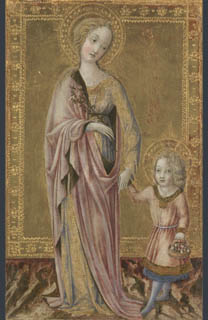 Issued June 2007
Sainsbury Wing
24 October 2007 - 13 January 2008
Admission charge
Sponsored by Monte dei Paschi di Siena and MPS Banking Group
For the first time in Britain, a major exhibition will show Renaissance painting and sculpture in the artistic, cultural and political contexts of the volatile last century of the Sienese Republic.
Renaissance Siena: Art for a City will bring together around one hundred beautiful exhibits, including paintings, sculptures, drawings, manuscripts and ceramics. Major loans from private and public collections across Europe and America will be displayed alongside the exceptional Sienese paintings in the National Gallery's own collection several specially cleaned and restored for this show.
Covering a period from about 1460 to 1530, this exhibition will demonstrate the distinct qualities of Sienese painting, drawing and sculpture, adding up to a supremely elegant, expressive and visionary style of art formed during a period of fascinating power shifts within the city itself.
While the painting in Medieval Siena is universally admired, the art produced in Siena during the later 15th and early 16th centuries, and some of the very greatest Sienese artists of this period, are much less well known, especially outside Italy.
'Renaissance Siena: Art for a City' will celebrate painters and sculptors that have been consistently misunderstood and insufficiently studied or appreciated. For that reason the works executed by even the greatest Sienese artists of this period - Francesco di Giorgio and Domenico Beccafumi - are almost unknown to the British public.
Since they do not fit comfortably into Florentine-inspired ideas of what the Renaissance should look like, others like Matteo di Giovanni and Neroccio de' Landi have been largely written out of art history. This exhibition therefore tells the story of a lost Renaissance.
It has only recently been realized that particular aspects of Sienese art were very deliberately shaped and sustained to provide an artistic language for Siena, an expression of city pride and identity. The exhibition will begin with the introduction of the city itself, its image and its saints.
Powerful examples will show the means by which certain images, styles and narratives were repeated to form a visual concept of the Republic. Other areas will examine connections between painting, drawing and sculpture, the adornment of Renaissance palaces, and the craft of Sienese painting. Throughout, the public will see works that combine exquisitely worked gold with extraordinary colour.
Notable paintings include Matteo di Giovanni's great 'Assumption' altarpiece from the Siena-ruled town of Asciano. The centre of this altarpiece, part of the National Gallery Collection, will be reunited for the first time with all the other surviving parts.
The exhibition will also reunite a series of ancient heroes and heroines originally painted for a noble marriage by all the leading painters of the 1490s, brought together from as far apart as Budapest, Baltimore and Bloomington, Indiana.
The exhibition ends with a room devoted to Domenico Beccafumi, including the reuniting of works, separated since before 1600, that originally hung in a palace bedchamber of one of Siena's leading citizens.
To celebrate the London exhibition, 'Renaissance Siena' tours have been organized in the city itself, creating a unique link between the two cities. Visitors can now rediscover an Italian Renaissance that is different from all others: spiritual, vivid and inspiring.
For further press information please contact:
Ken Hunt on 020 7747 2532 or e-mail ken.hunt@ng-london.org.uk