National Gallery announces Digital Partnership with NIKON UK 2020–2021
Issued November 2020
On the first day of lockdown (Thursday 5 November) as we once again turn to digital ways to look at, use and respond to art, the National Gallery is pleased to announce a new Digital Content Partnership with Nikon.
In the first collaboration of its kind for the National Gallery, the next 12 months will see us work with Nikon on a broad schedule of online content all aimed at letting people take inspiration from one of the greatest art collections in the world, and also to explore the synergies between photography and fine art.
The first feature, released today, is the latest edition of the ongoing Picture of the Month series. Picture of the Month dates back to 1942, when each month a single painting was returned to the National Gallery in Trafalgar Square (from the disused Welsh slate mine where the collection was kept for safety during the Second World War). Seventy-eight years later, Picture of the Month is a digital initiative, with a different painting under the spotlight each month, and this month selected by a public vote.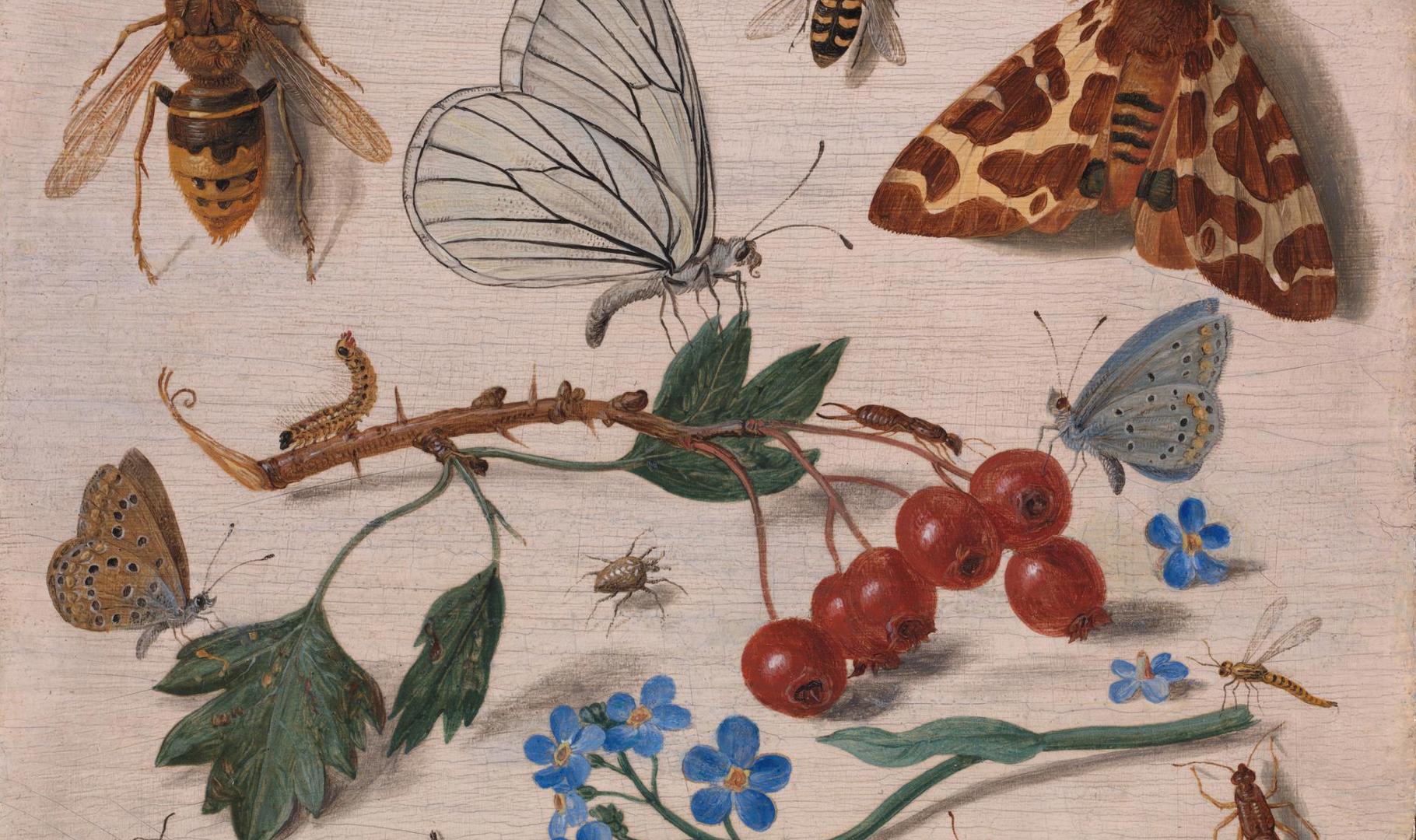 Picture of the Month for November 2020 is the 1654 work Butterflies, Moths and Insects with Sprays of Common Hawthorn and Forget-Me-Not by Jan van Kessel the Elder (1626–1679) (pictured above), which is explored in depth on the National Gallery website, including two short films.
There will also be a brand new series of films showcasing the work of our conservation department and regular curator-led talks will be available across all our social platforms. In addition, there will be a series of free digital events for National Gallery Members led by Gallery Educators and Nikon will also host events with their experts - both series will be focusing on various aspects of the collection.
By working together, both the National Gallery and Nikon will have an unprecedented global opportunity to use their online platforms to inspire and inform.
Dr Gabriele Finaldi, Director of the National Gallery, said: 'When the National Gallery first had to close its doors for 111 days due to the pandemic, our digital programming and online community flourished – open 24/7 with free art for everyone, anywhere online. With our doors temporarily closed for the second time, our online activity is vitally important. We are delighted that Nikon has joined us as our first-ever Digital Content Partner. It is a critical time for the arts; a sector that we know is an invaluable resource for our mental wellbeing. Support from businesses like Nikon means we can carry on bringing great art to the widest possible audience.'
Julian Harvie, Head of Marketing for Nikon Northern Europe said: 'Nikon is delighted to be supporting the National Gallery as their Digital Content Partner for the coming year. As a brand that enables photographic artistry at the highest level, we are proud to be working with such an iconic institution to inspire and educate our online audience, looking to the past better to empower our creative vision today.'
During England's current national lockdown, the National Gallery will remain open online, continuing to bring the nation's gallery into the nation's homes, providing everyone with access to great art. 
NOTES TO EDITORS
Nikon is a world leader in digital imaging, precision optics and photo and video capture technologies; globally recognised for setting new standards in product design and performance for an award-winning array of equipment that enable visual storytelling and content creation. Nikon UK distributes consumer and professional digital SLR cameras, NIKKOR optics, speedlights and system accessories, Nikon COOLPIX® compact digital cameras and Nikon software products, as well as the revolutionary Nikon Z series of mirrorless cameras and NIKKOR Z lenses, which achieve a new dimension in optical performance. For more information visit www.nikon.co.uk
The National Gallery is one of the greatest art galleries in the world. Founded by Parliament in 1824, the Gallery houses the nation's collection of paintings in the Western European tradition from the late 13th to the early 20th century. The collection includes works by Bellini, Cézanne, Degas, Leonardo, Monet, Raphael, Rembrandt, Renoir, Rubens, Titian, Turner, Van Dyck, Van Gogh and Velázquez. The Gallery's key objectives are to enhance the collection, care for the collection and provide the best possible access to visitors. Admission free. More at www.nationalgallery.org.uk
IMAGE – Jan van Kessel the Elder, 'Butterflies, Moths and Insects with Sprays of Common Hawthorn and Forget-Me-Not', 1654, Oil on Wood © The National Gallery, London
PRESS ENQUIRIES
National Gallery Press Office on 020 7747 2865 or email press@ng-london.org.uk
Publicity images can be obtained from https://press.nationalgallery.org.uk/