Issued December 2014
4 March – 31 May 2015
Sainsbury Wing
Admission charge
"Without him", said Monet, "We wouldn't have survived."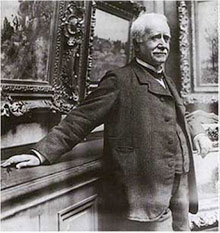 This spring, the National Gallery presents the UK's first major exhibition devoted to the man who invented Impressionism, Paul Durand-Ruel (1831-1922). An entrepreneurial art dealer, Durand-Ruel discovered and unwaveringly supported the Impressionist painters and is now considered a founding father of the international art market as we know it today.
Inventing Impressionism includes around 85 works, among them a number of Impressionism's greatest masterpieces which have never been seen in the UK before. These pictures - the vast majority of which were dealt by Durand-Ruel - are borrowed from the key European and American collections he helped form, as well as from Japan.
This ground-breaking exhibition lifts the veil on the pivotal figure that discovered Monet, Pissarro, Degas and Renoir in the early 1870s, immediately buying their works when they were still largely ignored or ridiculed. Loyal friend and advocate of the Impressionists, regularly supporting them financially and morally, the dealer became the group's most courageous backer during its early decades of struggle, dedicating his entire life to making the creative journey of the Impressionists a success story. Paul Durand-Ruel was 89-years old when he declared:
"At last the Impressionist masters triumphed … My madness had been wisdom. To think that, had I passed away at sixty, I would have died debt-ridden and bankrupt, surrounded by a wealth of underrated treasures…"
With great artistic flair and extraordinary commercial insight, Durand-Ruel developed revolutionary business strategies, such as stock building, exclusivity, and one-man shows of 'his' artists. He turned his Paris-based business into a global firm, opening branch galleries in London, Brussels and New York, staging countless exhibitions around the world and reversing the fortunes of the Impressionists. Despite rejection from the art establishment, the visionary Durand-Ruel was the single most powerful driving force making Impressionism the household name worldwide it is today and one of painting's best-loved movements.
Between 1891 and 1922, Paul Durand-Ruel purchased around 12,000 pictures, including more than 1,000 Monets, approximately
1,500 Renoirs, more than 400 by Degas and as many Sisleys and Boudins, about 800 Pissarros, close to 200 Manets and nearly 400 Mary Cassatts.
Durand-Ruel was introduced to Monet and Pissarro in London in 1870-71, when they were taking refuge from the Franco-Prussian War and the Commune. Durand-Ruel was enchanted by their works, often painted outdoors, in the parks, suburbs and on the banks of the Thames. He soon bought their paintings, exhibiting them in London between 1870 and 1874, in the gallery he opened in Mayfair.
Inventing Impressionism will present a series of rarely-seen portraits of the dealer and his children painted by Renoir and exhibited in the UK for the first time. Other highlight paintings will include no less than five paintings from Monet's 'Poplars' series, which Durand-Ruel exhibited together as a group for the first time in 1892 and will be exceptionally reunited in London. All three of Renoir's famous 'Dances', which have not been seen together in this country since 1985 - 'The Dance at Bougival' from the Museum of Fine Arts in Boston, 'Dance in the Country' and 'Dance in the City' from the Musée d'Orsay - will also be included in the exhibition.
Beyond his work as a dealer and gallery owner, Durand-Ruel also assembled a personal collection of paintings which he exhibited in his apartment where he often welcomed visitors, as it allowed him to showcase the work of the Impressionists in a more domestic and intimate setting. One of the apartment's panelled doors, which Monet adorned with lavish still lives of flowers and fruits, will be reconstructed exclusively for Inventing Impressionism. This arresting object will be displayed alongside masterpieces from the dealer's private collection.
The exhibition follows the key events of Paul Durand-Ruel's career in a broadly chronological order; these are intrinsically linked with the rise to fame of the Impressionist painters. The first three rooms focus on his home, his early career as an art dealer and the links he created with mid-19th century Realist artists, and the soon-to-be-called Impressionists. Rooms 4 to 6 concentrate on the strategies used by Durand-Ruel to promote and establish the Impressionists and on the struggles he faced.
The culmination of Inventing Impressionism evokes an exhibition Durand-Ruel organised in London in 1905, at the Grafton Galleries, which has remained to this day the largest show of Impressionist paintings ever attempted anywhere. Durand-Ruel presented a staggering 315 paintings. The exhibition was the dealer's last major effort in a campaign that had begun in London 30 years earlier, and reflected the dealer's now established position in the art world.
NOTES TO EDITORS
Organisation
The exhibition is organised by the National Gallery, London, the Réunion des Musées Nationaux – Grand Palais in partnership with the Musée d'Orsay, and by the Philadelphia Museum of Art.
Exhibition Curators: Sylvie Patry, Chief Curator at the Musée d'Orsay, Anne Robbins, Christopher Riopelle, Curators at the National Gallery, London, Jennifer A. Thompson, Joseph J. Rishel, Curators at the Philadelphia Museum of Art.
With the help of the Durand-Ruel Archives for research.
Publication
'Inventing Impressionism: Paul Durand-Ruel and the Modern Art Market'
Edited by Sylvie Patry
With contributions by Anne Robbins, Christopher Riopelle, Joseph J.Rishel, Jennifer A. Thompson, Flavie Durand-Ruel and Paul-Louis Durand-Ruel
PLC £35 ISBN 978 1 85709 584 5
Paperback £19.95 ISBN 978 1 85709 5852
Published by National Gallery Company
Distributed by Yale University Press
Opening hours
Press view: 3 March 2015 (10.30–1.30pm)
Open to public: 4 March 2015
Daily 10am–6pm (last admission 5pm)
Fridays 10am–9pm (last admission 8.15pm)
Admission
Enter by the Sainsbury Wing Entrance
Full price: £18.00
Senior/Concession/Disabled visitors (carers FREE): £14.00
Job seeker/Student/Art Fund/12–18s: £8.00
Under 12s (ticket required): FREE
Concessions Season: £14.00
Job seeker/Art Fund/Student season: £9.00
Members go free
Tickets
Book online (no booking fee)
Call 0800 912 6958 (booking fee). You can also book tickets by post and in person from the Gallery.
Overseas customers can contact us by dialling +44 (0)20 7126 5573.
For further information, please contact Alexandra Moskalenko at Alexandra.moskalenko@ng-london.org.uk/ 020 7747 2596 or the National Gallery Press Office on 020 7747 2865 or email press@ng-london.org.uk.
Publicity images can be obtained from http://press.ng-london.org.uk.
For public enquiries, please contact 020 7747 2885 or information@ng-london.org.uk.