11 February 2014
New George Clooney film 'The Monuments Men' honours links to National Gallery
George Clooney, director and star of new film 'The Monuments Men', was joined by fellow cast members for a press conference held at the National Gallery this morning.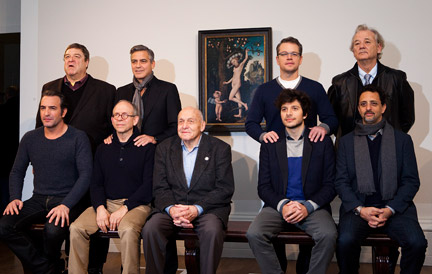 The conference saw actors Clooney, John Goodman, Matt Damon, Bill Murray, Jean Dujardin, Bob Balaban, Dimitri Leonidas, and co-writer Grant Heslov answering questions ahead of the film's premiere tonight in nearby Leicester Square.
'The Monuments Men' is based on the true story of an unlikely Second World War platoon tasked with going into Germany to rescue artistic masterpieces from Nazi thieves and returning them to their rightful owners. 
The real Monuments Men
The re-telling of this historical treasure hunt led to the discovery that two of the platoon – Ellis Waterhouse and Cecil Gould – had been National Gallery staff.
The film also questions the whereabouts of some of the world's most iconic paintings during the period of the Second World War, such as the National Gallery's 'Cupid complaining to Venus' by Cranach the Elder.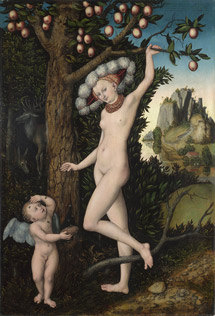 Although bought by the Gallery from New York dealers E & A Silbermann in 1963, the Gallery later discovered that the painting was once part of Adolf Hitler's collection, and welcomes any new information about the painting's provenance.
The painting is a key feature of the forthcoming exhibition 'Strange Beauty: Masters of the German Renaissance.'
Art from 1933 to 1945
In March 1999 'The Art Newspaper', in cooperation with the National Gallery, published a list of the Gallery's paintings, the whereabouts of which during all or part of the years 1933 to 1945 was not known. 'Cupid complaining to Venus' was included on the list. Since 1999 research has continued, and the list is updated from time to time when new information emerges. There has been no new information on the painting 'Cupid complaining to Venus' since 2008.
The Gallery has paid particular attention to the whereabouts of its paintings during the years 1933 to 1945, and part of the Gallery's ongoing work is to investigate the whereabouts of its paintings from the time they were painted until the time they entered the Gallery's collection.