Biography
Julia Myra Hess was born on 25 February 1890 to a Jewish family in Kilburn, London. The youngest of four children, she began playing the piano from an early age, starting lessons when she was five.
In 1903, at the age of 12, she won a scholarship to the Royal Academy of Music, where she met her mentor, Tobias Matthay, who was to be instrumental in developing her talent. Her public debut followed at the age of 17, when she played the Queen's Hall, a famous classical music concert hall in central London, with the New Symphony Orchestra and its then conductor, Sir Thomas Beecham.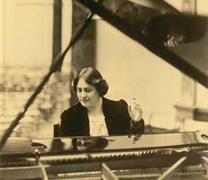 During the next three decades she toured extensively and rose to prominence as a pianist of the highest rank. But she is perhaps best-known today for the series of low-cost chamber music concerts which she initiated at the National Gallery at the outset of the Second World War.
The concerts were a great success and won her much affection from the British public. In 1941, she was awarded the D.B.E. (Dame Commander of the Order of the British Empire) in recognition of her wartime service.
Following the end of the National Gallery concerts in 1946, Myra Hess continued her musical career and toured extensively. The 1950s proved to be Dame Myra Hess' finest and has been regarded as her most sublime playing, recordings exist of many of her performances of the time; live Brahms' B-Flat Concerto with Bruno Walter and the New York Philharmonic in 1951. In his discussion of Brahms recordings, David Dubal said that many musicians consider her performance the finest on record. Myra's performances of Brahms Trios with Casals from the same decade are among the most celebrated chamber music recordings, as well as her incomparable recordings of Beethoven's Sonatas, Op. 109 and 110. Myra continually packed concert halls on both sides of the Atlantic.
The Contiguglia brothers, Myra's pupils
'When she finished Opus 111, there was total silence.'
Transcript
The Contiguglia Brothers: I want to just say a few more words about turning pages for her because it was really an extraordinary experience. One experience was turning when she did the Mozart E-Flat Concerto K.271 with the New Haven Symphony, and I remember it was a memorable performance, simply beautiful. It stirred my emotions and made it very difficult to turn, but at the end of the finale she turned to the audience, because they wouldn't let her leave, and she said 'you know, the slow movement of this concerto was one of the most beautiful things that Mozart ever wrote, I would like to repeat it', and so she went and played the slow movement again with the orchestra, and then she turned to me and said 'that time it worked'.
She was so human and she seemed to value the impression that her page-turner had from her concert. Of course, I was so moved that I wondered whether I was ever going to be able to turn pages, but I managed. I like to think of Myra Hess as being a sort of platonic ideal. You know, she represented an artistry that all the rest of us aspired to. Of course we never can achieve what she was, but it is an ideal, a platonic ideal, for me; this is the way perfection is.
I remember that the last Carnegie Hall recital that we heard her perform, she did the last three Beethoven sonatas; Opus 109, Opus 1010 – one sonata was just more magisterial than the next. When she finished Opus 1011 there was total silence in that sold-out house, not one single clap, nobody said anything and nobody made a sound, and finally after an inordinately long time the entire audience rose to its feet, still silently, and then burst out into tumultuous applause. And that's the effect a Myra Hess recital had, at least on an American audience.
Her last public appearance was at London's Royal Festival Hall on 31 October 1961, when she played the Mozart A Major Concerto, K.488, under Sir Adrian Boult. Myra Hess died on 25 November 1965.