Finance
Read the National Gallery's financial statements, from 2008 to the present day
Present
Financial statements to 31 March 2013
The National Gallery continued to benefit from the generous support of private individuals, corporate members and sponsors, and trusts and foundations. This enabled the Gallery to continue its programme of exhibitions, outreach activities, building restoration work and acquisitions, with 29 paintings being added to the collection over the year.
The number of visitors to the Gallery was similar to last year, and a diverse range of exhibitions, including Metamorphosis: Titian 2012 – a specially commissioned, groundbreaking collaboration with the Royal Ballet – ensured that the National Gallery was central to the cultural celebrations in 2012 and garnered wide critical acclaim.
The Gallery continues to face significant cuts to public funding over future years. No change has occurred, or is expected, in our opening hours; the Gallery continues to open its doors, free of charge, seven days a week. The cuts will, however, make private income even more critical to the future well-being of the Gallery.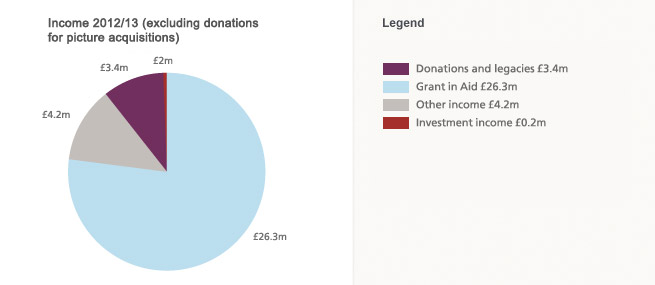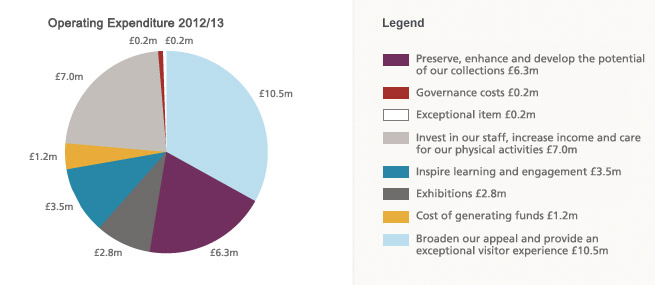 Related documents

Financial Statements 2012–13 [PDF 2.4mb – opens in a new window]
The 'Financial Statements 2012–13' are published by TSO (The Stationery Office) and available from:
Online: www.tsoshop.co.uk [External link]
Mail: TSO, PO Box 29, Norwich NR3 1GN
Telephone: 0870 600 5522
Email: customer.services@tso.co.uk
Fax: 0870 600 5533
Textphone: 0870 240 3701
Read about National Gallery finances 2008–12
---

Problems opening files? Get Adobe Reader [External link]