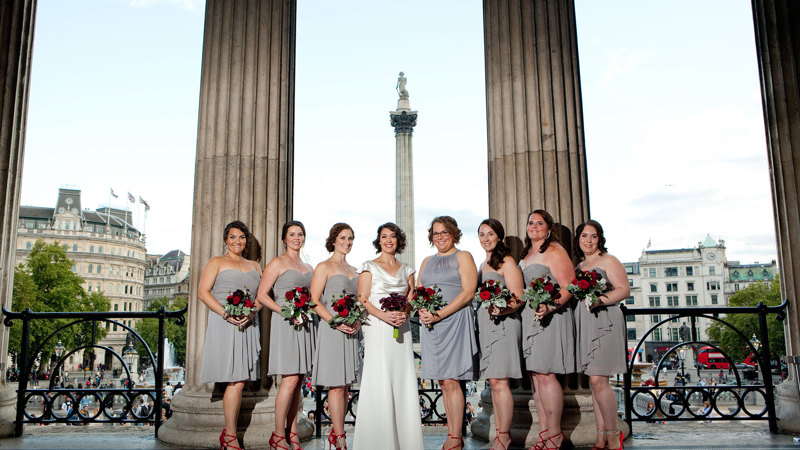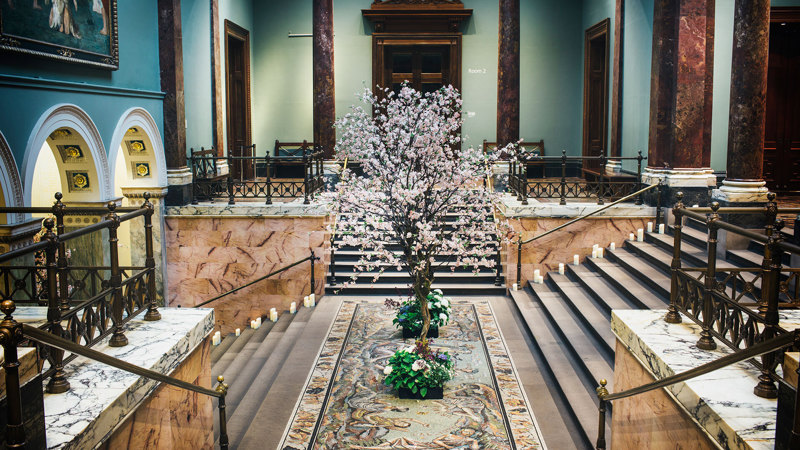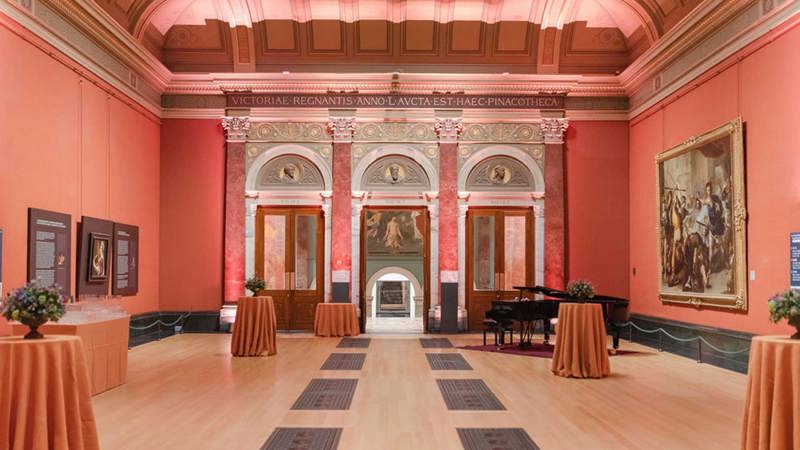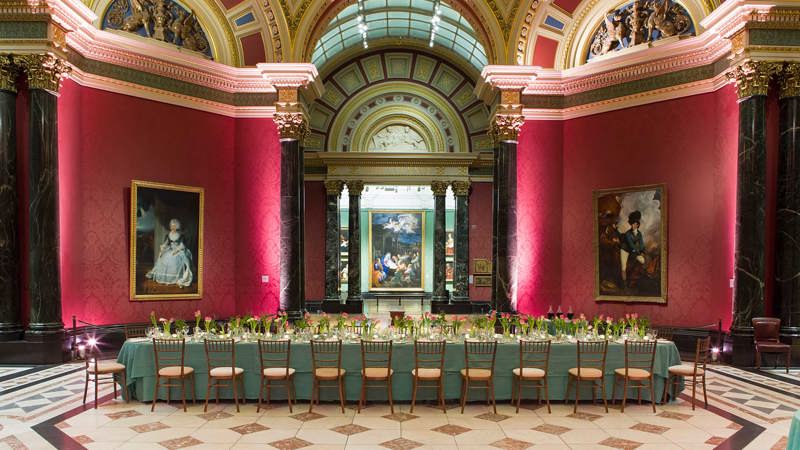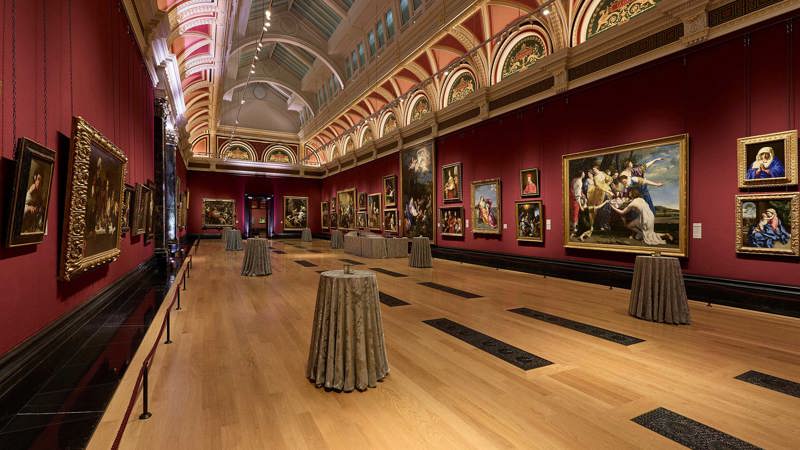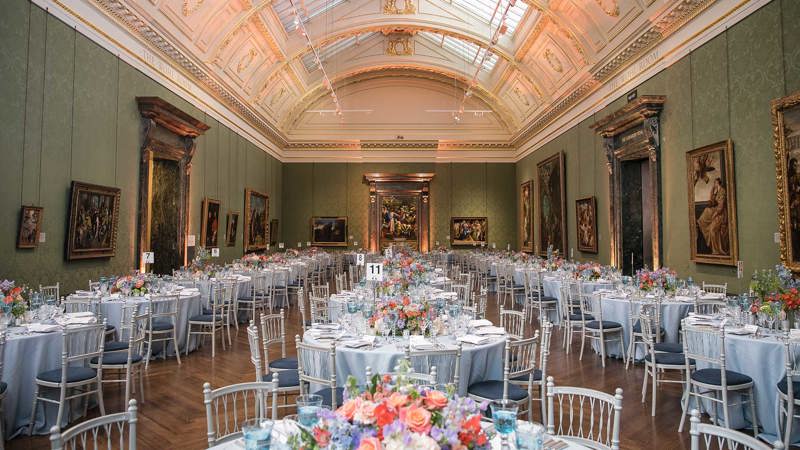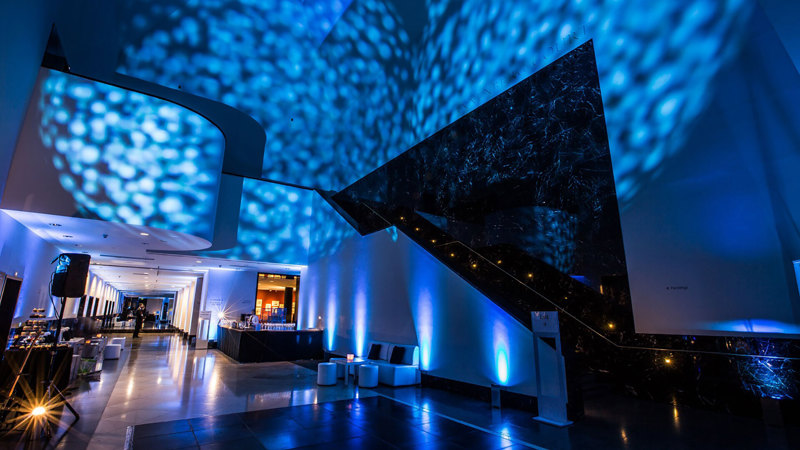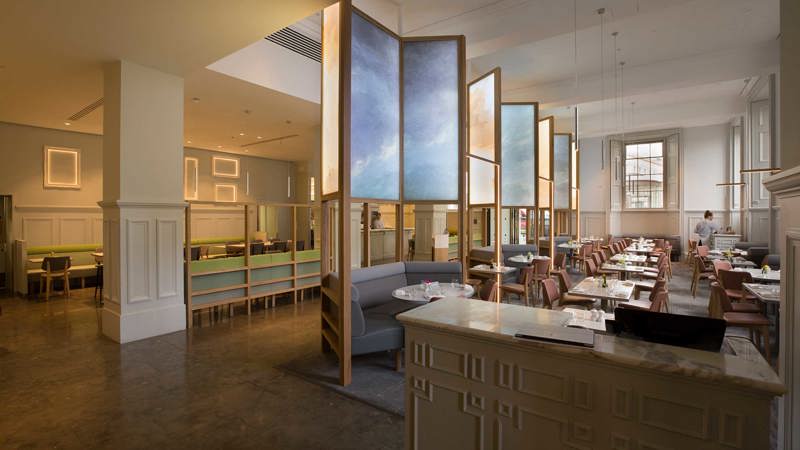 Portico Terrace
For guest arrival and drinks reception
Make your unforgettable entrance as you walk up
the grand Portico steps onto the Portico Terrace,
overlooking one of the most impressive views in
central London – Nelson's Column, Trafalgar Square,
Big Ben and Westminster.
Reception: 100
Mosaic Terrace
For guest arrival and drinks reception
Continue welcoming your guests as you come into
the building, onto the mosaic terrace, with the
domed glass ceiling and marble pillars.
The intricate detail of love, compassion and glamour in the mosaics, including Seven Virtues, Awakening of the Muses, Virginia Wolf and Greta Garbo will add to your very own love story.
Central Hall
For drinks reception
Your guests will raise a glass to you, the special couple, at your drinks reception in Central Hall. You'll be surrounded by paintings from our collection with romantic music playing subtly in the background by your selected live band.
Reception: 200
The Barry Rooms
Take your guests to the Barry Rooms for your wedding breakfast, in the most architecturally stunning location in the Gallery. Guest portraits courtesy of influential British artists - including Hogarth and Gainsborough - are already waiting for you as you walk past the marble pillars and take your seats under the breath-taking glass-domed ceiling.
Dinner: 150
Room 32
Step inside your very own Italian Palazzo. Newly renovated, this magnificent gallery adjoins our spectacular Barry Rooms. Surround guests with dramatic Baroque masterpieces, characterised by dynamic compositions, dramatic lighting and vivid use of colour. These 17th-century artworks influenced the future of painting across Europe, so it's only fitting they hang in our most impactful room.
Dinner: 300
The Wohl Room
You can take your seats within the sights and scenes of Venetian Renaissance paintings, by world-famous artists including Veronese, Tintoretto, Bassano and Bordone.
Relax into your evening with delicious menus and beautiful table settings lavishly created by your chosen caterer, all within the backdrop of this luxurious room – gold gilded frames, lush damask walls, glass ceiling and of course world-class paintings.
Dinner: 260
Annenberg Court
For after-dinner dancing
After speeches and all the warm wishes to the happy couple, lead your guests to our contemporary Annenberg Court and make your next impressive entrance down the sweeping stairs for your first dance. Continue to dance the night away until the early hours of the morning.
The National Café
This large and self-contained venue is perfect for your after-party. Recently re-designed by Ramy Fischler, the modern space incorporates images of our paintings into the setting. It has two interconnecting rooms, providing a separate space for dancing and a lounge area. When the shutters are closed, the National Café feels cosy and has an elegant townhouse vibe, benefiting from marble-topped bars and its own entrance on St Martins Place.