Life and work: Part 1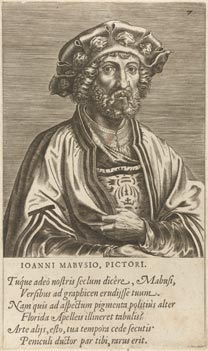 Jan Gossaert (also called Mabuse: fig.1) was born in Maubeuge in about 1478. His name was in fact Jean Gossart, and he seems to have been generally known as such, but for obscure reasons the spelling 'Jan Gossaert' gradually gained currency during the second half of the nineteenth century1 and became canonical during the twentieth century.2 It gave the false impression that he was a Dutch speaker with a Dutch surname. A few references in contemporary documents can be connected with Jean Gossart: he was mentioned in texts by Gerrit or Gerard Geldenhouwer (Gerardus Noviomagus, 1482–1542)3 and in the slightly later writings of Lodovico Guicciardini, Pieter Opmeer, Arnoldus Buchelius and Carel van Mander.4 The name Gossart seems to have been fairly widespread in the French-speaking county of Hainault5 and the neighbouring areas, including the city of Cambrai.6 In 1507–9, Gabriel Gossart kept the accounts of the Provostship of Bouvines, south-east of Lille, belonging to the Benedictine Abbey at St-Amand-les-Eaux;7 and in 1514 a bookbinder named Simon Gossart was working in Maubeuge.8 Jean Gossart's parents, whose names are not known, owned landed and movable property in and around Maubeuge which, after Jean's death, was inherited by his children. In 1541, they were planning to sell.9
Nothing definite is known about Jean's early life and education. By 1508, he was almost certainly in the service of Philip, Bastard of Burgundy and Admiral of the Sea (fig.2). One of the youngest of Philip the Good's illegitimate sons, Philip of Burgundy (c.1465–1524) was the subject of a very informative biography by Geldenhouwer (published in 1529), who was to become a close associate of Gossart. Philip had been born and brought up in Brussels and had been trained as a painter and a goldsmith. He maintained a house in Brussels and inherited from his half-sister Anne of Burgundy, Lady of Ravenstein, who died early in 1508, much of her property, including the castle of Souburg on the island of Walcheren in Zeeland. Later in 1508, Philip was sent as ambassador to Pope Julius II. He and his entourage set out in October 1508 and arrived in Rome on 14 January 1509. Geldenhouwer reported that Philip was entranced by the monuments of antiquity and had them copied by the most celebrated painter Jean Gossart of Maubeuge (fig.3).10 Geldenhouwer seemed to indicate that Philip took Gossart with him to Rome so that he could see and copy the antiquities; but it is just possible to interpret Geldenhouwer's text to mean that Philip, having seen the antiquities, returned to the Low Countries and then sent Gossart to Rome to examine and copy them. The first interpretation is by far the more probable. Philip was back in the Low Countries by 28 June 1509, when, at The Hague, he completed his report on the mission.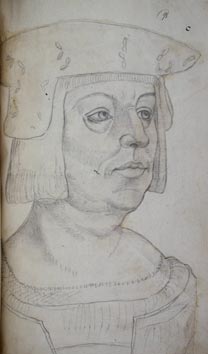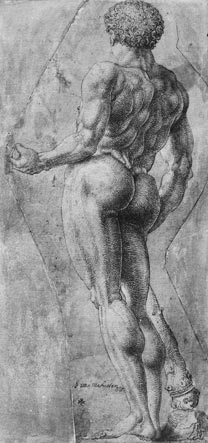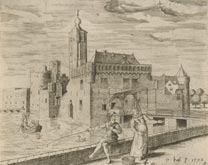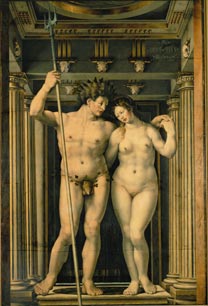 Geldenhouwer implied that Gossart remained in Philip's service and stated that Gossart and Jacopo de' Barbari formed part of Philip's court at Souburg. The impressive castle there is known from drawings and prints, but was demolished in 1783 (fig.4). Philip seems to have divided his time between Brussels and Souburg. In January 1511, Brussels was deep under snow; the population made a great number of snowmen, so spectacular that they were described in verses written by Jan Smeken and printed probably soon after the snow and ice had melted. Philip with his own hand helped to make a figure of Hercules that stood in the grounds of his town house.11 Gossart was probably in Brussels with Philip then, and in 1516, when he designed a chariot, decorated with nude figures of geniuses, for the funeral ceremonies in Brussels of Ferdinand of Aragon.12 It seems clear that Gossart followed Philip to Utrecht in 1517, when he became bishop there; and that he remained in Philip's service until the latter's death in 1524. The only painting by Gossart that was certainly made for Philip is the 'Neptune and Amphitrite' (Berlin), dated 1516 (fig.5).
1. See, for example, Waagen 1854, vols II, III, 'passim'.

2. Friedrich Winkler used the spelling 'Gossaert' for his article of 1921 in Thieme-Becker, vol. XIV, pp. 410–13; the organisers of the Rotterdam-Bruges exhibition of 1965 also used that spelling, which seems first to have been used at the National Gallery in the 1936 reprint of the 1929 catalogue. In the 1929 catalogue itself, and in earlier publications, the correct spelling 'Gossart' had been adopted.

3. Nicaise Gossart had been a prominent mason in Valenciennes between 1411 and 1424 (Nys and Salamagne 1996, p. 342). Valenciennes is about 35 km west of Maubeuge.

4. Another Nicaise Gossart was on five occasions between 1420 and 1439 one of the powerful 'quatre hommes' (Edmond Gautier and André Lesort, 'Département du Nord, Ville de Cambrai, Inventaire sommaire des archives communales antérieures à 1790', Cambrai 1907, pp. 92, 95–7, and on the powers of the 'quatre hommes', pp. XII-XIII); while in 1442 Watier Gossard was Receiver of the City (Anne-Marie Pietresson de Saint-Aubin, 'Archives départementales du Nord, Répertoire numérique, Série G (Clergé seculier)' I, Lille 1960, ii, p. 55).

5. Pierre and Anne-Marie Pietresson de Saint-Aubin, 'Archives départementales du Nord, Répertoire numérique, Série H', II, Avesnes-sur-Helpe 1943, p. 252.

6. Gossart 1903, p. 20.

7. Van Even 1869, p. 309; Smeyers 1965, pp. 110–11.

8. Buchelius saw in 1626 a portrait in black and red chalk by Gossart. Now lost, it represented Reyner Snoy
(c.1475–1537), who was personal physician to Gossart's patron Adolf of Burgundy. Dated 1528, it was inscribed with Snoy's name and age and with the name of 'Malbodius': 'Malbodius pinxit dum quina decennia vixit'. This is taken as proof that Gossart was aged 50 in 1528.

9. Gilbert Tournoy in Bietenholz et al. 1985-7, II, p. 83.

10. 'Nihil magis eum Romae delectabat, quam sacra illa vetustatis monumenta, quae per clarissimum pictorem Joannen Gossardum Malbodium depingenda sibi curavit' (Prinsen 1901, p. 233).

11. 'Dwonder dat in die stat van bruesel ghemaect was van claren ijse en snee, die wel gheraect was', reprinted in Herman Pleij, 'De sneeuwpoppen van 1511, Literatuur en stadscultuur tussen middeleeuwen en moderne tijd', Amsterdam 1988, pp. 357–68. For Philip and the figure of Hercules, see p. 361; Alsteens in Ainsworth et al. 2010, p. 382 note 14.

12. Geldenhouwer's 'Pompa exequiarum Catholici Hispaniarum Regis Ferdinandi', Leuven 1516, reprinted in Prinsen 1901, pp. 209–10.