Publication notes
This volume in the series of National Gallery Catalogues, The Italian Paintings before 1400 by Dillian Gordon, was published in June 2011.
The introductory section of the catalogue, including the complete list of paintings and changed attributions, is published below together with two sample entries.
About the catalogue
This fully illustrated catalogue provides key information on 86 early Italian paintings, covering subjects from infrared reflectography and underdrawings to authorship and provenance.
Dillian Gordon was Curator of Italian Paintings before 1460 at the National Gallery until 2010. Her publications include The Fifteenth Century Italian Paintings (Volume I) in the new series of National Gallery Catalogues; and as co-author, Giotto to Durer: Early Renaissance Painting in the National Gallery and Pisanello: Painter to the Renaissance Court.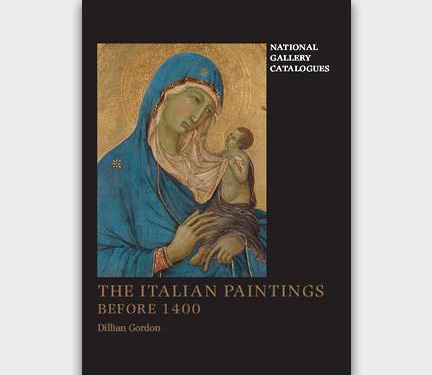 Read the sample entries
Download the Introduction
Includes the Director's Foreword; Maps; Introduction; The Organisation and Method of the Catalogue; List of Artists and Paintings; Changes of Attribution; and Index by inventory number.

Introduction to The Italian Paintings before 1400 — Dillian Gordon [PDF 13.1MB — opens in a new window]

To cite this catalogue entry we suggest using:
Dillian Gordon, 'National Gallery Catalogues, The Italian Paintings before 1400', London 2011, pp. i-xxv; 518-9.
http://www.nationalgallery.org.uk/research/research-resources/national-gallery-catalogues/the-italian-paintings-before-1400
---

Problems opening files? Get Adobe Reader [External link]