Technical notes
Oil on canvas, lined, 34.0 x 73.2 cm, visible surface (edges are covered by brown paper). Signed bottom right in brown paint: COROT. (fig.1)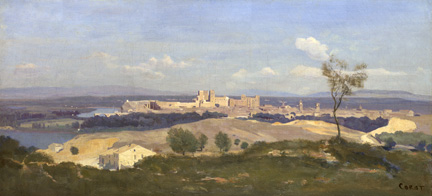 Support
The canvas is lined and the stretcher is presumably original. A label on the back with a Gothic 'f' and the number '69' possibly refers to James Staats Forbes, a former owner of the work. Similar labels have been found on other paintings in the Gallery's collection which are known to have come from his collection1.
Materials and technique
2
The off-white ground is predominately lead white. The entire foreground has been painted over by the artist with a dark olive-green paint.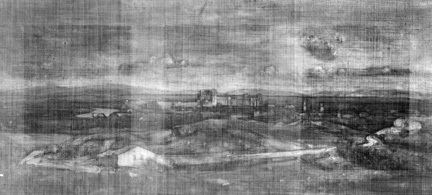 The X-ray photograph (fig. 2) shows that the road which appears on the right actually runs along the entire foreground as far as the houses, but has been softened, and in some places eliminated by this khaki scrub-like landscape (fig 3). To the upper right of the foreground houses, a cliff or quarry was later covered over by a tree3.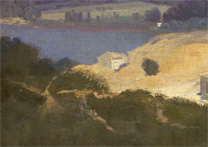 A ragged edge of dull olive-green paint, applied with a dry brush, is visible under the top edge of the khaki overpaint, especially around the group of trees, left of centre. It is also visible under the green of the tree left of centre, overlaid with a blue-green, and by the house, indicating that this is part of the reworking, and suggesting that the small group of trees was also almost certainly added at this time (fig 4).
In addition, scientific analysis has shown that the dull green of the middle foreground is multi-layered, with up to six layers over the ground. Some of these layers contain cobalt blue, orange (possibly vermilion) and ultramarine blue. The sky contains cobalt blue and lead white with traces of opaque red. There are no traces of dirt or varnish between the layers, suggesting that Corot did not add the top layer at a substantially later stage.
The repainting is also stylistically of the same period. In the case of another view of the area painted in 1836, 'Villeneuve-lès-Avignon, Fort Saint-André' (The Hague, Mesdag Museum; fig. 5), Corot returned to the painting in around 1865 to1870. He again reworked the foreground, adding a clump of trees and some figures, but the additions are predominantly in his late style, and the flickering touches of foliage and shimmering brushwork contrast with the tighter handling of the main picture4.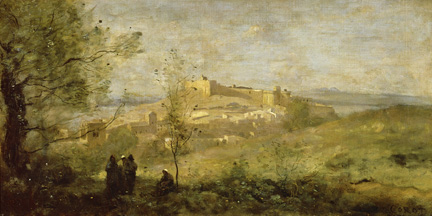 Medium analysis has shown the presence of heat-bodied walnut oil (or a mixture of linseed oil and poppyseed oil) and heat-bodied linseed oil as binders.
Conservation and condition
NG 3237 was cleaned and restored by the Gallery in 2000. The paint is generally in good condition. There is a prominent craquelure, and during the 2000 restoration a substantial discoloured varnish engrained into the paint texture was cleaned off.