Paintings previously owned by William IV
This is Lawrence's own copy of a portrait he painted of John Julius Angerstein (1735–1823) aged 84. The original was exhibited at the Royal Academy in 1816, and Lawrence considered it one of his best works. Angerstein was Lawrence's friend and patron for over 30 years. Lawrence first painted him...
Not on display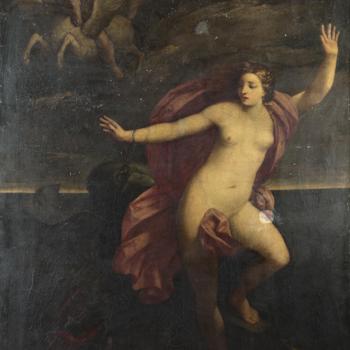 In this scene inspired by Ovid's Metamorphoses, Andromeda, daughter of the Ethiopian queen Cassiope, is about to be sacrificed to placate a monster summoned by Neptune, god of the sea. The hero Perseus appears at top left on his winged horse Pegasus, preparing to kill the monster and rescue the d...
Not on display
In this monumental painting, Venus, the goddess of love, is attended by the Three Graces, who carefully fasten her sandals and jewellery. Her son Cupid stands before his bow and arrow in the foreground, delicately holding a pearl earring between forefinger and thumb, while a putto reaches through...