Paintings previously owned by Mrs S. F. Hodges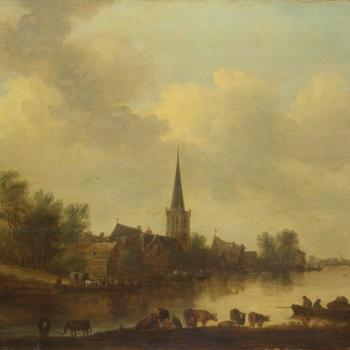 Time has not been kind to Jan van Goyen's river landscape, and his soft muted colours have been dimmed under a coat of yellowed varnish. But we sense the tranquillity of the scene – the vast sky, the quiet ripple of the water under the small boat heading upriver and the patient cows cropping the...
Not on display
Two elegantly curved birch trees frame this harmoniously composed painting. A herdsman lazily contemplates three large oxen from behind a fence, their stillness contrasted with the large rolling clouds above.Schweickhardt trained in The Hague, Holland, before settling in England; he moved to Lond...
Not on display