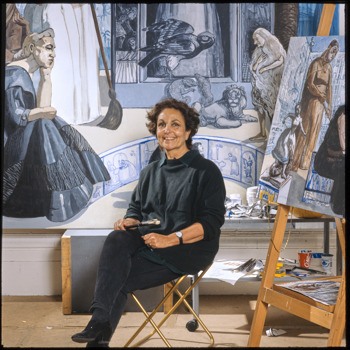 Associate Artist at the National Gallery between 1990 and 1991
Dame Paula Rego RA (b.1935, Lisbon, Portugal – d.2022, London, UK) was the first Associate Artist at the Gallery, working with the collection for approximately a year. Rego was born under the dictatorial regime of Portuguese prime minister, António de Oliveira Salazar. Her parents were keen anglophiles, encouraging Rego to move to the UK. She studied at the Slade School of Art (1952–6) and lived between London and Portugal for the rest of her life.
Rego is best known for her paintings and prints based on traditional folk tales and children's stories. Her figurative compositions commonly depict enigmatic female figures at the centre of complex narratives. Rego's paintings were inspired by her personal fears, desires, and a passion to fight injustices, particularly those perpetrated against women.
During her residency, Rego likened herself to a poacher. 'I would creep upstairs [into the gallery] and snatch things, and bring them down to my basement, where I could munch away at them,' she said. Rego also described her experience of being an Associate Artist at the National Gallery as an initiation. Before her residency, Rego had chiefly been interested in popular art and folk art. However, through spending time with the National Gallery Collection, she realised 'just how good, how incredibly complex and profound' Old Master paintings could be.  
'Paula Rego: Tales from the National Gallery', an exhibition of paintings and drawings that Rego completed during her associateship, toured regional museums across England for six-months between June and November 1991. It was subsequently installed in the Gallery's Sunley Room between 13 December 1991 and 1 March 1992. 'Tales from the National Gallery' included six acrylic paintings and over thirty works on paper.
Towards the end of her residency, Rego was invited by the Gallery's Trustees to create a mural-sized painting for the Dining Rooms restaurant in the recently completed Sainsbury Wing of the National Gallery. Rego's response was 'Crivelli's Garden', a multi-panelled work depicting the lives of female Christian saints. She had become interested in saints' lives after reading the Golden Legend, a popular hagiography compiled by the chronicler Jacobus de Voragine in the 13th century. The structure of Rego's monumental work was influenced by the backgrounds of paintings in the National Gallery Collection by the 15th-century Northern Italian artist Carlo Crivelli, famed for his ability to use perspective to conjure up a convincing sense of space.
Retrospectives of Rego's work were held at Tate Liverpool (1996), and Tate Britain (2004 and 2021.) Casa das Histórias Paula Rego, a museum dedicated to Rego's work, opened in Cascais on the outskirts of Lisbon in 2009. Rego was made a Dame of the British Empire in 2010 and elected a member of the Royal Academy in 2016.