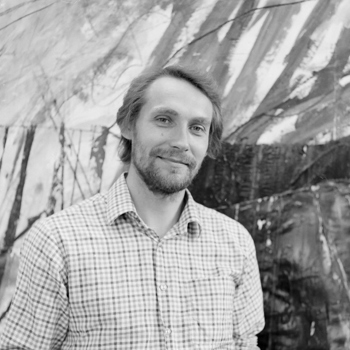 Artist-in-Residence at the National Gallery between 1982 and 1983
Michael Porter RWA (b.1948, Derbyshire, UK) was Artist in Residence between October 1982 and April 1983. In the early 1980s, Porter was known for his large-scale mixed media works, created using collaged paper and PVA glue. Porter's work during this period was often inspired by details in old master paintings, which would look at first glance as if they were abstract. He studied at Chelsea School of Art (1968–72) and was a Fellow in Fine Art at Gloucester College of Art in 1973.
Porter explained that his residency taught him that 'the more you look at great paintings, the more absorbing they become.' During his first few months at the Gallery, Porter focused on works in the collection by Giovanni di Paolo, a 15th-century Sienese artist noted for his lively religious narratives. Porter was particularly drawn to Giovanni di Paolo's The Birth of Saint John the Baptist (1454), and made a personal re-interpretation of this work. The artist said that he was interested in the Sienese artist's small predella panel, which once formed part of the lower register of an altarpiece 'because of its intriguing perspective, its similarities to [the 20th-century Italian surrealist painter] Giorgio di Chirico…and its use of space.'
An exhibition of mixed-media works that Porter produced during his residency was held in the Artist in Resident's studio between 1 and 30 June 1983.  
Since completing his residency at the National Gallery, Porter has exhibited widely both in the UK and internationally. Recent solo exhibitions include the Newlyn Art Gallery, Cornwall (2018–19) and Purdy Hicks, London (2017).  Porter was awarded an Honorary Doctorate from University of Derby (1999) and an Honorary Fellowship from University College Falmouth (2007). He has also participated in artists residencies at the Cape Ann Historical Museum in Massachusetts, USA (2004) and the Josef and Anni Albers Foundation in Connecticut, USA (2014).