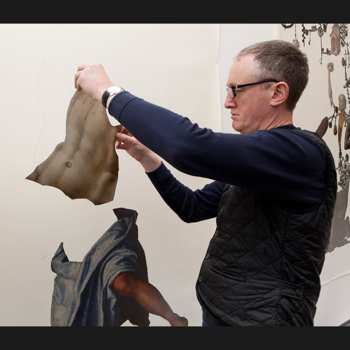 Associate Artist at the National Gallery between 2010 and 2012
Michael Landy RA CBE (b. 1963, London, UK) was Associate Artist at the National Gallery for almost three years between 2010 and 2012. Landy is fascinated by the creative potential of destruction. He studied at Loughborough College of Art (1981–3) and Goldsmiths College, London (1985-1988.) In his final year at Goldsmiths, Landy contributed to the pathbreaking group exhibition 'Freeze', which was organised by his fellow classmate Damien Hirst. He became closely associated with the Young British Artists, or YBAs. In 1997, Landy's work was included in 'Sensation: Works of Art from the Saatchi Collection' at the Royal Academy.
In 2001, Landy systematically destroyed all his possessions as part of a public performance entitled 'Breakdown'. He also reproduced his parents' home in the Duveen Galleries at Tate Britain for 'Semi-Detached' (2004) and invited artists to throw their failed works on art into an enormous skip at the South London Gallery as part of 'Art Bin' (2010.) His work is concerned with the nature of consumerism, the commodification of art, and the value that the corporate world places on human beings.
Landy began his residency by making copies of the Gallery's paintings, working from postcards and photographs rather than the pictures themselves. The artist explained that this was his way into exploring the collection: 'That's how I began as an artist… You sort of begin with people putting things in front of you and you copying them.' After spending time transcribing paintings, Landy became interested in the lives of saints he saw depicted in National Gallery paintings. 'I like saints because they are self-destructive' the artist said, 'they are single minded characters.'
Saints Alive, an exhibition of sculptures and paper collages that Landy created during his residency was held in the Sunley room at the National Gallery between 23 May and 24 November 2013. Landy's exhibition included a series of large-scale kinetic sculptures representing Christian saints being martyred. Visitors to the exhibition were invited to make the artist's sculptures come to life via foot pedals. Landy, who attended a Catholic school in his youth, was interested in reanimating the saints for a contemporary audience stating: 'I wanted to engage the public in a different way as to how people look at paintings.'
In 2014, 'Saints Alive' travelled to the San Ildefonso Museum in Mexico City. This second iteration of Landy's exhibition was held to mark the launch of UK Mexico 2015, a festival celebrating the economic and cultural ties between the United Kingdom and Mexico organised by the British Council.
Landy was appointed a Commander of the Order of the British Empire in 2021. In the same year, he held a major exhibition at Firstsite in Colchester: 'Michael Landy's Welcome to Essex', which examined the recent history of Essex, where the artist grew up, and its portrayal in popular culture.