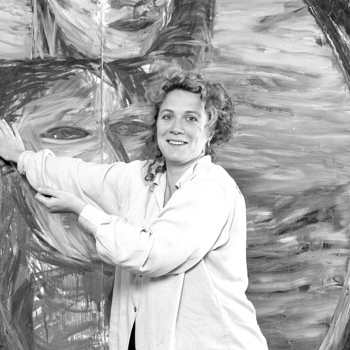 Artist-in-Residence at the National Gallery between 1985 and 1986
June Redfern (b.1951, Scotland, UK) was Artist-in-Residence between October 1985 and April 1986. In the early 1980s, Redfern was known for her large-scale semi-abstract paintings, which explored powerful themes such as life, death, childhood, and the family. 'I'm trying to express the subconscious self, by splitting the figure into physical and psychological parts,' Redfern explained at the time, describing her work as 'high-key, intense and at times hysterical.' Redfern studied at Edinburgh College of Art between 1968 and 1972. After seven years teaching at a comprehensive school in Leith, she became a visiting tutor at art schools in the UK, Europe, and USA.  
'Being an Artist-in-Residence was quite unlike anything I have ever done', Redfern said, recalling her experience in an interview. During her residency, Redfern was particularly drawn to paintings by Caravaggio, Goya, and El Greco, but felt that Tintoretto's Origin of the Milky Way had the most powerful composition. Redfern also said that though 'many of the paintings [in the National Gallery collection] are hundreds of years old…the spell they cast is still potent… Really great painting can change people's lives.'
Redfern said that spending time with the National Gallery collection during her residency 'acted as a catalyst' for her own practice. She became more experimental with her materials, varying the consistency of her paints and adding extra pieces of canvas to break up the image. Redfern felt that the work she made during her residency was more structured. 'I've spent more time thinking out what I'm trying to achieve', she explained. 'I think the overall feel to my work is different.'
An exhibition of paintings and drawings that Redfern produced during her residency was held in the Board Room of the National Gallery between 9 July and 17 August 1986.   
Following her residency at the National Gallery, Redfern became a guest artist at the University of Minnesota (1986). She has also appeared in several television documentaries on the BBC, including 'Oil on Canvas' (1997) and 'Pierre Bonnard: Omnibus' (1998).