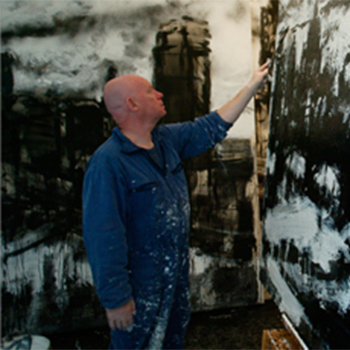 Associate Artist at the National Gallery between 2003 and 2005
John Virtue (b.1947, Lancashire, UK) was an Associate Artist between 2003 and 2005. Virtue is a landscape painter whose work treads a line between abstraction and figuration. Virtue studied at the Slade School of Art in London between 1965-1969. In 1971, he moved to Green Haworth, a small village on the edge of the Pennines, to concentrate on painting landscapes. He supported himself by working as a postman, before taking the decision to paint full-time in 1985. For many years, he has painted with a monochrome palette, using only black ink, shellac, and white acrylic paint. His work is influenced by oriental brush-painting and American abstract expressionism, but above all, relates to the English landscape tradition, especially Turner and Constable, and 17th-century Dutch artists like Ruisdael and Koninck.  
Virtue first visited the Gallery as a teenager in 1964, developing a life-long passion for the collection. By the time he accepted the invitation to become Associate Artist, Virtue had spent several years living in South Devon, working on a series of paintings of the estuary of the river Exe. He initially thought he would continue to paint the Exe during his associateship. However, he soon abandoned this idea. As he explained in an interview:  
'I thought I would possibly continue to paint the Exe estuary. However, when I came here, I was so mesmerised by the Thames that I abandoned that idea and threw myself completely into painting it.'
During his residency, Virtue sought to capture the distinctive character of London. He developed a regular routine of walking through the city, drawing outside, and painting in the studio. Virtue created a substantial body of work in response to several key locations along the Thames, including along the South Bank near the Oxo Tower, Trafalgar Square, and the roofs of Somerset House and the National Gallery itself.  
'John Virtue: London Paintings', an exhibition of paintings that Virtue created during his residency, was held in the Sunley Room between 9 March and 5 June 2005. The exhibition consisted of eleven monumental works depicting the London cityscape, the largest of which was over seven metres wide.
To coincide with Virtue's exhibition at the National Gallery, the Courtauld Institute of Art organised a display of over a hundred preparatory drawings that the artist had made during his residency. The Courtauld and National Gallery exhibitions came together for a major exhibition, 'John Virtue: London Works', which was held at the Yale Centre for British Art in New Haven between February and April 2006. The Sainsbury Centre for Visual Arts in Norwich organised a major exhibition of Virtue's work in 2014, which toured to the Towner Gallery in Eastbourne in 2015.