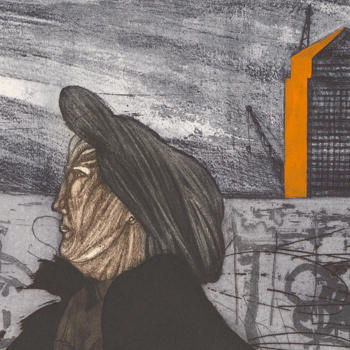 Artist-in-Residence at the National Gallery between 1981 and 1982
Jock McFadyen RA (b.1950, Paisley, Scotland, UK) was Artist-in-Residence between October 1981 and March 1982. He makes paintings that record everyday life and the unloved corners of large metropolitan cities. Recent paintings depict disused warehouses and run-down city streets. McFadyen studied at Chelsea School of Art between 1973 and 1977. His first solo show was at Acme Gallery in London in 1978.
McFayden explained that his residency at the Gallery marked a significant turning point in his work:
'Before I was at the National Gallery my work was witty and schematic and its subject was the folly of art. The National Gallery experience told me that painting was everything and stood before all other art forms.'
McFadyen was impressed by the size and quality of the Gallery's collection. 'Two-thousand old master paintings made me believe in painting,' he said. 'I had to roll my sleeves up and change direction. I had to paint things I saw, rather than things I dreamed up.' Abandoning the self-referential subject matter that characterised his early work, McFayden took inspiration from the people he encountered on the streets of London's East-End. He began to paint distorted portraits of marginalised members of society and developed a distinctive painting style of his own.
An exhibition of work that McFadyen created during his residency took place in the Artist-in-Resident's studio between 2 June and 30 June 1982.
In the early 1990s, McFadyen shifted away from the figurative subject matter that he had become known for since his residency at the National Gallery. He started to paint brownfield sites and abandoned buildings, often at monumental scale. McFadyen was a prize winner at the John Moores Prize in 1991. He was elected to the Royal Academy in 2012 and coordinated the RA Summer Exhibition in 2019.
'Disco Dancing at Home' (1981–2), a painting that the artist completed during his residency, is included in the National Gallery's History Collection.
McFadyen's etching 'Canary' was included in the National Gallery Print Portfolio issued in 1991.
Image: Jock McFadyen, 'Canary', 1991 (detail) © The National Gallery, London