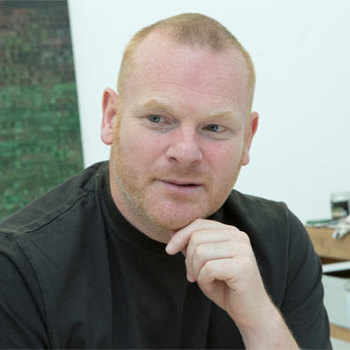 Associate Artist at the National Gallery between 2014 and 2016
George Shaw (b. 1966, Coventry, UK) was Associate Artist for two and a half years between June 2014 and May 2016. Shaw is known for his meticulous paintings of the suburban council estate in Tile Hill on the outskirts of Coventry where he grew up. In his work, the artist finds beauty in the everyday, exploring his personal recollections of childhood. Shaw's paintings are created with Humbrol enamel paint, commonly used to paint model trains and aeroplanes, which gives them a distinctive glossy sheen and otherworldly glow.
Shaw studied at Sheffield Polytechnic (1986–9, 1991–2) and the Royal College of Art in London (1996–8.) A prize-winner at the John Moores Prize (1999), he was nominated for the Turner Prize (2011) and the South Bank Sky Arts Award (2017.) In 2011, Shaw curated an exhibition of works on paper by the 20th-century English landscape painter Graham Sutherland, whom he had long admired, at Modern Art Oxford (2011–12.)  
Shaw described the experience of being chosen as Associate Artist as 'a bit like being called up for England…you put on your boxing gloves and fight the dead.' Shaw had a longstanding relationship with the National Gallery before starting his residency. He first visited the collection as a teenager and still owns an illustrated guide to the gallery published by Thames & Hudson, which his Mum gave him as a birthday present in the early 1980s.  
As a painter, Shaw said that he could not 'escape the bullying hands and eyes of the great painters.' Of all the artists represented in the National Gallery Collection, during his residency Shaw was particularly inspired by the 16th century Venetian painter Titian. He felt that Titian was 'not a teacher in the way that other painters can be, but a mirror,' revealing his own 'cowardice, hesitation, and embarrassment' as an artist.
My Back to Nature, an exhibition of artworks that Shaw completed during his residency, was held in the Sunley Room between 11 May and 30 October 2016. Shaw's exhibition included over 50 paintings and drawings. The focus of the installation was a series of pictures depicting a patch of woodland on the edge of the Tile Hill council estate in Coventry. Shaw was fascinated by the role that woods played in the history of European painting:
'They seemed to be where people lost themselves and found themselves. It's where rituals of life were acted out…I began to see similarities between that simple patch of woodland [in Coventry] and the woods of Bellini or the woodland of Poussin.'
Shaw's exhibition 'My Back to Nature' subsequently toured venues across the UK, including Abbot Hall Gallery, Kendall; De La Warr Pavilion, Bexhill on Sea; The Collection, Lincoln; Royal Albert Memorial Museum, Exeter; and Southampton City Art Centre.
In 2018, a major retrospective of Shaw's work was organised jointly by the Yale Centre for British Art in New Haven, USA and the Paul Mellon Centre for Studies in British Art, which subsequently travelled to the Holburne Museum in Bath in 2019. A comprehensive survey of Shaw's work was also held at The Box in Plymouth in 2021.