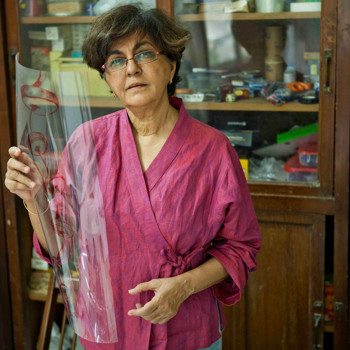 Our current Contemporary Fellowship Artist
Nalini Malani
Born 1946, Lives and works in Mumbai and Amsterdam 
Nalini Malani was born in 1946 in Karachi in undivided India and now lives and works in Mumbai. Graduating from Sir J J School of Art, Mumbai, in 1969, Malani's practice began with experimental film and photography. Malani has been a major figure in a period of artistic globalisation. For over five decades, her work has focused on human and universal aspects of conflict, giving a voice to the stories of those marginalised by history – particularly women. Figures from literature, mythology and the history of art has been a recurrent source of inspiration and reference. As a pioneer of video art in India, she creates immersive installations, theatre, ephemeral wall drawings, erasure performances and her signature 'shadow plays'. Her artworks focus on themes of transnational politics, the ramifications of globalisation, and the critical examination of gender roles. 
Malani is the first Contemporary Fellowship artist at the National Gallery. Supported by the ArtFund, this iteration of the programme collaborates with The Holburne Museum in Bath. The two-year research, production, and exhibition programme will allow Malani to work in close collaboration with specialists from both the National Gallery and the Holburne Museum to study the institutions and their collections and to create new art for an exhibition in Bath and London during 2022–23. 
The National Gallery Contemporary Fellowship with Art Fund was awarded by an international jury, comprised of: Daniel F. Herrmann, Curator of Modern and Contemporary Projects, National Gallery; Sunjung Kim, President, Gwangju Biennale Foundation; Charlotte Klonk, Professor of Art History and New Media, Humboldt University of Berlin; Patrizia Sandretto Re Rebaudengo, President, Fondazione Sandretto Re Rebaudengo; Chris Stephens, Director, the Holburne Museum, Bath; and Richard Wentworth, Artist. 
Malani has had recent solo exhibitions at the Joan Miró Foundation, Barcelona (2020), Whitechapel Gallery, London (2020), Goethe Institut/Max Mueller Bhavan, Mumbai (2019), Castello di Revoli, Turin (2018); the Centre Pompidou, Paris (2017) and the Stedelijk Museum, Amsterdam (2017) among many others. She has also participated in numerous prestigious exhibitions including Documenta 13 (2013) and the Sharjah Biennial 14 (2019).  In 2019, Malani became the first Asian to win the prestigious Joan Miró Prize. She has also received the Fukuoka Arts and Culture Prize (2013), among other honours. Malani's works are placed in numerous collections including Tate, London, Centre Pompidou, France, Museum of Modern Art, New York, National Gallery of Modern Art, Mumbai, National Gallery of Modern Art New Delhi, and Stedelijk Museum, Netherlands.