Rare self portrait by Artemisia Gentileschi
Discover our newly restored and recently acquired painting by the most celebrated female artist of the Italian Baroque
Artemisia Gentileschi is the most famous female painter of the 17th century and yet, even though she worked for a time in England, her work has not been represented in our collection until now. Following the sensational discovery of Artemisia's Self Portrait as Saint Catherine of Alexandria in France 2017, the opportunity to acquire this painting – a rare self portrait by the artist – seemed too good to miss.
We are fortunate enough to have one of the strongest collections of Italian Baroque paintings in the world, with masterpieces by many of the leading artists of the time, and yet there is a scarcity of paintings by women artists in the National Gallery. The acquisition of Artemisia's 'Self Portrait as Saint Catherine of Alexandria' goes some way to redressing that balance, being the first female portrait – and the first self portrait – to form part of the Italian 17th-century collection.
In March 2019, the painting went on a nationwide tour, Artemisia Visits, to unusual and unexpected venues including a GP surgery, girls' school, and prison. 
We will also stage a major monographic exhibition of the artist's work, and the first ever in the UK, Artemisia, opening 4 April 2020.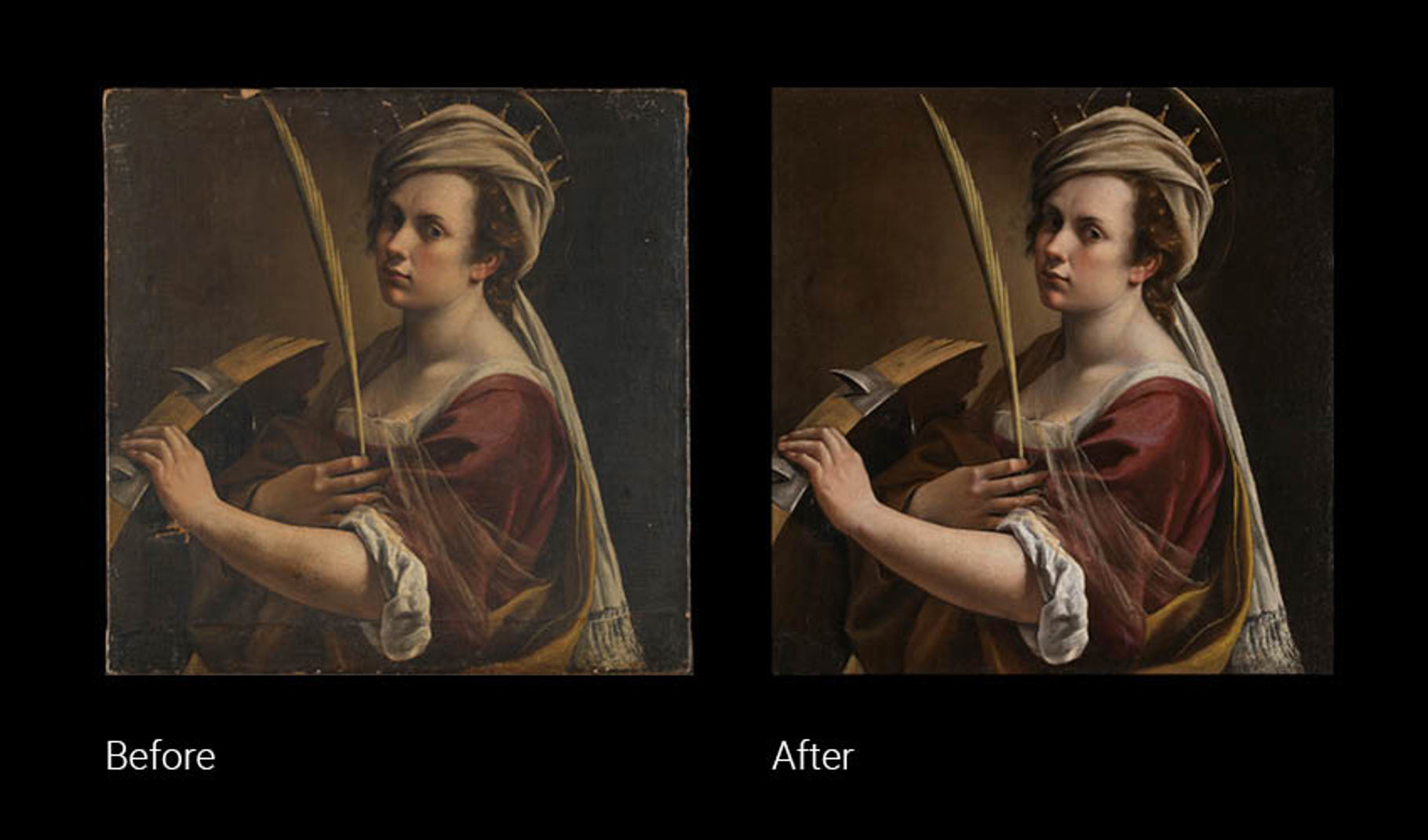 The painting underwent conservation treatment, made possible with Art Fund support. The treatment, led by our Head of Conservation, Larry Keith, included the removal of discoloured varnish, surface cleaning, relining and retouching.
Each phase of the conservation was documented and discussed in a series of short films:
This is a YouTube video player. Below the video are the title, view time and description. Below that is a carousel of video thumbnails. Clicking a thumbnail will load and play that video.
About the artist
Like her father, Orazio Gentileschi, one of Caravaggio's earliest followers, Artemisia's artistic personality only came to light in the 20th century, and over the last 30 years she has emerged as one of the most significant figures of the Italian Baroque.
Artemisia's fame rests as much on her biography as it does on her artistic achievements: not only was she an extremely successful female artist – a rarity in 17th-century Italy – but she was also the victim of sexual violence. In 1611, at the age of 17, Artemisia was raped by the painter Agostino Tassi, an acquaintance and collaborator of her father's, apparently brought in to teach her perspective.
The events surrounding her rape are meticulously recorded in the court proceedings brought against her attacker the following year. Artemisia herself was subjected to gruelling questioning and torture during the lengthy trial and, though Tassi was finally prosecuted, his punishment – banishment from Rome – was never enforced.
After the trial, Artemisia married a little-known Florentine painter and left Rome for Florence, where she lived until 1620. It was there that she successfully established her independent status as an artist. Moving in literary and artistic circles, she learnt to read and write (she had been described as illiterate during the infamous trial) and, most significantly, she became the first woman to gain membership to the Academy of the Arts of Drawing, the artists' academy in Florence.
It is from Artemisia's Florentine period – considered by many the most accomplished years of her artistic activity – that the 'Self Portrait as Saint Catherine of Alexandria' dates.
Artemisia shows herself in the guise of the 4th-century martyr Saint Catherine of Alexandria. Sentenced to death by the emperor Maxentius, Catherine was bound to revolving wheels studded with iron spikes. Saved through heavenly intervention, she was later beheaded, but the instrument of her torture – a broken wheel – became her common attribute in art. Artemisia has deliberately chosen to use her own image for the martyr and depicts Saint Catherine as determined and empowered after her divine rescue.
Artemisia's paintings are often read in biographical terms, especially the explicitly violent scenes in which a strong female heroine is the main protagonist. Though it is debatable whether these works were specifically produced as creative responses to her rape, there is no question that Artemisia's personal identity is closely intertwined with her artistic production. Here, as in a number of paintings dating from her Florentine years, Artemisia introduces her own face and features. In an act of self-identification and self-promotion, she would have been instantly recognisable to contemporaries in Florence.
It is with paintings such as 'Self Portrait as Saint Catherine of Alexandria' that Artemisia established her reputation in both cultured and literary circles, transforming herself into one of the most sought-after artists of her generation.
Read an interview with our curators, Susanna Avery-Quash, Letizia Treves and Francesca Whitlum-Cooper about Artemisia and the experiences of women artists in the 17th and 18th centuries in a special issue of the journal, '19'.