The painting
'Diana and Actaeon' is distinguished by its rich array of colours, contrasting textures and dreamy atmoshpheric effects. The great swathe of drapery in carmine red, pulled hastily off the line by an ambitious nymph, throws Actaeon's alarmed gesture into sharp relief. It draws the eye across from the vermillion lining of his buskins to the deeper red of Diana's discarded dress, reminding us that his bloody hide will soon be strung up like those above the vengeful goddess's head.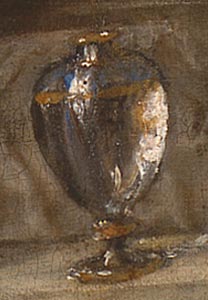 Luscious details abound at every turn. As evening light filters through the grotto, glimmering highlights refract through an elegant Venetian glass vase. They sparkle in a lustrous mirror and across the water's surface. They are also captured in the sheen of the velvet garments.
The soft sensuousness of female flesh, Titian's special hallmark, proliferates to delight the erotic tastes of his young patron. (At the time Philip II was locked into a political marriage with Mary Tudor, in which he professed 'no carnal love'.)
Amusing passages alleviate the story's tragic dimension. Diana's lapdog yaps at Actaeon's athletic hound from the safety of the far bank. The bathing platform appears to lurch under the nymphs' weight, and water gushes from a leonine mask half concealed beneath one nymph's bottom.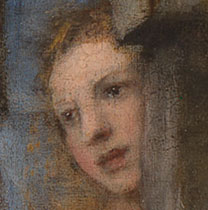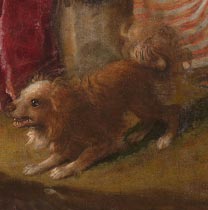 The picture encompasses a wonderful range of characterisation. Diana's cold, haughty stare is contrasted by the ardour of the blushing nymph who peeps out behind a pillar at the handsome intruder.