Domenichino painting goes on display at the National Gallery
17 May 2010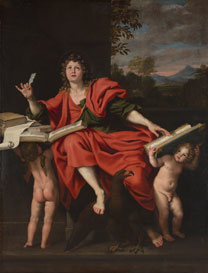 One of the finest Baroque paintings still in private hands – Domenichino's Saint John the Evangelist – has been saved for the nation with help from an anonymous private collector.
The painting had been destined for sale overseas. However, its export was deferred in the hope that funds could be found to keep the painting in the UK.
Fortunately, a private collector came forward to buy the painting, making provision for its regular public display. The painting will be on loan to the National Gallery from May 2010 until November 2011.
The Director of the National Gallery, Nicholas Penny, has paid tribute to the collector, praising their 'imagination and confidence'. He added:
"This result is a triumph for the National Gallery, but also for enlightened legislation and its efficient administration."
About the painting
One of the greatest works by the Italian Baroque master Domenico Zampieri –
known as Domenichino (1581-1641) – 'Saint John the Evangelist' depicts the author of the fourth gospel in a moment of revelation. He sits with his pen poised, his eyes lifted towards the source of his inspiration. At his feet is his attribute, an eagle, the bird thought to fly closest to heaven.
This monumental oil painting is a must-see highlight for visitors to the Italian Baroque rooms of the National Gallery.
Curator Dawson Carr said:
"It is undoubtedly the best work by the artist remaining in private hands and its export would have been lamentable for the representation of Italian Baroque painting in this country."