20 January 2011
The National Gallery is delighted to announce that it has received an exceptional gift of £2 million from the Hintze Family Charitable Foundation.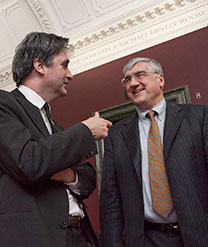 The money will be used to refurbish a number of Gallery spaces in the original Wilkins Building, transforming their display and the environmental conditions for the benefit of the public. The implementation of more efficient state-of-the-art technology and lighting will have a positive effect on both the Gallery's overall running costs and its carbon footprint.
Michael and Dorothy Hintze have given generous support to a number of causes in the arts including a major donation to the Wandsworth Museum which enabled it to reopen, along with gifts to the Old Vic, and the Victoria & Albert Museum. In recognition of this latest gift to the National Gallery, Room 8 has been named 'The Dorothy and Michael Hintze Room'.
Michael Hintze said:
'The National Gallery has an extraordinary collection that Dorothy, our children and I enjoy enormously. We have always sought to give back to those institutions that have enriched and given so much to our lives.'
Thanking the Hintzes for their generous gift, the Director of the Gallery, Nicholas Penny, said:
'At a time when the need to support the arts has never been greater, we salute Michael and Dorothy Hintze, and other philanthropists like them, who play such a significant role in safeguarding the arts. They have the vision to recognise the importance of protecting our cultural treasures and understand how these treasures enrich society.'
About Michael Hintze
Michael Hintze founded the London-based asset manager CQS in 1999, having previously worked at Credit Suisse First Boston, Goldman Sachs and Salomon Brothers. He is a Trustee of the Institute of Economic Affairs and the Prince's Foundation for the Built Environment. He has been a Trustee of the National Gallery since April 2008.