National Gallery paintings are a powerful starting point for English and drama projects: they ignite discussion and spark the imagination.
The power of paintings
See how a single painting can capture children's imagination and ignite discussion.
Get involved
Book a pupil visit or take advantage of the events on offer for secondary and primary teachers and pupils.
Projects: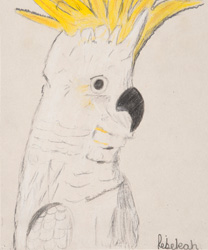 'Framed' – Bringing teachers, the book, the author, the paintings and the pupils together Out of Art into Storytelling – Enabling teachers to transform their pupils' storytelling in response to paintings Articulate – Master classes of professional writers working with children aged 11 to 14
What the teachers say
The Sherington Primary School, London, took part in Out of Art into Storytelling. Monica Lanata, a Year 6 teacher, said:
"The impact of using visual stimuli such as paintings to grab the children's attention and improve the quality of their writing is just amazing! The children's imagination came alive with the paintings – they lived and breathed the scenes that were shown, and this enthusiasm showed when it came to writing."
See full case study of Sherington Primary School
Find out more about teaching English and drama through paintings