Pupils in Year 6 of Deansfield Primary School used Seurat's Bathers at Asnières to develop their storytelling and drawing skills. Listen to one of the pupil's stories and see how the teacher used the painting to hone his class's writing skills.

Storytelling: Inspired by Seurat's 'Bathers at Asnières'
A peaceful scene is shattered by an explosion - a story by a pupil in Year 6 at Deansfield Primary School, London - 3 mins

Year 6 teacher David Westerby on the impact on his pupils:
"I began Year 6 (taking up my Year 5 class) with a four-week project on the 'Bathers at Asnières'. The aim was to use the principles from the project to engage children with other paintings. There was already a very high standard of writing within the class, but I really wanted to hone their abilities in creating contrasting settings and atmospheres."
"The 'Bathers' seemed the obvious painting, as it has the calm, peaceful atmosphere, which children could have fun 'destroying'".
Starting with a game
"I began by using a piece of string, which children could make into anything they wanted and I ended the game telling them that it was something that could save someone's life. Following this, I told them a story I had created, with the 'Bathers' as the central scene: a serene setting that is shattered."
"We used drawing and vocabulary work to draw out key images of the story and embed these in the children's minds – as well as their ability to recreate them using figurative language."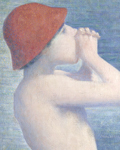 "Alongside this we were doing watercolour artwork using sections of the painting and retelling our story through photographs using Comic Life. These activities allowed children to talk much more about the effects that they wanted to create and to articulate how each step of the story could be captured in a single image."
Flair for language
"Next, the class retold the story in their own way and were allowed to change it in any way to make it 'their' story. The quality of writing was absolutely wonderful throughout all the different abilities within the class, with storytelling language permeating all stages of the narrative to engage the audience."
"Their confidence in creating the contrasting images was excellent and they used complex language features with flair. They were also meticulous in their presentation for display and were keen to recreate the beauty of the painting through their own writing."