Listen to a story by a Year 3 pupil inspired by the painting and read how their teacher used drama and story maps to draw out their creativity.
Storytelling: Market scene from 'Tobias and the Angel'
A tale of carpets, spices and tastey barbecues by a Year 3 pupil at Norwood Green Junior School – 1 min
Year 3 teacher Priya Sehgal:
"Through the project I have learned how exploring paintings in depth can provide a rich broad curriculum in their own right.
"I explored 'Tobias and the Angel', a painting with a known story, and found drama a powerful tool for extracting emotions, meaning and vocabulary from the paintings. Through drama and talk, children can enter the world of the painting.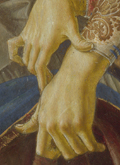 "One of the drama conventions I used was wordscape, which is a multi-sensory approach that helps stimulate creative thinking for writing. Through this, my pupils could examine the painting more deeply and explore the rich vocabulary that came from it, enabling them to relate better to a specific setting, characters and their emotions.
"This exploration of the painting meant that the children had built a rich source of vocabulary that they could use later in their writing."
Raising self-esteem
"Using story maps has enabled some of my pupils to develop their storytelling skills and their ability to retain information and specific vocabulary by simply looking at images on a story map to trigger speech. It has been very effective with visual learners. I have used story maps to develop performance poetry ('There was an old lady that swallowed a fly') and have found this technique very successful.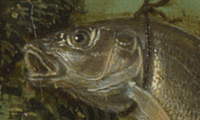 "The children are more confident and enjoy reciting as a class. My reluctant readers feel a sense of accomplishment because, although they are unable to read the whole poem, they can use the story maps to help them recite it and this has raised their self-esteem."