Listen to a new version of the story of Tobias and the Angel by Year 2 pupils from the Alton School and read how their teacher saw reluctant learners develop a love of storytelling.
Storytelling: 'Tobias and the Angel'
Tony Philcox, Deputy Head Teacher:
"The project had a fantastic impact on my own and my colleagues' practice. Initially, a colleague and I planned a sequence of work for Year 2 and Year 6 primarily using Verrocchio's 'Tobias and the Angel' as our stimulus."
A love of storytelling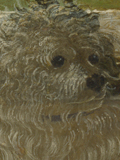 "At first I was sceptical as to whether such a complex story would be accessible for infant children. I'm glad to say that I was wrong to be doubtful; the project developed a love of storytelling among our children. Being able to speak their ideas aloud has been instrumental in improving our children's writing and the use of the fantastic paintings has inspired children to use art to write their own stories.
"Since the project began, we have used the paintings to stimulate whole school cross-curricular projects, conducted staff INSET, where all our teaching staff learned the story of 'Tobias and the Angel' and created a storytelling garden to further inspire the children's storytelling."
Playground storytelling
"However, throughout this project the incident that will always stay with me concerns two Year 2 boys who had at times struggled to be motivated during literacy lessons. The two boys immediately loved the whole process of storytelling and amazed me with how quickly they were able to retell the story of Tobias.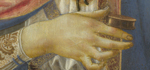 "I remember finishing the lesson in a particularly good mood because of how well it had gone. Yet I was dismayed five minutes later to find both my boys spending their lunchtime in the head teacher's office. My dismay quickly turned to joy as I found the boys retelling a wonderful rendition of the story. The boys can now regularly be found spending their lunchtimes telling stories to adults and other children from the school."