Pupils from Deansfield Primary School and Gordon Primary School in London were inspired by Renoir's The Umbrellas.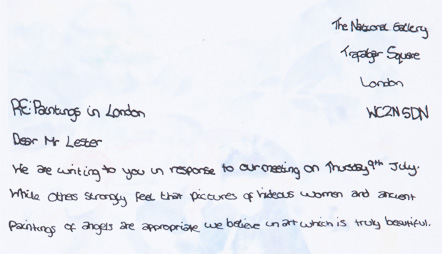 Framed: Letter of persuasion
Year 6 pupils at Deansfield Primary School ask the Gallery to put Umbrellas back on display – 1 min
To help prepare for their creative writing activity, pupils took part in playground activities.

A Headteacher, John Camp, from Deansfield Primary School, describes how working with a painting raised the attainment levels of all his pupils.
Framed: Working from paintings
A head teacher explains the power of working from paintings – 2 mins
Listen to the extracts from 'Framed' that inspired the children.
Storytelling: Unveiling 'Umbrellas'
Frank Cottrell Boyce reads a scene from 'Framed' in which Renoir's 'Umbrellas' is unpacked – 3 mins
Framed: Impact on Manod
Writer Frank Cottrell Boyce reads an extract from 'Framed', discussing the impact of the National Gallery's art on Manod – 3 mins